Automotive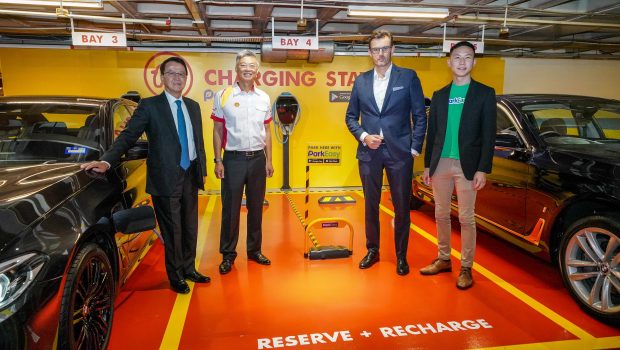 Published on June 12th, 2019 | by Subhash Nair
0
Book a Charging Bay for your BMW with the ParkEasy App
BMW Group Malaysia today unveiled a new partnership project with Sunway Group, ParkEasy and Shell Malaysia.
Beginning next month, owners of BMW Plug-in Hybrid Vehicles can book parking spots with BMW i Wallboxes in several malls through the ParkEasy App.
The malls include:
Sunway Pyramid
Sunway Pinnacle
Sunway Velocity
iOi City Mall
While the associated parking bays are mainly located are in Sunway Group malls (except IOI City Mall) the charging facilities are BMW's, it's difficult to see where Shell Malaysia factors into this equation. Regardless, they've come to call these special parking locations "Reserve + Shell Recharge Bays".
You can try it out yourself with the promo code "BMWMY" in the ParkEasy app for 5 ParkEasy credits. This code is available until the 31st of July 2019 and is limited to the first 2000 users only. You don't actually need to own a BMW Plug-in Hybrid or even a BMW for that matter to take advantage of the code.
The ParkEasy app is available on both iOS and the Google Play Store. You can also use the app to book parking bays without attached charging facilities if queuing in a mall is not your thing.
For more on this story, check out the press release below.
Press Release
BMW Group Malaysia unveiled the new Reserve + Shell Recharge Bays at Sunway Pyramid today, in partnership with ParkEasy, Shell Malaysia and Sunway Group.
Starting July, owners of BMW Plug-In Hybrid Electric Vehicles (PHEV) will be entitled to exclusive BMW Privileges at the Reserve + Shell Recharge Bays. They include an e-starter pack for new BMW PHEV owners and an e-gift card to existing BMW PHEV owners for the use of the facilities at the Sunway Group properties. Now, they can enjoy the BMWMY promo code to redeem five ParkEasy credits for use at the Reserve + Shell Recharge Bays.
The promo code is available from today to 31st July 2019, and is limited to 2,000 users.
The ParkEasy platform is a mobile application that will allow electric vehicle (EV) or PHEV users to reserve a spot at the Reserve + Shell Recharge Bays up to 60 minutes ahead, assuring drivers of parking and charging availability. Powered by BMW i Charging facilities, users will receive complimentary recharging to replenish their vehicles' batteries, as the credits in their ParkEasy mobile application will only be deducted for the reservation and hourly use of the parking bays. This cashless transaction also intends to cultivate ethical charging behaviour among the EV and PHEV users.
BMW Group Malaysia's portfolio of Visionary Mobility is also supported by the ChargEV platform through its partnership with the Malaysian Green Technology Corporation. The BMW ChargeNow service, which is offered as part of the BMW 360° ELECTRIC programme, also grants straightforward access to partner charging facilities like ChargEV, where customers can
enjoy 24/7 support and access to all charging locations in ChargEV's growing network nationwide.