TechTalk
Published on June 12th, 2019 | by Daniel Sherman Fernandez
0
Kia Niro EV With 455Km Range Launched In Singapore
Kia in Singapore has just launched the Niro EV, its first foray into the electric vehicle (EV) category. Combining an all-electric, zero-emissions powertrain with crossover practicality, intelligent technology and an eye-catching design, the Niro EV opens up a world of new possibilities for a wide range of consumers who appreciate crossover characteristics, but also want the cost-effective benefits electric vehicles have to offer. This Kia Niro EV is currently available for media and corporate test drives only. This is why there is no selling price shared as yet. Contact Kia Marketing for an exclusive test drive experience.
Power-packed with impressive range, speed, torque and cargo space, the Niro EV is perfect for private-hire drivers, young couples, families and environmentally-conscious consumers. Its ability to cover up to 455km on a single charge makes it one of the most effective as compared to other EVs in the market currently. Moreover, according to previous findings from SP Group as part of their move to roll out 1,000 charging points by 2020, EV drivers have been found to be able to enjoy at least 50 per cent cost savings compared to typical Internal Combustion Engine (ICE) vehicles for every kilometre travelled.
Despite being in its nascent stage for some time, a growing demand for EVs from consumers today amidst the booming car-sharing and ride-hailing industry has been seen. In the past year, there has been accelerated improvements in the strengthening of EV infrastructure from both the public and private sector – making Singapore well-poised to support this demand with enhanced convenience for EV drivers.
Against this backdrop, the Niro EV is set to electrify the traditional EV experience in Singapore by leveraging cutting-edge innovation to achieve performance and on-road efficiency, alongside an element of enjoyment for the driver.
Sitting alongside the existing Hybrid variant of the car since the Niro Hybrid's introduction in 2016, the Niro EV will be launched in two phases locally – with an initial focus on corporate and fleet sales before a consumer-focused launch later in Q3 2019.
Impressive range from next-generation EV powertrain and battery
Matching its sporty, crossover design, the Niro EV offers buyers long-distance, zero-emissions driving ability and enjoyable performance with a next-generation electric vehicle powertrain.
A high-capacity 64 kWh lithium ion polymer battery pack that affords a long driving range of up to 455 kilometres on a single charge, plugged into a 100 kW fast charger, it takes 54 minutes to recharge the Niro EV's battery from 0% to 80%.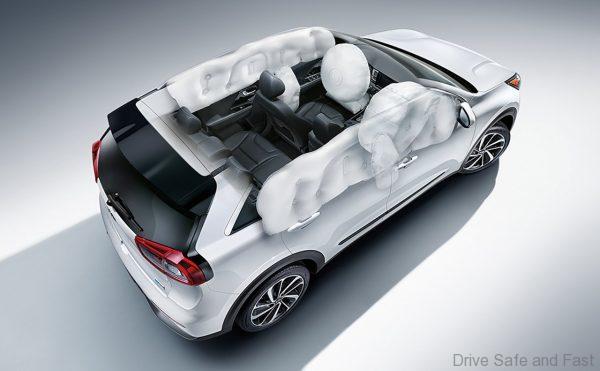 Driver-centric experience for enhanced enjoyment
The Niro EV's powerful 150 kW (204 ps) electric motor offers an electrifying 395 Nm torque from a standstill, for acceleration from 0 to 100 km/h in just 7.8 seconds. Additionally, the battery pack is located low down in the body beneath the trunk floor to allow for maximum passenger space while creating a centre of gravity akin to that of a sedan or a hatchback. This ensures maximum stability and driving enjoyment throughout the journey.
It is also equipped with a variety of tools that allows the driver to take charge of energy management and one's style of driving through the selection of four drive modes – ECO+, ECO, Normal and Sport – that automatically adjust regenerative braking level, air conditioning and heating settings, and even set speed limits to help manage operating efficiency. Smart Regenerative Braking operated via paddle shifters, also provides drivers the ability to choose from four regen braking levels (0 to 3) that slow the car and capture kinetic energy, returning energy to the battery and adding extra range.
Superior convenience and safety with the Advanced Driver Assistance Systems
Matching the forward-looking nature of its powertrain, the Niro EV offers drivers a range of Kia's 'Advanced Driver Assistance Systems', supporting the driver in various environments and scenarios to mitigate the risk of a collision.
Available active safety systems include the Blindspot Collision Warning, which uses rear sensors to monitor the side and rear of the vehicle and warn the driver of the approaching vehicle in the blind spot. This is especially useful for alerting drivers to motorcycles weaving in and out of traffic before they change lanes.
Furthermore, the Advanced Driver Assistance Systems include a 7-airbag system (dual front advanced air bags, dual front seat-mounted side air bags, side curtain air bags with rollover sensor and driver's side knee air bag), Electronic Stability Control and Hill-Start Assist Control to further complement the Niro EV's status as a state-of-the-art, all-electric vehicle.
Futuristic and modern design with EV-specific utility
The Niro EV's futuristic and aerodynamic 'tiger-nose' grille features an integrated charging port, bearing a 'de-bossed' Niro logo. Redesigned air intakes and new arrowhead-shaped LED daytime running lights combine with light-blue trim highlights to emphasise the car's sleek profile along with its slim character line and tapered rear windows. The Niro EV rides on new five-spoke 17-inch aluminium alloy wheels with a diamond-cut two-tone finish, housing Kia's regenerative braking system.
The cabin combines modern design with generous space – the interior of the Niro EV is differentiated from other Niro models with a range of new features and design elements. The dashboard features a new light blue trim, echoing that of the exterior, while the design of the centre console has been simplified to accommodate the car's shift-by-wire drive selector – Kia's first 'dial'-style shift knob.
A 7.0-inch touchscreen HMI (human-machine interface) remains at the centre of the dashboard but has been updated to offer a series of EV-specific features. The new infotainment system enables owners to locate nearby charging points and monitor the level of charge and range remaining from the battery pack. The instrument cluster – a 7.0-inch colour-LCD display – is also unique to the Niro EV, enabling the driver to intuitively check driving and EV powertrain information on-the-move.
The redesigned centre console creates more storage space at the base of the dashboard for smaller items – including a wireless smartphone charger. A lamp is integrated into the top of the dashboard, with a light displaying whether the battery pack is recharging or fully charged when plugged in. This enables owners to quickly see the car's charge status at a glance from outside the car.
Its 2,700-mm wheelbase ensures maximised legroom, while its 1,805 mm wide and 1,560 mm tall body provides maximum head- and shoulder-room throughout the cabin. At 4,375 mm in length, it offers more cargo space – 451 liters (VDA) – than many other plug-in and electric vehicles.
The first of more
At the core, Kia Motors Corporation's vision for the future of mobility is an opportunity for all consumers to enjoy the infinite value the evolution of transportation brings with it. Its larger ecosystem includes a roadmap of new advanced eco-friendly powertrain vehicles, in addition to plans for the integration of connectivity and autonomous technologies.
Correspondingly, Kia Singapore has a designated EV service bay at its Authorised Service Centre located in Alexandra Road to serve the exclusive needs of this growing segment.
"The Kia Niro EV is Cycle & Carriage's first embarkation towards fulfilling a broader mobility vision, and will set the stage for the continuous introduction of a wider range of eco-friendly vehicles to the Singapore market over the next few years," shares Mr Royston Soh, Divisional Manager of Kia Sales & Marketing, Cycle & Carriage Singapore.
More information on the consumer launch will be shared in Q3 2019.