TechTalk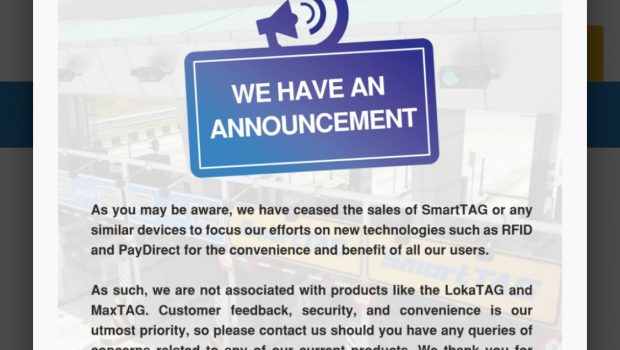 Published on July 16th, 2019 | by Daniel Sherman Fernandez
0
Why did Touch & Go Make This Statement?
Is There Trouble Brewing ?
Log into the official Touch and Go website https://www.touchngo.com.my/ and you will be greeted with this stern statement. Why? Well, just a few days earlier, LOKATECH Engineering Sdn Bhd, in collaboration with EFKON, the Austrian technology provider of Malaysia's nationwide infra-red electronic toll collection system, launched their first built-in toll reader for the aftermarket buyers.
Meanwhile, Touch and Go are actively pursuing their RFID roll-out and we think this is probably why they are distancing themselves from LOKATECH.
Then there is the issue of PLUS highways not having working RFID gates whilst other highway operators are having full working RFID gates in use.
This drama reminds us of the time when there were 3 different public rail system contractors in our city (Monorail system, LRT and MRT) with 3 different types of trains (all three using different technology, coaches and drive systems) and payments system.
So who is LOKATECH Engineering Sdn Bhd?
LOKATECH Engineering Sdn Bhd has been involved in the manufacturing and assembly services for over 10 years. Over the last five years, the company has been focusing on automotive related products and services.
What is EFKON's background?
EFKON GmbH is one of the world's leading providers of Intelligent Transportation Systems (ITS), Electronic Toll Collection (ETC), enforcement and traffic telematic solutions. EFKON has significant know-how in all major electronic tolling technologies and provides customised turnkey solutions. Headquartered in Raaba by Graz, Austria, EFKON's activities are worldwide. Subsidiaries are located in Belgium, Ireland, Malaysia, India and South Africa.