Automotive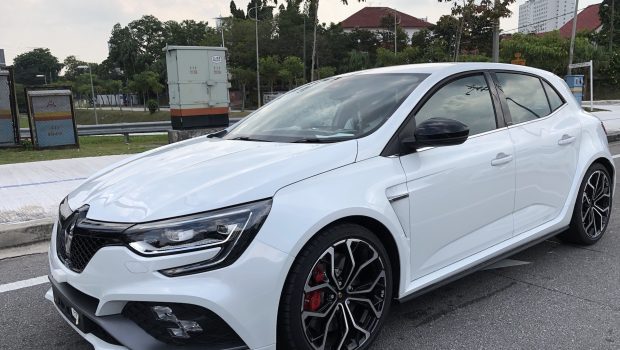 Published on August 15th, 2019 | by Subhash Nair
0
Renault Malaysia Officially Confirms Megane R.S. Prices
TC Euro Cars, the official distributor of Renault vehicles in Malaysia, has officially launched the Megane R.S. 280 Cup. They previewed the vehicle back in April, and we even got a chance to test drive one on Malaysian roads. Prices are CONFIRMED at RM279,888 for the manual version and RM299,888 for the dual-clutch automatic, as estimated during the preview.

However, the pricing in Langkawi for both versions have come down significantly.
Availability and test drives
The All-new Renault MEGANE R.S. 280 CUP is available in four colour options – Diamond Black, Pearl White (additional RM1,000) and the signature Liquid Yellow or Orange Tonic (additional RM8,000).
The All-new Renault MEGANE R.S. 280 CUP comes with a three-year or 100,000km warranty (whichever comes first).
Test drives are available at selected Renault showrooms by appointments only and can be requested via the Renault Malaysia website.
For more information about the All-new MEGANE R.S. 280 CUP or Renault in Malaysia, please visit www.renault.com.my or www.facebook.com/RenaultMalaysia.
Press Release
Having set a benchmark in the world of high-performance hatchbacks, the Renault MEGANE R.S. is officially back in Malaysia, sportier and even more radical before.
Distributed by TC Euro Cars (TCEC), this next-generation Renault MEGANE R.S. is now available with a six-speed automatic Efficient Dual Clutch (EDC) transmission (AT) in addition to the customary six-speed manual transmission (MT).
Pricing for the All-new Renault MEGANE R.S. 280 CUP with the Efficient Dual Clutch (EDC) automatic gearbox is confirmed while pricing for both manual and automatic transmissions in tax-free Langkawi has been further reduced:
The All-new Renault MEGANE R.S. 280 CUP comes packed with added new and enhanced technologies, proven through Renault's passion for motorsports, to deliver excellent performance, handling agility and stability for a more exhilarating and comfortable drive.
Having raised the bar on handling with the previous generation MEGANE R.S., Renault's chassis and suspension system engineers have pushed the limits even further by introducing the 4CONTROL four-wheel steering system – a world first-in-segment technology that further improves cornering efficiency. The system automatically adjusts the rear wheels to point in the same direction as the front wheels up to one degree at higher speeds and in the opposite direction up to 2.7 degrees at lower speeds. This switchover point is set at 60 km/h or 100 km/h in Race mode.
A second brand new feature is the addition of four hydraulic compression stops, a rallying-inspired technology, to all shock absorbers. In addition to improving the comfort of the suspension during everyday use, these hydraulic bump stops also filter out disruptions when adopting a sportier driving style, providing additional damping and eliminating the effects of rebound, which enables optimum control of tyre-ground contact.
The wizards at Renault Sport Cars and Renault Sport Racing have also worked their magic on the new four-cylinder 1.8-litre turbo engine by redesigning the cylinder head as well as integrating a new cooling system, an additional twin air inlet to the turbocharger and a chain-driven timing system. The modernised engine now delivers maximum power of 280PS and peak torque of 390Nm – one of the best in class. The 0-100 km/h sprint is achieved in 5.8 seconds with a top speed of 255 km/h (250 km/h for the AT).
For Malaysia, the All-new Renault MEGANE R.S. is available with the CUP chassis, which incorporates a new Torsen mechanical and limited-slip differential for improved handling during acceleration as well as deceleration.
Another new feature to the All-new Renault MEGANE R.S. 280 CUP is the five-door configuration, instead of the previous three-door version. There is also a new striking signature colour (Orange Tonic) to choose from, in addition to the classic Liquid Yellow.
Automatic Efficient Dual Clutch (EDC) gearbox for uncompromised driving enjoyment
The six-speed EDC dual-clutch gearbox has been strengthened to withstand the torque and revs of a sports car engine. Based on the required take-off acceleration, in-gear acceleration and maximum speed, Renault Sport engineers defined new gear ratios and specific shift patterns, in alignment with the customisable MULTI-SENSE system designed to adapt to all driving styles.
Like racing cars, the EDC gearbox comes with steering wheel-mounted gearshift paddles. The gearshift times depend on which MULTI-SENSE mode is selected:
Comfort and Normal: smooth gear changes, without any jerking;
Sport: quicker gear changes with amplified engine noise;
Race: efficiency with no compromise on comfort, with even quicker gear changes.
In Sport and Race modes, the EDC gearbox also has the following functions:
Multi-Change Down: under braking in manual mode, this feature lets the driver drop several gears simultaneously by pressing and holding down the left-hand paddle. The best gear is then selected to exit the corner as efficiently as possible.
Launch Control: the clutch and turbo are pre-loaded, enabling a standing start that is just as quick as in a racing car. In Sport mode, traction control provides the driver with additional support in finding the best possible grip in slippery conditions.
A genuine performance hatchback experience
In addition to new technologies, strong core components featured in previous generations have been retained and upgraded in the All-new Renault MEGANE R.S.
Included in the MEGANE R.S. since 2004, the independent steering-axis front suspension epitomises Renault Sport's expertise in chassis and suspension systems. Initially designed for use in motorsport, the independent steering-axis front suspension has been adapted to powerful front-wheel-drive cars, especially when they are also fitted with a limited-slip differential.
The front axle of the All-new Renault MEGANE R.S. 280 CUP has been entirely redesigned to adapt the negative offset geometry to the width of the 19-inch wheels and increase rigidity.
Acclaimed on the previous generation MEGANE R.S., the braking system has been improved, offering drivers greater power, endurance and therefore confidence behind the wheel. The diameter of the front brake discs has been increased to 355mm (+15mm compared with the previous generation). Bi-material aluminium/cast iron discs help reduce the weight per wheel by 1.8kg while improving cooling during intensive use. The brake pedal setting focuses on the accuracy of the pressure applied, enabling drivers to remain incomplete control, especially on the racetrack.
The R.S. Monitor has also been completely revised, with a more user-friendly layout and more powerful features. This state-of-the-art onboard telemetry and data acquisition system gathers and summarises information from forty or so sensors spread around the car, enabling the real-time display of a wide range of settings on the 8.7-inch R-LINK 2 touchscreen tablet. Through this system, drivers can reliably check driving data such as acceleration, braking, yaw, steering angle, operation of the 4CONTROL system, temperatures and pressures.
When design also means performance
With its expressive and sporty styling, the All-new Renault MEGANE R.S. 280 CUP has been designed to deliver performance, right down to the very last detail.
The specific body sides mean that the wings have been widened by 60mm at the front and 45mm at the back. Ride height has been lowered by 5mm and with new 19-inch wheels,these new proportions make the car naturally more aggressive.
This powerful design is boosted by a number of features taken from the world of motorsport, which immediately place the All-new MEGANE R.S. 280 CUP in the high-performance category:
A wide air intake in the front bumper that incorporates the F1-style front blade, a hallmark of Renault Sport styling that reflects the brand's involvement in Formula 1. Theblade's Gun Metal Grey satin-finish colour contrasts with the brilliant shine of the bodywork
A 3D honeycomb-pattern grill mesh reinterpreted by Renault Sport
Sculpted, sensual body sides inherited from the design of Renault MEGANE are accentuated by the wider front and rear tracks
Wing-mounted air extractors, which optimise airflow through the wheel arches
A side sill establishes a link between the front and the rear, the black blade of which evokes the undertray of a Formula 1 car
A redesigned, narrower rear spoiler to improve aerodynamic performance. Whilst emphasising the width of the car, the vertical vents contribute to aerodynamic efficiency by providing improved lateral airflow
A rear bumper with a built-in diffuser and the iconic central exhaust that has come to epitomise MEGANE R.S. 280 CUP, enhanced by a decorative trim
Improved efficiency of the diffuser compared with the previous generation. Whilst boosting the sporty feel of the design, this aerodynamic component helps to increasedownforce
The Brembo® brake callipers, painted red on the Cup chassis so that they are instantly recognisable to enthusiasts
R.S. Vision high-performance lighting, unique in this market segment, that combine four functions: sidelights, cornering lights, fog lights and long-range high beam lights