Automotive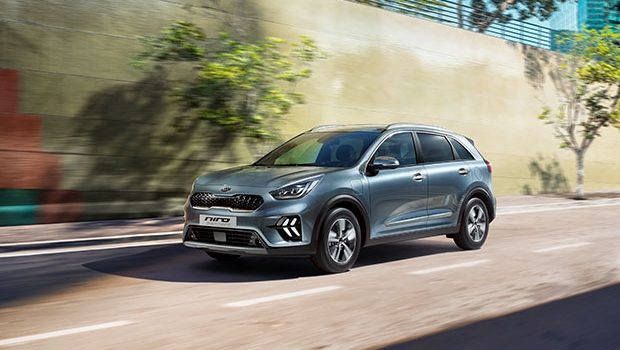 Published on October 8th, 2019 | by Daniel Sherman Fernandez
0
Kia Niro Hybrid launched in Singapore. Malaysia when?
Cycle & Carriage Kia announced the launch of the improved Kia Niro Hybrid crossover last week in Singapore; bringing a host of enhancements and refreshing Kia's commitment towards a sustainable future with its development of eco and electric vehicles.
Since sales began in 2016, over 275,000 examples of the Niro have been sold globally, with more than 100,000 units sold in Europe. The Niro crossover was Kia's fifth best-selling model in Europe in 2018, with sales growing 33% to 45,255 units – including 34,642 hybrids and 9,951 plug-in hybrids. The Niro range expanded at the end of 2018 with the launch of the fully-electric e-Niro.
The improved Kia Niro Hybrid brings styling, safety and technology updates that keeps it in-line with its all-electric sibling, the Niro EV (electric vehicle).
In addition to the all-round enhancements, the Kia Niro Hybrid will be reclassified as a 'Category A' vehicle, making it even more competitively priced and appealing in the current hybrid segment.
PRESS RELEASE:
Uncompromised performance and drive
Boasting an impressive 25km per litre fuel efficient performance, the 1.6-litre 'Kappa' GDI engine produces a total output of 130ps horsepower and 170Nm of torque.
Enhanced quality and technology
On the inside, the top of the dashboard now features a soft-touch coating and new gloss black and satin chrome details. The redesigned centre console creates more storage space at the base of the dashboard – including a wireless smartphone charging pad.
Within the dashboard sits the all-new 8-inch LCD touchscreen infotainment system that comes equipped with Apple CarPlay and Android Auto connectivity.
Drivers will also be thrilled with the ventilated front seats, offering a cool and refreshing drive in Singapore's tropical climate.
Style meets functionality
Retaining the futuristic and aerodynamic 'tiger-nose' grille, exterior changes as part of the Kia Niro Hybrid's facelift consist of restyled front and rear bumpers, LED headlamps and taillamps as well as LED daytime running lights in a double-arrow layout.
In addition, the versatility of its folding seats offers a staggering 1,434 litres of boot space, making it truly functional and adaptable for any lifestyle choice.
Excellent safety features
There are also updates to the Kia Niro's existing safety technology – the model now comes with driver-assisted safety features such as Lane Keeping Assist, which uses forward-looking cameras to detect the edges of the driving lane before automatically steering the driver within the intended lane. This new feature comes standard in both EX and SX variants of the Kia Niro Hybrid.
Other familiar features include the advanced 7-airbag system, Rear Cross Traffic Alert (RCTA), Vehicle Stability Management (VSM), Electronic Stability Control (ESC) and Blindspot Collision Warning which prompts audio and visual alerts of the approaching vehicles in the blind spot to the driver to make lane changes an easier and safer one.
"We are excited to introduce the improved Kia Niro Hybrid to Singapore. The previous Kia Niro edition has been extremely popular among drivers and we are confident that with the new driver-centric enhancements including its impressive fuel efficiency and technology, the improved Kia Niro Hybrid will be the smart choice that discerning drivers are seeking," said Mr Royston Soh, Divisional Manager, Head of Kia Sales & Marketing.
The improved Kia Niro Hybrid will debut at [email protected] over 5 and 6 October 2019. Prices for EX and SX variants start from SG108,999 and SG118,999 respectively (COE as per 27 September 2019). Cycle & Carriage also offers 10-year lithium battery warranty to give drivers an additional peace of mind.
In conjunction with Kia's Year End Spree, customers who book a Kia at the [email protected] can receive up to SG2,500 credits to build their customised gift package with accessories, vouchers and more.