Automotive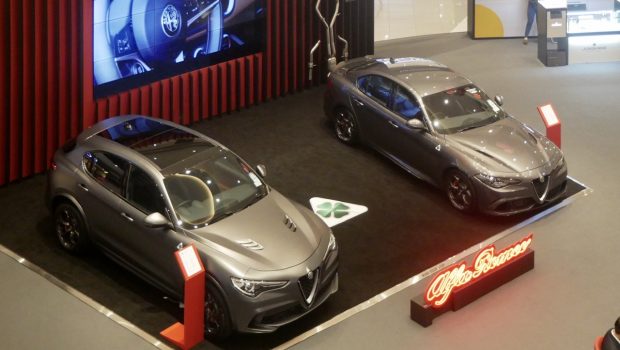 Published on January 22nd, 2020 | by Subhash Nair
0
Alfa Romeo Set Up NEXT to the SG Motor Show and Called it a Day
This month's Singapore Motor Show was perhaps one of the best in years. We got a whole bunch of regional premiers from Kia, Volkswagen and others. Meanwhile, at a mall attached to the Convention Centre, we found a non-participant: Alfa Romeo. We only spotted their little exhibit-outside-the exhibit after our interview with Theophilus.
The brand were displaying both the Giulia 4-door sedan and Stelvio SUV in their 'Super', 'Veloce' and 'Quadrifoglio' variants. We're not going to go into too much detail, but the Super and Veloce get 2-litre turbo inline-4 engines with different power and torque outputs while the Quadrifoglio models feature 2.9-litre V6 biturbo engines. They all get 8-speed conventional automatic transmissions that send power to the rear wheels. Click on the brochures below for more information about each variant.
We've also compiled a gallery of photos of each model.
We thought the rim options looked pretty stunning as well, so here are some close ups.
Personally, I don't see anything wrong with how Alfa Romeo decided to participate in the 2020 Singapore Motor Show. They had nothing new to debut, and the brand probably doesn't move enough units in the country to justify splurging on a fancy booth. Rather than pull a 1-car booth stunt like Lotus did, this at least has a little more classiness and C.I. adhesion to it.