TechTalk
Published on April 28th, 2020 | by Daniel Sherman Fernandez
0
What is Honda LaneWatch™ and how does it work
Yes, this is not really new but we still get some readers and also facebook friends asking us what it is and what is does. The problem is, most Malaysian car buyers (who are not very google savvy) when they visit a car showroom, the excitement of buying a car reduces the need to ask the sales person all the necessary questions and so some confusion comes later when sitting down and making a decision to buy or not and wondering if an item in the brochure is an option or not or what is its purpose.
So, in as simple language as possible we explain a vehicle safety feature that only Honda provides and what does it do to keep you safer on the road?
Honda LaneWatch is a combination of a camera and a screen that keeps drivers aware of what's happening on the passenger side of their Honda vehicle. Many new Honda vehicles come with the Honda LaneWatch feature and it is so easy for drivers to operate.
What Do The Rivals Provide?
Honda LaneWatch works in a similar manner as the 'blind spot monitoring system' does in so many new cars today. The 'blind spot monitoring system' was first invented by Volvo cars back in 2005. Volvo Cars called the system 'Blind Spot Information System' (BLIS) and it watches for approaching cars on both left and right that the driver cannot see. Initially, it used cameras placed in the car's side rear view mirrors and a computer processes the image from those cameras to see if anything that looks like a car and seems to be approaching close to your vehicle or into the area where you might hit it while changing lanes.
Then in 2013 Volvo Cars improved their BLIS systems by using radar (electromagnetic waves that bounce off solid objects and return an echo indicating if they're there) and it is mounted in the rear of the car and in the vicinity of the back bumpers. Then Audi, Porsche, Toyota and the rest developed their systems and started including them in most of the vehicles using different names to better promote their system.
How Does Honda LaneWatch™ Work?
The engineers at Honda looked at all the versions of 'blind spot monitoring system' with their rivals and decided to move the game up with their totally different version which is Honda LaneWatch™.
Honda LaneWatch™ features a camera below the passenger-side mirror, which sends an image to the central display screen so the driver can see what's happening on their passenger side while they drive. Honda LaneWatch™ gives the driver a clear view of the passenger side of their Honda, enabling them to change lanes or make turns without any worry.
All that said, it is important to note that Honda LaneWatch™ is an enhancement to already safe driving and is not a substitute for a driver's road awareness.
How to Use Honda LaneWatch™?
All you need to do to use Honda LaneWatch™ is activate your turn signal in your new Honda HR-V RS or Accord or CR-V or Civic. The camera will power on automatically after you activate your right hand turn signal, giving you a moving realtime image of your blind zone. If you are not making a turn and just want to check your blind spot, you can press the button on the end of your turning signal control and you can press the button again to turn the system off.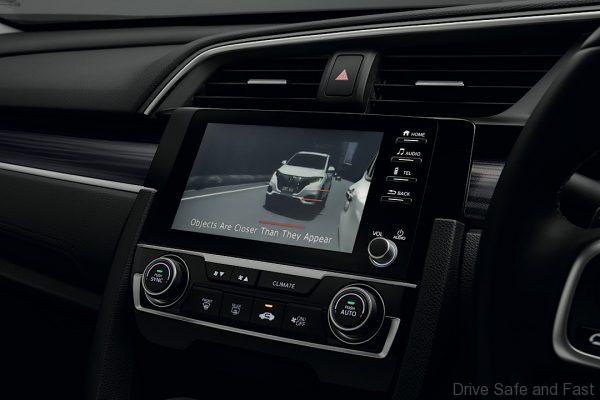 So, we hope that the above explains what is and how Honda LaneWatch works and its similar functionality to Volvo Cars BLIS or 'blind spot monitoring system'.