TechTalk
Published on April 13th, 2020 | by Daniel Sherman Fernandez
0
Grab EV's in Thailand, Singapore Indonesia, not Malaysia
There must be a clear reason why Malaysia is not included in this move.
Did you know that ride hailing company Grab owns one of the largest fleets of electric vehicles in the region?
Did you know that Grab's co-founder is a Malaysian businessman Anthony Tan and yet the push for electric vehicle adoption for Grab mobility services has not been introduced in Malaysia?
So, why is Grab working to adopt electric mobility in Singapore, Indonesia and Thailand and not Malaysia?
Let us highlight some interesting facts for you to better understand why Malaysian electric mobility initiative is just the presentation of graphs and documents and little else.
Grab electric mobility in Thailand
In June 2019 Grab launched SEA's first GrabTukTuk Electric to allow locals and tourists to easily book this popular mode of transport through the Grab app. This new service will also create better income-earning opportunities for GrabTukTuk Electric driver-partners as they enjoy up to 80% additional savings in fuel costs.
A LPG TukTuk driver incurs total monthly fuel expenses of 6,000 baht, compared to 1,400 baht for the monthly cost of charging an electric TukTuk. Driver-partners can also benefit from higher user demand for TukTuk services due to the convenience of booking through a mobile phone. The GrabTukTuk Electric service will complement the existing wide range of on-demand services that Grab has been offering to locals and tourists in Chiang Mai, including JustGrab, Grab RodDaeng and GrabFood. The goal was to replace 450 LPG TukTuks with electric TukTuks within 2019 which was completed.
With the electrification of the TukTuks in Chiang Mai as a start, Grab aims to drive the adoption of more electric transportation options in Thailand and support the Thai government's efforts in driving a smarter and more sustainable mobility future for all Thais.
Grab will share insights on reduced carbon footprint resulting from the adoption of GrabTukTuk Electric service in Chiang Mai, and support the local government in their efforts to reduce the reliance on private vehicle ownership and drive the usage of public transportation across the country. Based on statistics from the Energy Conservation Laboratory (EnConLab), KMUTT, one electric TukTuk is estimated to reduce the emission of greenhouse gas by up to 4.18 tons per year
Grab electric mobility in Singapore
In January this year, a pilot project saw 200 Hyundai Kona models plying Singapore roads. Grab received US250 million (SG 343 million) in funding from Hyundai and its affiliate Kia to kick start this project.
The EV partnership was also explore the development of customized maintenance packages to Grab EV drivers and conduct research into how EVs can be most efficiently deployed in South-east Asia under hot and humid climate conditions.
Grab also partnered with Singapore's energy utility provider, SP Group, to use its public EV charging network.
Grab electric mobility in Indonesia
In Indonesia, Grab signed an agreement with state-owned electricity provider Perusahaan Listrik Negara to co-build a network of EV charging stations. It also partnered Astra Honda Motor (AHM) and Gesits to launch EV bike pilots.
These pilots were deployed to test the viability of using EV bikes across Grab's ride hailing, food and parcels delivery business in the Greater Jakarta area.
Yoon Seok Choi, president director of Hyundai Motor Manufacturing Indonesia, said: "South-east Asia (has become) the fastest and (largest) emerging market for the EV industry over the other regions.
"We are looking forward to further collaboration with Grab and also the government to be able to accelerate the development of the EV industry in Indonesia."
In January 2020 Grab partnered with Hyundai to launch its first electric car service GrabElectrik as part of its effort to support the Indonesian government's vision to boost and nurture electric vehicle (EV) car ecosystem.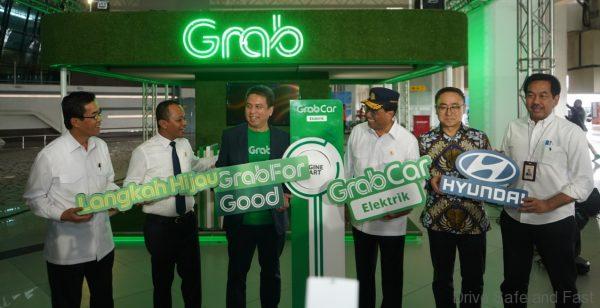 The Hyundai IONIQ Electric vehicles are operating as GrabCar Elektrik at Terminal 3 of the Soekarno-Hatta International Airport.
The Indonesian government has targeted two million EVs by 2025, aligned with the EV Ecosystem Roadmap which was launched in December 2019.
Along with governmental support, Grab has started a #LangkahHijau ("green steps") campaign which is aligned to the partnership with World Resources Institute (WRI), supporting the use of EVs to reduce air pollution and fight the climate change.
Electric mobility at work
So, now you have a better understanding of what a ride hailing company, a few car manufacturers and electricity providers are doing to to reduce pollution in three countries surrounding Malaysia.