Automotive
Published on April 22nd, 2020 | by Subhash Nair
0
Thai Cops Get Tesla Model 3 Patrol Cars With Battenburg Livery
Thailand's police force have just received delivery of a fleet of Tesla Model 3 Performance patrol cars. According to a report, the Royal Thai police have leased these 7 all-electric sedans for 5 years for a grand total of US$2.7 million. that works out to about RM11.87 million. Not great, especially when you consider just how cheap petrol has gotten recently.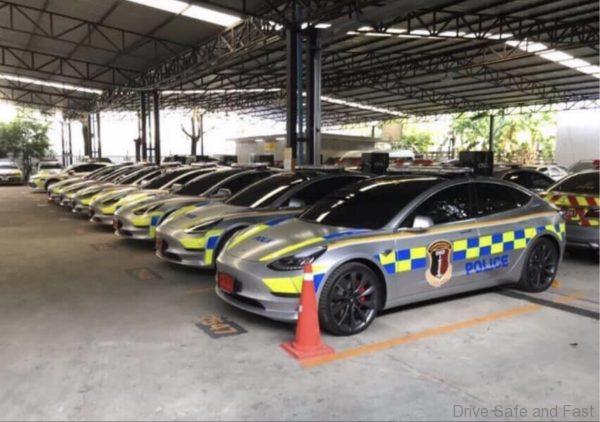 Of course, that isn't something that's likely to stay cheap. It's not likely the Royal Thai Police will make their money back on fuel later on, but there's no denying how cool it must be to patrol the streets in a completely silent premium sedan.
The "Model 3 Performance" that the Thai police have is the range topping model. It was introduced when the car was first launched in mid-2018. It gets all-wheel drive with a motor on each axle with 450hp and 639Nm of torque, and 560km range (NEDC) from a 70 kWh battery.
There are a couple of interesting things to note about these seven Tesla Model 3 cars. First of all, the Thai police have it equipped from the factory with light bars, computers, radio equipment and other patrol car necessities. This might explain the relatively high leasing cost. In the US, this particular model comes in at around US$57,000. In the UK, this model starts at £47,000. We bring that up because of the livery that seems to be UK police inspired.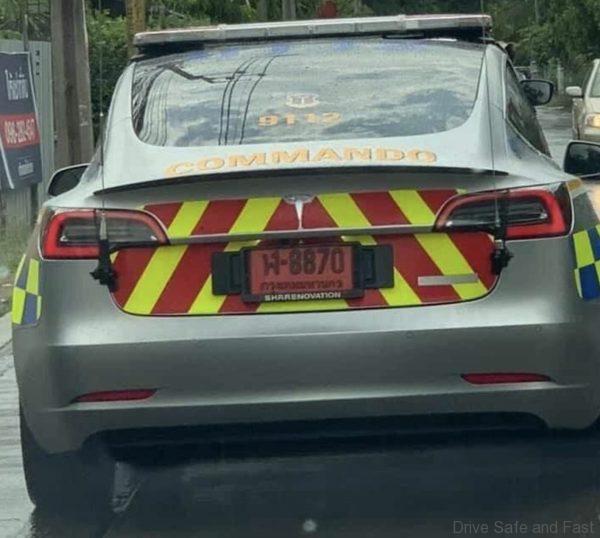 Yes, the cars seem to be finished in silver with a blue-yellow chequered theme for its livery. This pattern adorns the front and sides of the vehicle, though at the rear, red and yellow chevrons are applied. This is not what we see on most Royal Thai Police vehicles, as far as we know. These are, in fact, called Battenburg markings and it was developed in 1990s by the UK's Police Scientific Development branch to make emergency vehicles more easy to spot.
Since the UK adopted these, other countries have started to pick up on them, but most have their own sets of colours and patterns.
As for this particular colour choice, it seems to mirror what's seen on UK police. Other places that use blue and yellow cheques for police cars:
Hong Kong, Traffic Police
Ireland
New Zealand
Sweden