Used Cars
Published on May 3rd, 2020 | by Daniel Sherman Fernandez
0
Mitsubishi Colt Lancer needs to be rescued please
We would if we could!
It is not easy to find a fully restored version of this car running around today and when you do see one, especially in our big cities, it is usual rusting away and left to 'rust in peace' by its owner, like this unit. We have seen well restored units in Australia, New Zealand and Japan, but never an immaculate restored unit in Malaysia.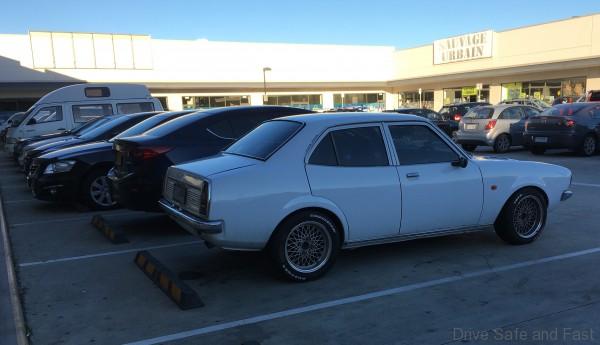 This is the 1973 Mitsubishi Colt Lancer (code name A70) and it was the very first generation of Mitsubishi's long-running Lancer nameplate. When introduced to the world in the early 1970s, it filled the gap between the Minica kei (compact) car and the considerably larger Colt Galant. When it arrived in Malaysia, it was an immediate rival to the Datsun Sunny, Mazda 808 and the Toyota Corolla. The British rivals were initially not worried as they had a strong market influence. Cars like the Ford Escort and the Austin 1300 were popular with middle class Malaysians at the time, but very soon after that changed.
This Lancer was sold with a 4G42, 1.2-liter engine that delivered a sensible 70PS. It was one of the best selling car in its class at the time as owners were never disappointed in its power, handling and comfort. Sadly, cars from the era were never subjected to good rust proofing and this is why they do not test time well at all.
This Lancer was a replacement for the Colt 1100, which was last sold in 1971. This Lancer also formed the basis for the Lancer Celeste sports coupe which arrived some time in 1975 until late 1981. Not many of units of the Celeste sports coupe survives today and finding a unit for sale is really rare.
This Lancer A70 was launched in Malaysia in 1973 only in a four-door sedan form (the 2-door version did not arrive here). It proved to be particularly successful in rallies, a claim that it retains to this day.
So what would a 1970's Lancer in this condition be worth? Well, we are assuming a complete engine still lives under the hood and the interior features and equipment are all intact. To redo the bodywork will cost anywhere between RM7,000 to RM10,000 which will include panel restoration, changing the floor board and rust proofing the car before painting. Painting and body restoration will be a process that will take a few weeks to make sure it is done properly. You should not rush this process.
Engine and electrical work should not cost more than RM2,000 and a rework of the interior would probably cost about RM2,500 to RM3,000. This means all work done will cost about a high RM16,000 so its purchase price should not be more than RM2,000-RM2,500 in its current state.
So, if you have about RM18,000 to RM20,000 cash available (including transfer, roadtax and insurance costs) and a passion for a classic Japanese car then look into this possibility and have it looking like a rally ready machine pictured below.
In August 1973, this version of the Lancer, a 1600GSR powered by a twin carburetor engine joined the line-up, winning its debut rally in the 1973 Australian Southern Cross. Then in 1974 it was again driven to victory by Joginder Singh in its debut Safari Rally.