Automotive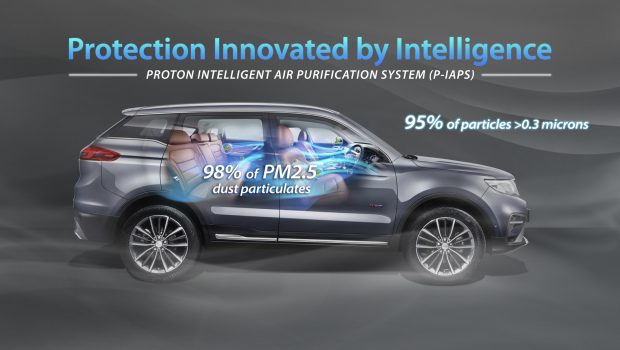 Published on May 13th, 2020 | by Subhash Nair
0
How Effective is Proton's 79 Ringgit IAPs Against Viruses?
Geely's response to the coronavirus outbreak has been quick and decisive. The company created a new Intelligent Air Purification System (IAPS) and deployed it all of their vehicles by March and gave out 150 Jianji MPVs to frontliners outfitted with this system. The system even received certification, so we know it works on at least 2 of Geely's vehicles. Now Proton have brought their system (possibly the same exact one) to the X70 in the Malaysian market at a great price.
Not only will all future X70 models be fitted with this system, but for just RM79 (excluding labour), you can have a PROTON IAPS retrofitted on your existing X70.
So, is it any good against the coronavirus? Neither Proton nor Geely have claimed this, besides one line from Geely that said IAPS could generate negative ions that sterilize and deodorizes vehicle pollutants and remove airborne viruses, bacteria, fungi, and mould.
However, it's important to ask this question because some buyers might have a false sense of security from this installation. Other buyers might be skeptical and believe Proton are capitalising on a public health crisis as a marketing tool. The timing of its release is no accident, and we can't blame Proton for taking advantage of the situation. So we're not going to take either side, but we're going to consider some questions to help give you a clearer idea.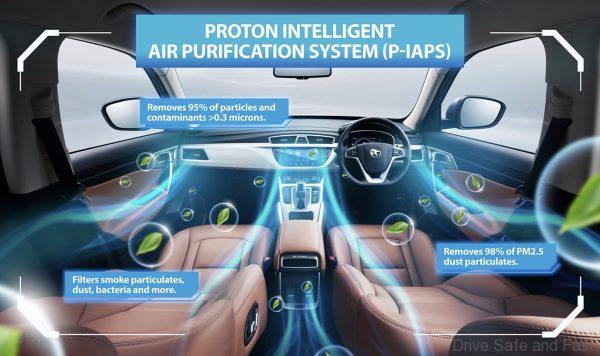 How effective is N95 against virus particles
The N95 filter is capable of removing 95% of particle larger than 0.3 microns and 98% of PM2.5 dust particles. The typical coronavirus particle are approximately 0.06 – 0.14 microns across. While that might alarm some, research has shown that N95 face masks, even poor performing ones, can hold back 94% of some virus particles.
How much of the air in the cabin gets filtered?
While N95 masks have some effective capacity to filter virus particles, an air purifier is not the same as a mask. Almost all air entering the respiratory system is filtered by a mask when worn properly, but that's not how an air purifier works. Yes, there's a good chance the filter will catch many of those virus particles, but unlike a mask, it's not filtering all the air in the cabin, and you could be breathing in unfiltered air particles at any given time.
The X70 has rather large internal volume, as it's an SUV with space shared between the occupants and luggage.
At what rate is the air in the cabin being filtered? An answer to this question will tell us how many minutes it will take for an X70 cabin to be reasonably filtered.
Does recirculating air or drawing air from outside the cabin severely affect the IAPS's effectiveness? Answering this question will tell us if the IAPS was optimised to keep virus particles out of the X70 or if it's designed to clean air that's already inside. And because the virus is spread between humans and not from the air outside, using it to filter incoming air may not be quite as important.
Will enough of the air in the cabin be filtered for it to be effective? Given the large volume and the single direction of air flow, will enough air from the middle or rear sections of the cabin be filtered?
Do airborne virus particles pose the biggest risk?
First of all, COVID-19 is not an airborne virus. but it is spread via droplets. Humans expel lots of water droplets when we breathe, cough or sneeze. It is within these water droplets that the virus travels. Some of these droplets may be filtered by the IAPS, but what about the rest of it that lands on the car's many surfaces or get inhaled by other occupants? The N95 filter simply cannot get to these.
Coming back to the statement Geely made about negative ions. These have shown some effectiveness at deactivating bacteria and some viruses. However, it should not be seen as a way to kill the virus.
What Should You Do?
Get the N95 filter for your X70 anyway, but be aware that it won't make your car virus-proof. Why?
For RM79, it's still an effective N95 filter that has the capacity to remove other pollutants, bacteria and dust
If it works even to small degree, then it might be worth investing in as PART of a deterrent
Car interiors are often neglected, especially during expected periods of disuse. Having something that makes the air just a little bit cleaner for such a reasonably price is good.
When haze season eventually rolls around, you won't have to rush to the dealership to get it installed then.
However, check the labour cost as Proton doesn't mention this in their press release. Also, make it a point to wipe down your car's touch points with an effective disinfectant and wear a mask yourself while in the car.