Motorsports
Published on May 18th, 2020 | by Subhash Nair
0
Vios Challenge Winners Announced as 3rd Season is Cut Short
The 3rd season of the Toyota Gazoo Racing Festival and the Vios Challenge was brought to a halt due to the COVID-19 pandemic. Once the MCO was announced, the final race of the season in Sepang had to be cancelled. This was supposed to happen between the 17th and 19th of April 2020.
Even with the Sepang International Circuit reopened, it was decided that the 4th race would not be postponed but cancelled altogether. As such, today, the season's winners in each category was announced using the current score. The season was about 75% completed before it had to be cancelled.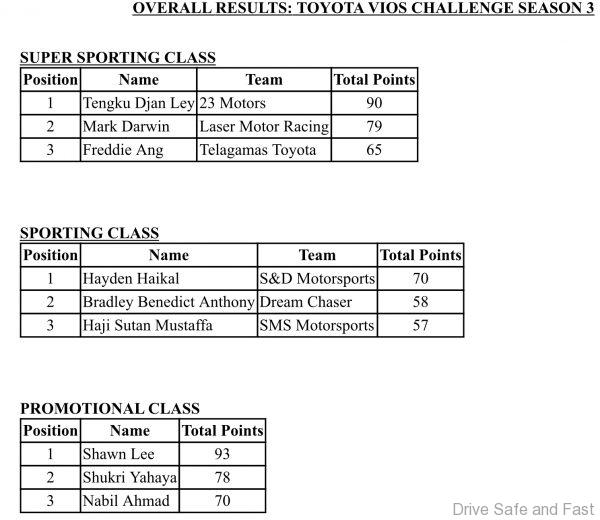 Here's the press release with more information.
PRESS RELEASE
Toyota officially concludes Season 3 of the Toyota Gazoo Racing Festival and Toyota Vios Challenge with the crowning of three champions amidst what has been another year of exciting and close door-to-door racing unfortunately cut short by the COVID-19 pandemic.
Season 3 sees Tengku Djan Ley Tengku Mahaleel being crowned overall champion of the Super Sporting class for professional drivers, 16-year-old Hayden Haikal winning the Sporting class for amateur drivers, and musician and TV personality Shawn Lee emerging at the top of the Promotional class for celebrity racers.
Having completed 75% of the series or three of the planned four rounds, the finale of Malaysia's premier street racing series originally scheduled for April 17-19 at the Sepang International Circuit was cancelled with the announcement of the Movement Control Order (MCO) and the advice against holding any public activities and gatherings until the end of the year.
"It is certainly not the most ideal way to conclude what has traditionally been a closely-contested championship. Like the previous two seasons, the Toyota Vios Challenge is unique in that as a one-make series, emphasis has always been on a level playing field, driving skills and experience which ultimately resulted in no clear winner emerging until the very last race. Season 3 had again demonstrated this spirit of competition, but inevitably the final race must yield to an even greater agenda which is to place national interest and public safety ahead of all other matters," said Akio Takeyama, Chief Motorsports Officer of Toyota Gazoo Racing Malaysia.
Takeyama, who is also Deputy Chairman of UMW Toyota Motor Sdn Bhd, said the final results were made after careful deliberation in adherence to and consistent with all provisions underlined by the technical and sporting regulations of the championship, and in discussion with the Motorsports Association of Malaysia (MAM), Malaysia's governing body for motorsports. The decision was also consistent with the best practices of other international motor-racing events.
Season 3 of the Toyota Vios Challenge street racing series had kicked off in Kuala Terengganu on 5-7 September 2019 before moving to Bandar Malaysia on 9-10 November 2019, and Batu Kawan in Penang on 14-16 February for round 3.
Moving forward Takeyama added that UMW Toyota Motor Sdn Bhd is currently in the advance stages of preparing for an even more exciting fourth season of the Toyota Gazoo Racing Festival and Toyota ViosChallenge.
"Season 4 will be an entirely different experience, offering racers, teams and participating dealers not only an enhanced racing format but also prize and reward structure. Without revealing too much too soon, I would also like to announce that the Toyota Gazoo Racing spirit will extend beyond the Toyota ViosChallenge and provide racers with additional racing programs to compete in. Another element we are closely looking into is talent development and expansion of TGR e-Racing."
For Super Sporting class champion Tengku Djan, the overall win marks his second title after emerging champion in the first season of the Toyota Vios Challenge before taking a break from racing to assumeresponsibility as Team Manager in season 2.
Driving for Team 23 Motors, Tengku Djan finished the season 11 points clear of second place winner Mark Darwin of Laser Motor Racing, with Telagamas Toyota's Freddie Ang a further 14 points behind rounding up the top three positions.
"The season has been nothing short of intense from start to finish. Competing in a one-make series where you are essentially limited to only your driving skills, there's only so much you can do in the company ofso many experienced and talented elite drivers on the grid and I am fortunate enough to have finished every race consistently in the points," said Tengku Djan who rounded up the season's six races with two wins, two second places, a fourth position and a single retirement.
"The Toyota Vios Challenge has been an incredibly rewarding series for drivers as much as it is a tough proving ground because not only are you driving on a street circuit which requires you to be extremely precise, but everyone competes on a level playing field by driving identical race machines. It builds character, confidence, accelerates a driver's learning curve and teaches drivers to become more technical and tactical by making minute changes to the vehicle's set-up with the hope of gaining some advantage."
One driver who is testimony to this is 16-year-old Hayden Haikal who is the youngest ever individual to win a race in the Toyota Vios Challenge and went on to become Season 3's Sporting class champion. Hayden joined the series in Season 2 and at 15 then, was the youngest rookie driver to compete in the series as he transitioned from karting to saloon car racing. Not only was the teenager forced into a steep learning curve (having to learn how to manually change gears and to assimilate himself with the dynamics of a saloon car), but he unexpectedly improved and excelled with every race.
"Moving up from karting was not as easy as I anticipated as I spent much of my first year in the Toyota Vios Challenge trying to learn the dynamics of driving a saloon car, revisiting techniques such as braking, cornering and overtaking, and trying to steer clear of the concrete barriers. And as tough as it sounds, competing in a one-make series and racing on a street circuit helped me tremendously in terms of being precise, making good judgments and building my confidence and composure on the track," said Hayden whose track record in season 3 include two race victories for S&D Motorsports, allowing him to end his campaign ahead of another teenage driver Bradley Benedict Anthony (Dream Chaser) who was 12 points behind and third place winner SMS Motorsports' Haji Sutan Mustaffa.
Looking back on his two seasons, he added that his participation in the series was timely given his move from karting and that the Toyota Vios Challenge not only provided a level playing field for first time racers, but was also cost effective.
"In the end, the series addressed what mattered most to my parents and I and that was to enhance my racing skills and it wasn't about how much money one can afford to spend on the cars we compete in."
Meanwhile, also claiming his second overall championship win in the Promotional class is Shawn Lee who clearly demonstrated a more composed and confident drive throughout season 3. Lee had been crowned Promotional class champion in season 1 and was promoted to race the following season in the more competitive Sporting class.
Returning to the Promotional class in season 3, he drove to three race wins and clearly emerged as the most dominant driver on the grid. Finishing second overall was actor Shukri Yahaya, 15 points adrift, while in third was TV personality Nabil Ahmad.
"I'd like to congratulate all the drivers in the Promotional class for what has been a really competitive season. It was close racing all the way from start to finish and with many of my fellow celebrity drivers competing in their second or third successive seasons, the level of racing has gone up so much," said Lee.
"Unlike my first year competing, I was more patient and strategic this time round, choosing my battles instead of going in guns blazing to avoid the risk of making costly mistakes along the way. The full season spent competing in the Sporting class also raised my experience and capability behind the wheel."
Summing up the season, President of UMW Toyota Motor, Ravindran K. said that the Toyota GazooRacing Festival and Toyota Vios Challenge has grown from strength to strength to fulfill the company's three key objectives: to bring motorsports and Toyota's racing spirit to the masses; to elevate Malaysian motorsports by introducing the concept of racing on street circuits; and successfully demonstrating the performance, reliability and durability of its vehicle to perform under extreme conditions.
"It has been a monumental task, but one that has been well worth the effort and an initiative we intend on pursuing further. I would like to convey our highest appreciation to all the participating teams, drivers, dealers, fans, spectators, sponsors and officials who have been instrumental in making this Series a success," said Ravindran.
"Our decision to venture into motorsports was with the intent of injecting greater excitement into Malaysian motor-racing and in three season, we have not only successfully established a one-make series offering a greater level playing field and is much more affordable and accessible to the masses, but also contributed to the development of new, young and talented drivers."