Automotive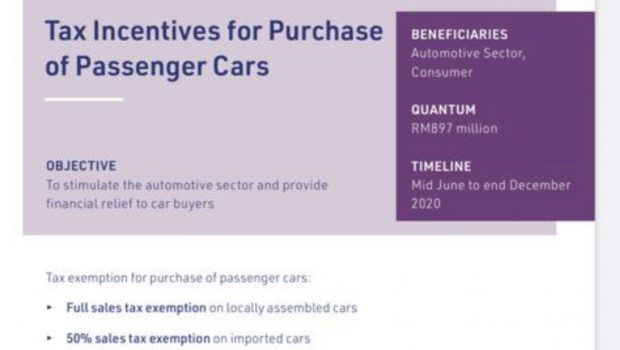 Published on June 5th, 2020 | by Subhash Nair
0
Sales Tax Exemption for CKD (100%) and CBU Cars (50%) for 2020
Car prices are about to come down by a significant amount thanks to the government's short-term recovery plan. The Prime Minister's Office just announced sweeping changes that are aimed at encouraging spending. For the automotive sector, what we've heard so far is that there will be an exemption on sales tax for the rest of 2020.
Starting the 15th of June and ending on the 31st of December 2020, locally-assembled models will get 100% sales tax exemption while fully-imported models will receive 50% sales tax exemption. As it stands, sales tax rate are both CKD and CBU are 10%.
This means locally-assembled car prices ought to come down by 10% while CBU prices will be down by 5% before any further discounts from manufacturers owing to stock clearance.
Here's the relevant excerpt from the Prime Minister's speech in BM.
PRESS RELEASE
Selain itu, bagi menggalakkan pertumbuhan industri automotif negara, Kerajaan bersetuju memberi pengecualian cukai jualan sebanyak 100 peratus ke atas penjualan kereta penumpang pemasangan tempatan, dan 50 peratus bagi kereta penumpang yang diimport bagi tempoh mulai 15 Jun 2020 hingga 31 Disember 2020.
POINTS To Note:
Does this tax reduction work for pickup trucks?
Does this tax reduction apply to national cars like Proton and Perodua?
How will this new car tax holiday affect the used car market in Malaysia?
How will this new tax exemption work with current pre-registered vehicles that are sitting in dealerships around the country since early this year?
How will this new car tax discount work on repossessed vehicles sitting in finance company stock yards around the country?
How will this new car tax discount affect the car subscription and car leasing existing running accounts/business?
Is there any tax benefit in buying full electric vehicle or a hybrid vehicle in 2020?
Malaysians are always complaining about the high cost of vehicle ownership and still we Malaysians find a way to get a new car under the porch every 4-6 years.
This creates a cycle of debt that never ends until past retirement. Yes, many have been in car finance debt even past retirement and it is a financial burden that has been accepted through the ages as we are a car crazy nation.
For the next six months no Malaysian will be complaining about high new car selling prices.