Automotive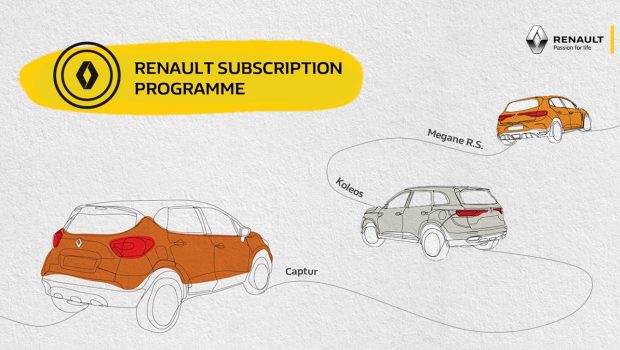 Published on August 24th, 2020 | by Subhash Nair
0
Renault Named "Malaysia Car Subscription Company of the Year"
The automotive industry has been changing drastically over the last year. Some have taken steps to introduce a digital retail experience, but only one has taken the larger step of shifting the sales model completely. That company is Renault, and just a year ago, they introduced their Renault Subscription programme.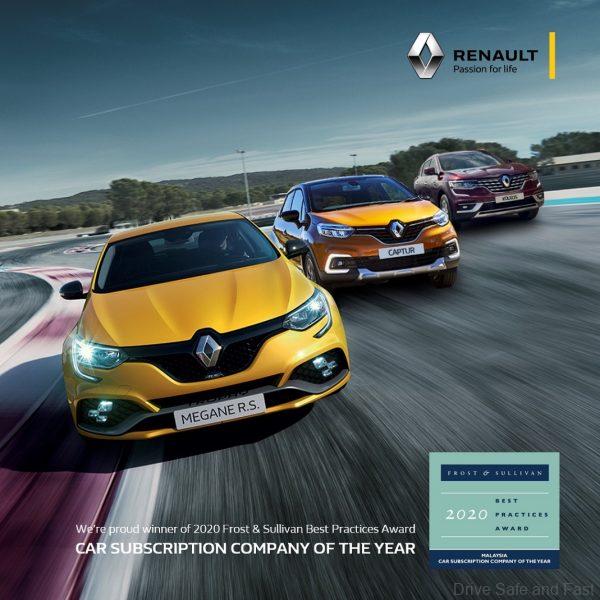 They remain the only car brand with a fully-fledge, in-house subscription model locally. Now, Frost & Sullivan Asia Pacific has recognised Renault's effort by naming it the Malaysia Car Subscription Company of the Year.
For more, including Renault Subscriptions current offerings, check out the press release below. Here are some relevant infographics:
PRESS RELEASE
Renault has been named Malaysia Car Subscription Company of the Year at the 2020 Frost & Sullivan Asia Pacific Best Practices Awards for its Renault Subscription programme – a timely recognition as Renault Subscription celebrates its first anniversary this month.
Launched in August last year, Renault Subscription was designed to offer a more affordable and flexible alternative to vehicle ownership beyond the traditional hire-purchase model as well as car sharing and rental options available in the market.
"We are delighted to have received this prestigious accolade from Frost & Sullivan. It is testament that Renault Subscription – a first-of-its-kind by an OEM – has successfully disrupted the industry status quo by creating a new niche within a highly-competitive landscape to address unmet consumer needs," said Wong Hoe Mun, CEO of TC Euro Cars (TCEC), the sole franchise holder for Renault vehicles in Malaysia.
The Company of the Year Award is evaluated independently by Frost & Sullivan analysts based on the following key benchmarking criteria: addressing unmet needs, implementation of best practices, financial performance, price and performance value, customer service experience and brand equity.
Renault Subscription turns one
TCEC first introduced Renault Subscription in August 2019 to provide consumers with a new mobility option with more freedom and flexibility. The idea was to help customers to break away from long-term hire-purchase tenures, ownership costs and concerns and worries about depreciation.
With its affordable rates and multiple plan options, Renault Subscription also lowers the barrier to entry for those interested in driving a Renault, offering them the opportunity to "own" or upgrade to a vehicle of continental quality and standards.
"We are proud of the ground we have made with Renault Subscription. We truly believe that Renault Subscription is changing lives and the way consumers view their relationship with their vehicles. The Movement Control Order and on-going COVID-19 pandemic has been challenging but by constantly innovating on our offerings, we believe we are able to meet the market where they are – matching their needs with a solution that they are looking for," said Wong.
One year down the road, the Subscription programme has generated more than 135,000 enquiries from interested parties and acquired more than 1,000 customers. Of these customers, 10 percent own more than one Subscription plan. Key reasons cited for choosing Subscription include no loan concerns, no long-term lock-ins, no depreciation concerns, a new car every two to three years, no downpayment, no interest rates and all-inclusive costs.
The subscription model has proven to be well-received amongst younger audiences, with more than 50 percent of customers below 40 years old. Another segment that Renault Subscription is popular with is the expatriate group (20 percent of customers) who appreciate the flexibility and affordability it offers.
"I have been interested in the Captur for some time but as a foreigner, it is very difficult and tedious to secure a bank loan in Malaysia. Renault Subscription is ideal because there is less hassle and the approval process much faster. Furthermore, it is way more affordable than car leasing or rental and I'm assured of getting a comfortable brand-new continental car instead of a smaller used vehicle," said subscriber Mariko Yasumura, a Japanese national who has been living and working in Malaysia for 10 years.
Launched with Fixed and Switch plans for the Captur compact crossover and premium Koleos SUV, based on feedback and positive response from customers, TCEC aggressively rolled out further enhancements to Renault Subscription.
Starting with the inclusion of the high-performance Renault Megane R.S. into the subscription line-up late last year, the company has introduced new plans that offer even more affordability to cater to a wider range of customers.
The Fixed and Switch plans are available for the entire Renault family of three models – Captur, Koleos and Megane R.S. – covering seven variants. Early this year, TCEC launched the Renault Subscription 7-Day Trial Plan, the 1-Month Trial Plan and Pre-Owned Captur 1-Year Fixed Plan.
The various Fixed plans are the most popular with 74 percent of customers selecting a Fixed Plan. The Trial plans comprise 21 percent of customers while the Switch plans are taken up by 5 percent of customers.
As far as models go, the versatile Captur remains the most popular, with 82 percent of customers opting for the lifestyle crossover.
Affordability and the Captur were what attracted husband and wife, Mohd Nizam A. Hamid and Izatul Shima binti Shahiri to Renault Subscription.
"I absolutely love the Captur with its performance, handling, ride comfort and fuel economy. Out of 100 percent, I would rate my experience with the car at 90 percent. Now, with Renault Subscription and the all-inclusive costs, it is more affordable than repayments for longer-term bank loans. You get your car faster and with less hassle as well. In these challenging times, people need to save more but also mobilise more so having an affordable solution is essential," said Mohd Nizam.
"Renault has good vehicles and I was looking for a premium SUV. After doing my research, I decided that the Koleos 3-Year Fixed Plan is a very safe deal. I can return the car at the end of my subscription without having to worry about selling it and its resale value. And I don't have to worry about other ownership concerns and costs like spare parts, road tax, insurance and maintenance," said business owner Mr. Chan.
Those interested in Renault Subscription can visit the Renault E-Store for information and to register an account. Launched early this year, the E-Store provides customers with a seamless end-to-end online purchase or subscription process, from arranging for test drives and submitting documents to taking delivery of the vehicle and making payments.
Renault Subscription deals continue
Those interested to be part of the Renault Subscription programme can take advantage of special deals happening this month. Customers will enjoy fantastic savings of up to 38 percent and free upgrades to the special edition Captur Trophy worth up to RM7,200 for Fixed plans on the Captur.
| | | | |
| --- | --- | --- | --- |
| Plans | Model | Normal Rate | August Promo |
| 7-day | Captur | RM399 | – |
| 1-month | Captur | RM1,499 | – |
| 1-year Fixed Plan | Captur (Pre-Owned) | RM1,299 | – |
| 1-year Fixed Plan | Captur (New) | From RM1,699 | From RM1,199 for first 6 months with Free upgrade to Captur Trophy worth RM2,400 |
| 2-year Fixed Plan | Captur (New) | From RM1,499 | From RM999 for first 6 months with Free upgrade to Captur Trophy worth RM4,800 |
| 3-year Fixed Plan | Captur (New) | From RM1,299 | From RM799 for first 6 months with Free upgrade to Captur Trophy worth RM7,200 |
| 1-year Fixed Plan | Koleos (New) | From RM2,699 | From RM2,299 for first 6 months |
| 2-year Fixed Plan | Koleos (New) | From RM2,499 | From RM2,099 for first 6 months |
| 3-year Fixed Plan | Koleos (New) | From RM2,299 | From RM1,899 for first 6 months |
| 1-year Fixed Plan | Megane R.S. (New) | From RM5,999 | From RM4,999 for first 6 months |
| 2-year Fixed Plan | Megane R.S. (New) | From RM4,999 | From RM3,999 for first 6 months |
| 3-year Fixed Plan | Megane R.S. (New) | From RM3,999 | From RM2,999 for first 6 months |
To visit the Renault E-Store or for information about Renault in Malaysia, visit www.renault.com.my or call 1800-18-8663 (Monday – Sunday, 8am – 8pm).