TechTalk
Published on September 17th, 2020 | by Daniel Sherman Fernandez
0
Porsche High Power EV Charging Trucks
This mobile electric vehicle charging looks a lot like our TNB back up mobile generators.
European Porsche Taycan buyers will have little issue in enjoying their Taycan sport cars when Covid-19 ends and inter-country driving returns. The all new Porsche electric sports car is coming to Malaysia this week and the excitement surrounding this all electric Porsche has been increasing. There are already bookings and Porsche in Malaysia is looking at making this the best selling premium electric vehicle in the country.
We were fortunate enough to be invited for the media test drive in Europe and we took this amazing sports car across Austria to Munich without a hitch.
In may this year, Porsche AG has invested in establishing a global charging network: The "Porsche Destination Charging" programme includes a total of 1,035 AC charging stations in around 20 countries. The installation of a further 900 is planned by the end of this year. The charging points are located at selected hotels, airports, museums, shopping malls, sports clubs and marinas. Porsche customers with a Taycan or plug-in hybrid models can charge their vehicles for free at these sites.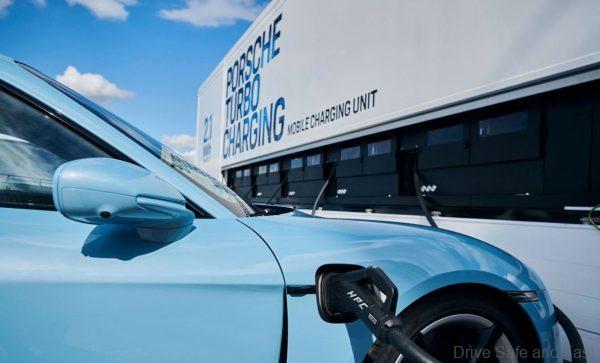 The Hungaroring in Budapest was the venue for a special Porsche Track Experience just a few days ago, where "Soul on Track" offered customers the opportunity to test the Taycan on a circuit. Such driving events present organisers with a particular challenge, however: when a large number of Taycan cars need to be charged quickly and simultaneously, the local infrastructure isn't always up to the job. Without a satisfactory solution on the market, Porsche wasted no time in creating its own. Along with its partner in the project – the German company "ads-tec" – it has produced seven mobile charging trucks with a proprietary charging system and buffer storage unit.
Able To Charge 30 Taycan Cars At One Go
The trailers' technical specifications speak for themselves. With a power rating of 3.2 megawatts, ten Taycan can be charged simultaneously at maximum speed. The battery buffer storage unit has a capacity of 2.1 megawatt hours. This means that up to 30 Taycan in total can be charged by the energy storage unit. The latter is generally recharged with renewable power from the power grid. For example, during a three-week customer event in the Portuguese city of Portimao in November 2019, the power came directly from the nearby photovoltaic systems. The trailers can be recharged very quickly – under good conditions, they are fully charged again within four hours.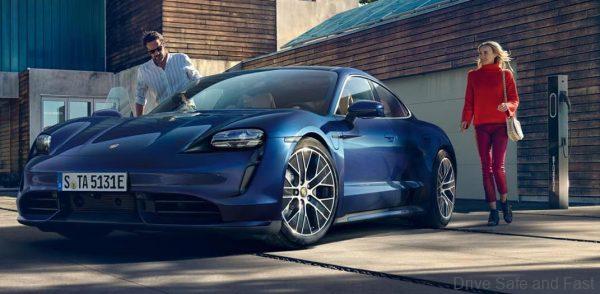 Taycan Technology
The flagship Turbo S version of the Taycan can generate up to 761 PS over- boost power in combination with Launch Control, and the Taycan Turbo up to 680 PS. The Taycan Turbo S accelerates from zero to 100 km/h in 2.8 seconds, while the Taycan Turbo completes this sprint in 3.2 seconds. The Turbo S has a range of up to 412 kilometres, and the Turbo a range of up to 450 kilometres (according to WLTP in each case). The top speed of both all-wheel-drive models is 260 km/h.
The Taycan is the first production vehicle with a system voltage of 800 volts instead of the usual 400 volts for electric cars. This is a particular advantage for Taycan drivers on the road: in just over five minutes, the battery can be recharged using direct cur- rent (DC) from the high-power charging network for a range of up to 100 kilometres (according to WLTP). The charging time for five to 80 percent SoC (state of charge) is 22.5 minutes for charging under ideal conditions, and the maximum charging power (peak) is 270 kW. The overall capacity of the Performance Battery Plus is 93.4 kWh. Taycan drivers can comfortably charge their cars with up to eleven kW of alternating current (AC) at home.