Automotive
Published on September 28th, 2020 | by Subhash Nair
0
Volkswagen Golf MK8 Spotted in Kuantan. CKD Arriving Soon?
The Golf remains one of the company's most recognisable and desirable models despite all of the controversies surrounding the brand. Volkswagen have decided against local assembly of the Golf in the past. They instead tried for years to push the Jetta as sedans are more widely accepted than hatchbacks above the RM100,000 mark. However, the Jetta has since been completely pulled from the market.
This was followed by a strong push for the Golf Mk7.5 in mid-2018. This push consisted of all CBU cars, but with relatively decent spec on the Golf TSI R Line.
Now there's a suggestion that the next-generation Golf will be taken more seriously by Volkswagen Passenger Cars Malaysia. A recent spyshot from Facebook user Amirul Ahmad seems to suggest that the 8th-generation Volkswagen Golf is being test driven near the company's local-assembly plant in Pekan, Pahang. The Golf MK8 was spotted on public roads near Kuantan, which is a 45 minute drive from Pekan. It's entirely possible that this is a CBU car, but we'd like to think that if the Arteon can be 'CKD'-ed, then Volkswagen Passenger Cars Malaysia will see the logic in bringing prices down on their more accessible models like the Golf.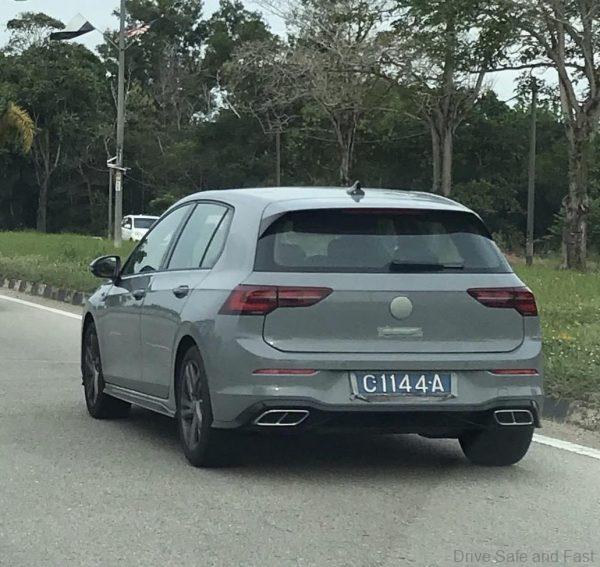 A quick check on their website doesn't seem to indicate anything about the MK8 Golf, and the Golf MK7.5 is still being offered for sale there.
We're not very familiar with how the Golf MK8 is packaged, but from the quad exhaust finishers and dark alloy rims it looks like we're getting another Golf TSI R-Line.
Here's more information about the MK8 Golf for those of you who are interested.
PRESS RELEASE
Sitting on the latest and most advanced iteration of the Volkswagen Group's supremely flexible Modular Transverse Matrix (MQB) platform, the new Volkswagen Golf measures 4,284 mm long, 1,789 mm wide (excluding wing mirrors) and 1,491 mm high. The wheelbase now stands at 2,619 mm. For comparison, the outgoing Golf (Mk 7) measures 4,258 mm long, 1,790 mm wide (excluding mirrors), 1,492 mm high, and has a wheelbase of 2,620 mm. Design and aerodynamic refinements have cut the new Golf's Cd figure from 0.30 to 0.275 – making this iteration of VW Golf the most sleek and refined to date.
Usability, of course, remains paramount and today's Golf boasts boot space of 381 litres with all five seats in place. When the asymmetrically split rear seat backrest is folded down, the load capacity increases to a maximum of 1,237 litres. Meanwhile when compared with its predecessor the already-generous shoulder room (1,420 mm at the front, 1,370 mm at the rear) and headroom (1,018 mm at the front, 968 mm at the rear) are practically unchanged.
The Golf's new digital instruments form what is a class-leading information system This is fitted to all models across the range and comprises a standard-fit 10-inch display, and online Discover Navigation infotainment system with additional 10-inch touch-screen display. This consistent new digital architecture, with information provided on a single visual axis, also sees light and vision functions redesigned, bundled and made more intuitive to operate. For instance, the car's exterior lighting – as well as the windscreen and rear window demisting functions – are now operated using a digital panel to the right of the instruments. The centre console sees the removal of physical buttons, instead replaced with touch pad sliders for the air conditioning system and infotainment system. A smaller shift-by-wire gear lever for the automatic dual clutch gearboxes (DSG) saves space, while the new roof console now includes a touch slider for the optional tilting and sliding panoramic sunroof. A windscreen head-up display is optionally available to further enhance the range of information on offer.
Optionally available on the Golf, DCC responds continually to changing driving situations and takes braking, steering and acceleration into account. The required damping is calculated for each wheel and adjusted at the four shock absorbers within fractions of a second. The vehicle set-up can also be extended in 'Individual' mode beyond the existing range of 'Comfort', 'Eco' and 'Sport' modes. Using a new digital slider, the driver can individually and precisely set and store their exact preference. The slider also continuously influences the lateral dynamics of the Golf via DCC and XDS (electronic differential lock), so it is now also possible to apply intermediate settings in between the familiar modes. The Golf also offers additional new adjustments, exceeding the capabilities of previous systems. So, beyond the 'Comfort' setting the body is "decoupled" from the road surface as much as physically possible, while at the other extreme after 'Sport' mode there is an additional adjustment range that features maximum damping for minimum body movement and exceptionally direct vehicle reactions.
1.5 TSI EVO 130 PS – The 1.5-litre 130 PS turbocharged four-cylinder petrol engine, like its more powerful sibling, is equipped with Active Cylinder Technology (automatic deactivation of two cylinders under certain load conditions). This 130 PS version also features the efficient TSI Miller combustion process with variable turbocharger geometry. It provides 130 PS between 5,000 rpm and 6,000 rpm, while the flat-topped torque curve sees the maximum figure of 200 Nm available between 1,400 rpm and 4,000 rpm. With this engine, the Golf's top speed is 133 mph, and the 0-62 mph time is 9.2 seconds. Economy on the combined WLTP cycle ranges between 49.6 and 52.3 mpg, with CO2 emissions between 122-130 g/km depending on optional equipment fitted. This engine is available exclusively with a 6-speed manual gearbox.
1.5 TSI EVO 150 PS – This more potent 1.5-litre 150 PS turbocharged unit has four cylinders and also features Active Cylinder Technology. Power peaks at 150 PS between 5,000 rpm and 6,000 rpm, and the maximum torque figure of 250 Nm is available from just 1,500 rpm up to 3,500 rpm. This engine is only available with a 6-speed manual gearbox and powers the Volkswagen Golf to a top speed of 139 mph, with a 0 to 62 mph sprint time of 8.5 seconds. Economy on the combined WLTP cycle is measured between 47.1 and 51.4 mpg with CO2 emissions between 125-136 g/km depending on equipment level and options.