Reviews
Published on October 2nd, 2020 | by Daniel Sherman Fernandez
0
Desande V8 Roadster For Sale
Looking for a classic looking truly on-of-a-kind car to own? Well we at www.dsf.my have just seen this rare beauty for sale and its asking price is not that crazy if you want to own and drive a one of head turner.
The neo-classic Desande V8 Roadster was the brain child of Belgian National Danny G. Vandessande. Somewhere in the Eighties he decided to build the cars in England because that is the only place where 'the skills to hand-build a classic car conforming to modern standards were sufficiently available'. The Desande V8 Roadster was build by Desande Automobielen BV (Holland) and Grand Prix Metalcraft Ltd. (England).
The Desande V8 Roadster was one of the most beautiful (and better build) neo-classic cars in its time.
This is not a kit car but a well-conceived, superbly engineered, well-finished, sports car and you are unlikely to see another especially in Malaysia. The 5.0 liter GM small block 305 V-8 engine produces 155hp and 326NM of torque paired with a 3-speed Automatic Transmission.
We have here a reluctant sale by owner. Unit 8 of 250. Manufactured in 1981 and registered in Malaysia in 1986. This is a ' kereta import baru ' previously owned by a Royalty.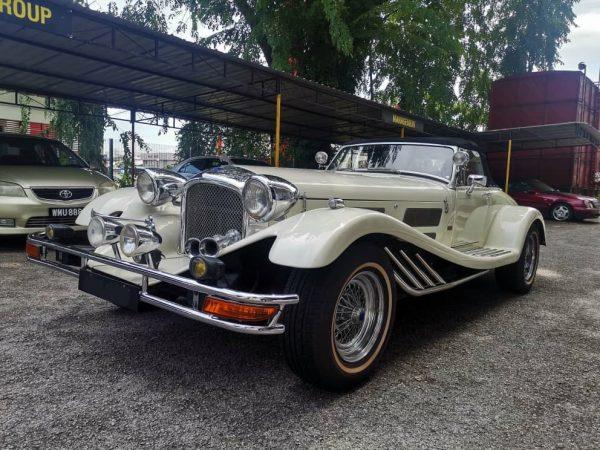 For more information please call:-
Skantha – 0123796671