TechTalk
Published on November 18th, 2020 | by Subhash Nair
0
[Update] Car Subscription Via Flux: We Learn And Try It Ourselves
It's hard to believe that more than a year has passed since car subscriptions became available in Malaysia. While it's still not the norm, it's definitely gaining traction. I mean, it sounds appealing enough on paper – choose your car online, pay the company monthly and they take care of all the hidden costs and inconveniences of car ownership for you. But it does sound a little too good to be true, doesn't it? After all, car brands take decades to build trust, and invest millions in physical showrooms because of how complex and difficult the car buying process inherently is.
Hearing from Local Car Subscribers
So I thought I'd find Malaysians who had subscribed to a car to find out what their experience was like so far. I found 3 unique candidates, Elisha, Nisa and Arif, who were all using Flux to subscribe to their cars.
Elisha: Hire Purchase was Not an Option
Elisha is a former stewardess who was based in Dubai when the COVID-19 pandemic hit. After moving back to Malaysia, she found she was unable to secure a car loan as her assets were all parked in Dubai. She also wasn't a fan of the narrow selection of cars available to lease.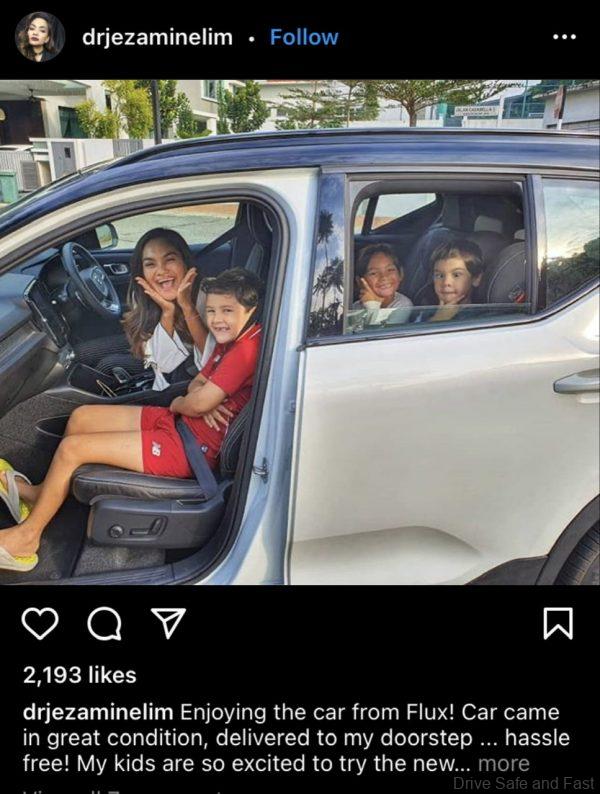 That's when she came across a post by Dr. Jezamine Lim, Harith Iskander's wife, promoting the use of the Volvo XC40 through Flux. Elisha got in touch with Flux and checked what was available for about RM2,000 a month. All they had to do was run a quick credit check and she was presented with a few options.
"Before I made the decision, the Flux team informed me that the Proton X70 would be available on the platform and I was over the moon! I had my eye on that car even before moving back to Malaysia. Everything just fit into place perfectly," said Elisha.
Arif: Keeping costs predictable and transparent
Arif too learnt about Flux through Instagram. However, his reason for trying the service out was very different from Elisha's. He had bought a BMW 5 Series 7 years ago through hire purchase and after the warranty period was over, his problems began. He spent RM400,000 on the car and nearly RM100,000 on major repairs. The worst part was that he could only fetch RM45,000 on the used car market after all that. With Flux, he was able to get a BMW 330e M Sport and his financial commitment was much more predictable and shorter – everything was just transparent up front.
Nisa: Wanted the drive, not the drama
However, I think Nisa's experience is what most Malaysians can relate to. She had an aging Volkswagen Polo and the warranty had expired. She wanted the joy and freedom of car ownership, but didn't like sending the car in for routine maintenance and minor repairs. That's when she was introduced to Flux. Not only are maintenance costs factored into the monthly subscription price, but their concierge team also picks the car up for its scheduled services as well.
What she wasn't sure of was whether she wanted to get a bigger car. With Flux, she was able to try out a Toyota Vios sedan subscription. She soon realised she much prefered hatchbacks, so she swapped the Vios for a Kia Picanto for the rest of her 36 month subscription – something that wouldn't have been possible through conventional hire purchase.
Speaking to these subscribers was quite enlightening. I can start to see the appeal of a car subscription, but I'm still a bit of a skeptic when it comes to things like these. There's just so much about the car ownership experience that's different, but I'm going to give it a try myself before delivering my verdict. And that's what I'm going to do.
Reserving my Own Flux Subscription
That's right, I've reserved myself a 1 month car subscription through Flux. I'll be updating this post after my subscription tenure is over. For now, let me share what I learnt about the process of 'subscribing' to a car.
The process is simple and works on all devices, I booked mine via an iPad and it took about 5 minutes start to finish. First, register an account and confirm your details to start off. Just have your IC or passport and driving license handy. You can register a credit card if you prefer, but I put in my debit card details instead and it worked.
You can then browse driveflux.com and select a car you like from their catalogue. I was on a rather tight budget and what I need in my life right now is a reliable runabout, so I had a look at Toyota they had listed – the Yaris. But as the subscribers I spoke to said, Flux has got everything from BMWs to Kias and even pick-up trucks if you do a lot of cargo hauling. You could even swap to a Maserati to treat yourself for a month if you like, but at a cost.
What's impressive about the Flux catalogue is that every model listed comes with photos of the actual car you'll be subscribing to. This gives a very accurate representation of what you'll be living with, as many of these vehicles aren't factory fresh. That being said, the white 2019 Toyota Yaris I subscribed to looked pretty much brand new.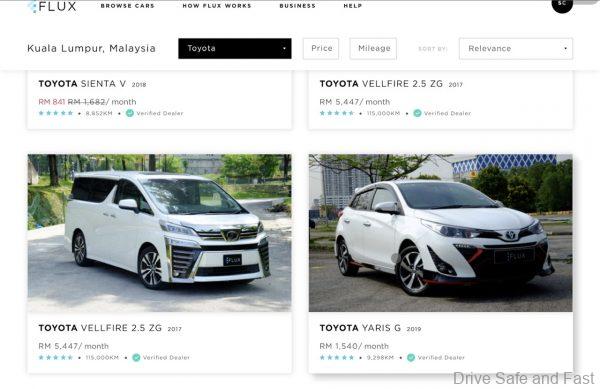 Next, decide on a subscription plan that suits your use best. I chose the shortest tenure of just 1 month and the lite mileage package, but subscriptions get cheaper per month the longer the tenure. A 12, 24 or 36-month subscription would have been better value, but I needed the flexibility of a short package. As for the mileage cap, you don't have to worry too much about this at the outset as you can easily upgrade this if, let's say, you've got to balik kampung for the holidays.
Once you've confirmed the details and uploaded the necessary documents, you just have to wait for the call from the Flux team, which should come within a day. They'll arrange a suitable delivery date and drop off location.
Compared to my experiences shopping for a used car, Flux's process is WAY faster and easier. There's really no other platform that lists each vehicle out individually with standardised photos and details of each available vehicle. It's strange how 'normal' picking a car out from a website feels once you actually try it, but I'll reserve further comments until I have the car in my possession.
So, until that update, all I can say so far is that Flux has the interface and reservation process done right. They've managed to condense and digitalise processes that have taken me days to complete on my last 4 used car purchases, which is really quite impressive. However, I still feel a little anxious about the condition of the Yaris and if the photos will do it justice. There aren't usually problems with year-old Toyotas, but I'm still going to have to drive it for myself before I can give 'subscribing to car' the 'all clear'. I'm also looking forward to seeing if the concierge service is as pleasant as they describe. Stay tuned for the updated experience!
[Update]
I've concluded my time with the 2019 Toyota Yaris through Flux. They met me at a time and place of my choosing. They were clear in their communications with me and punctual. The car freshly washed and its petrol tank was full when it arrived, and the concierge took a Grab ride home after delivering the car.
I went through my day-to-day routine with the Yaris, travelling outstation once. I put on 823km in less than a month. That being said, I did go outstation using a media test car on one occasion.
Even including the mileage I put on with that car, the default 1250km would have worked out okay for me.
A few days before returning the car, I was given a friendly reminder to have the car washed and filled with petrol as I'd received it. That was fair enough. Besides keeping an eye on the car's mileage, my experience with Flux was comparable to regular car ownership.
Unlike ride hailing or short term car rentals, the car was in my parking lot any time I needed to get around. Unlike buying a car brand new, I was under no commitment to keep the car for years and year. All-in-all, we definitely see the appeal now. Having a nice, reliable, modern car available at all times without feeling tied down definitely looks like the future of car ownership. There are definitely many classes of car buyers who won't see the need, but if you're fed up with all the negative aspects of car ownership, check out Flux for yourself.