Automotive
Published on December 23rd, 2020 | by Subhash Nair
0
There's A New American EV Company Called Alpha Motor
There was a time not too long ago when new electric car companies were sprouting out of the woodwork. Many of them were American, some European, but also plenty from China too. Without a doubt it was Tesla that inspired many of these startups, but the majority of these over-promised and under-delivered. But as Rivian proves, there's still a lot of hope for Tesla competitors out there. Which is probably why yet another company has arrived.
They're called Alpha Motor Corporation and they're based out of Irvine, California. They first surfaced last month with a promise of electric vehicles that were innovative, delivered high value and fit customer needs. Their vehicles would be built on a proprietary modular platform that has configurable and removable modules. This allows for easy recycling and replacing of parts like batteries and such.
Earlier this month, they showed the Icon (not the one by Geely). The Icon is an EV that can be configured to be an SUV, van or a truck. Absolutely no details about the Alpha Icon were shared though. We don't know how big it'll be, how much range, what sort of motors and battery it'll come with. We don't even know what they expect the thing will cost.
Now we have their second vehicle preview. And we have to admit this one actually has a pretty eye-catching retro design. It's called the ACE coupé and beside it looking really good, Alpha Motor actually shared more details this time.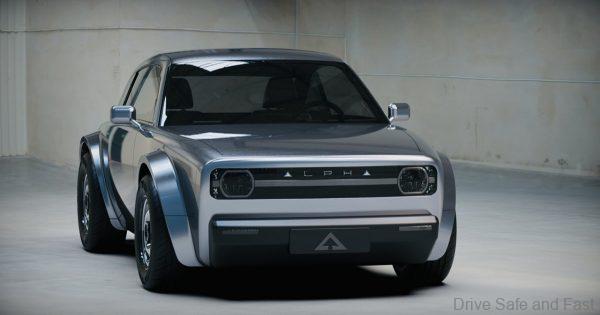 First of all, it's shown in the company's 'Blue Seraph' silver metallic paint finish. It has both a front and rear trunk for luggage. It measures 4,180mm in length, 1886mm in width, and 1450mm in height.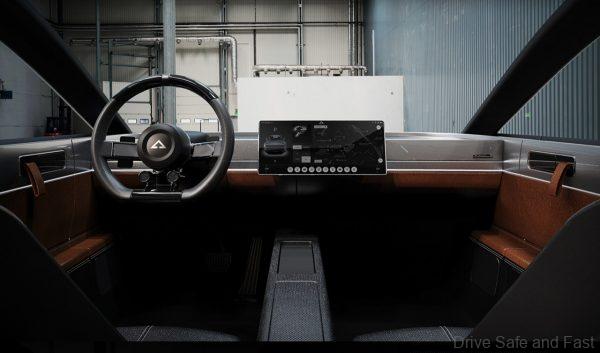 Actually, yeah that's about it. There is an image that indicates its batteries are located in the floor boards, but otherwise there's nothing much to go on. It's also not very encouraging that the CEO, Michael Adam Smith has had no work experience in the automotive industry or in any engineering or electrical field.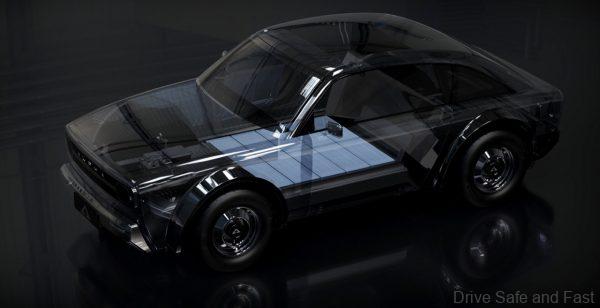 It'll be a shame if this company ends up not making this car – we think it actually looks great. There's a good dose of minimalism with just the right amount of retro flair to the ACE Coupé.
Anyway, here's the press release in case you think you might find some hidden details within.
PRESS RELEASE
Accelerating innovation for humanity, automotive company Alpha Motor Corporation has unveiled the ACE™, a striking Coupe, hailing it as the quintessential urban electric vehicle set to transform zero emission mobility.
The ACE™ Coupe balances versatility, performance, and sustainability on a compact footprint that supports multiple body styles including coupe, sedan, and utility crossover. The ACE™ Coupe is built on a modular vehicle platform that is an extension of Alpha's much anticipated ICON™ EUV (Electric Utility Vehicle). Both ACE™ and ICON™ are created to prioritize consumer friendliness through technology with a welcoming energy.
The ACE™ Coupe was unveiled in a refined silver paint that the company named as "Blue Seraph" for its chic metallic finish. Underneath the polished bonnet and rear hatch is abundant cargo space enabled by its electric vehicle architecture. The ACE™ Coupe vehicle dimensions measure approximately 4,180mm (165in) in length, 1886mm (74in) in width, and 1450mm (57in) in height.
"The ACE™ Coupe is for consumers who desire a sleek ride with the versatility, energy efficiency, and environmental friendliness of an electric vehicle," stated Michael Smith, Alpha Motor Corporation Chief Executive Officer.
Inside the dynamic ACE™ Coupe is comfortable front seats for the driver and passenger, along with compact rear seats for occasional storage. Its interior architecture optimizes cabin space through a seamless and fluid construction that reduces components without compromising ergonomic comfort or ease of use. Furthermore, a central display integrates user interface controls that can be synchronized or replaced with the user's own electronic device.
"ACE™ is a departure from contemporary automotive and places emphasis on mobility for the user. Alpha is rethinking automobiles for the sake of innovation that moves humanity. ACE™ was created from the perspective of technology that empowers individuals and their lifestyles," continued Mr. Smith.
The ACE™ line of pure electric vehicles is built for flexible customization and is anticipated to be offered in a variety of unique color, material, and feature combinations. ACE™ Coupe reservation inquires can be sent to [email protected]. Alpha plans to roll out variants of ACE™ in the coming months. Details on ACE™ and Alpha Motor Corporation is provided on the company's website www.alphamotorinc.com.