Motorsports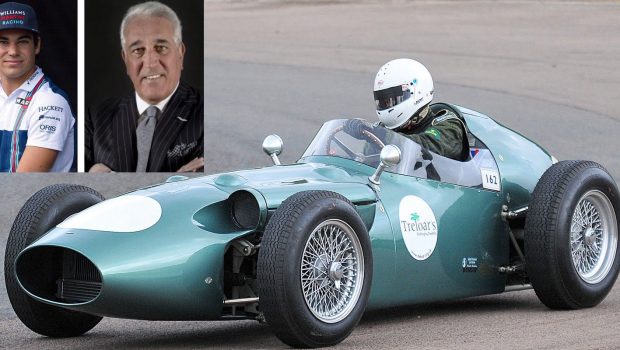 Published on January 5th, 2021 | by Subhash Nair
0
Aston Martin Returns To F1 With A Father-Son Combo
Aston Martin has officially returned to Formula 1, moving on from being a title sponsor of the Red Bull Racing team. Aston Martin's new owner, Lawrence Stroll made the decision to push the brand's role in Formula 1 further.
His son, Lance Stroll will be racing for the team alongside Sebastian Vettel. The Aston Martin Formula One Team is built on the Racing Point Team and they run Mercedes-sourced power units. There's also some existing ownership relationship between Mercedes-Benz and Aston Martin.
We don't know what the new team's livery will look like, but expect that to debut next month before the team races in March 2021.
Here's the press release with more.
PRESS RELEASE
The Aston Martin name is back in Grand Prix racing for the first time in six decades. The Aston Martin Formula One Team will make its race debut in Melbourne, Australia, on 21 March 2021, marking a return to top-flight single-seater competition for the luxury carmaker.

The British marque has enjoyed great success in sportscar racing in recent years, highlighted by multiple class victories at the 24 Hours of Le Mans and now the time has come for Aston Martin to commit to the most famous of all motorsport arenas: Formula 1.

Aston Martin understands the power of Formula 1 when it comes to brand awareness. Much work has already been done via the company's title sponsorship of Red Bull Racing but Aston Martin will now take this to new heights as it joins the F1 elite as a manufacturer.
The Aston Martin Formula One Team will take the great British brand to new audiences across the globe. By bringing fans right into the heart of the team, it will become a team for everyone, reaching out to new audiences in this rapidly changing world but always remembering the loyalty of the hardcore racing fans. The team's journey to the grid will feature on all of the Aston Martin Formula One Team's social media channels and on a brand new website.

In February, the team will reveal its 2021 F1 car and livery, which includes four-time Formula 1 World Champion, Sebastian Vettel and multiple Grand Prix podium finisher, Lance Stroll.

It will be an historic and poignant moment when two Aston Martin Formula 1 cars line-up on the grid in Melbourne, returning the luxury marque to Grand Prix racing for the first time in 60 years and starting a new era for a truly great British brand.