Automotive
Published on March 23rd, 2021 | by Subhash Nair
0
Malaysian Customer Takes Delivery Of McLaren 765LT
After previewing the 765LT in Malaysia back in September 2020, McFarren Supercars delivers this McLaren to a customer.
The McLaren 765LT was delivered to its first Malaysian customer today at the McLaren Kuala Lumpur HQ. It was previewed back in September 2020 with a price tag of RM1,488,000 before taxes in Malaysia.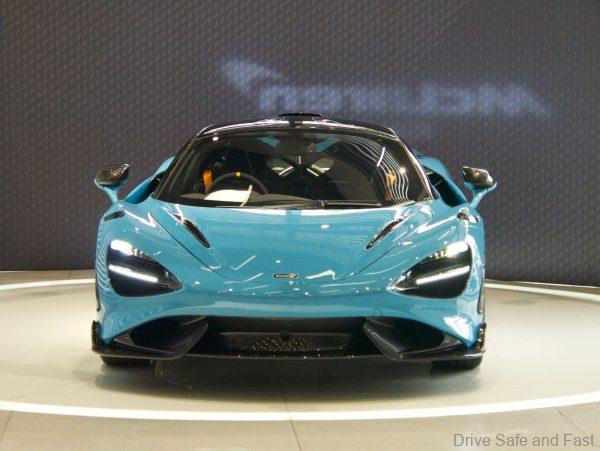 The 765LT was globally debuted about one year ago. It is the direct successor to the 675LT and is based on the 720S. Compared to the 720S, it is 80kg lighter. It trades a lower top speed for quicker acceleration times and is overall set up for more downforce and track use.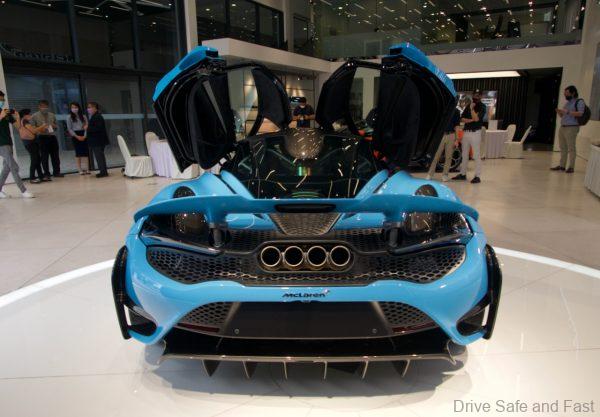 There are design differences between this car and the 720S, but the easiest way to tell them apart is by looking at the quad exit titanium exhausts.
The McLaren 765LT can be configured with the brake callipers from the McLaren Senna. Only 765 cars will be made and the output of the 4.0L twin turbocharged McLaren V8 is also 765PS.
Here are some technical highlights to excite you.
765LT TECHNICAL HIGHLIGHTS
Engine configuration
M840T 4.0L twin-turbocharged V8 engine
Drivetrain layout
Twin Electrically-Actuated Twin Scroll Turbochargers, Dry Sump
Transmission
7-speed + Reverse Seamless Shift Gearbox (SSG)
Suspension
Double Wishbone, Adaptive Dampers, Proactive Chassis Control II
Non-Active, Comfort, Sport, Track modes
Steering
Electro-hydraulic; power-assisted
Brakes
Front: 390mm carbon-ceramic discs, 6-piston Monobloc aluminium calipers
Rear: 380mm carbon-ceramic discs, 4-piston aluminium calipers
Power and Performance
Maximum Power PS (BHP) (kW) ……………………….765 (755) (563) @7,500rpm
Maximum Torque Nm (lb-ft) ……………………………..800 (590) @5,500rpm
0-100 km/h (0-62 mph) …………………………………….2.8 seconds
0-200 km/h (0-124 mph) ………………………………….7.0 seconds
0-60 mph ………………………………………………………………2.7 seconds
0-400 metres (1/4 mile) ……………………………………9.9 seconds
Stopping Distance: 100-0 km/h (62-0 mph) …29.5 metres
Stopping Distance: 200-0 km/h (124-0 mph) 108 metres
Weight
V Max km/h (mph) ……………………………………………….330 (205)
DIN Kerb Weight [fluids + 90% fuel] ………………1,339 kgs (2,952 lbs)
Dry Weight ……………………………………………………………Minimum: 1,229 kgs (2,709 lbs)
Weight Distribution …………………………………………….Front: 42%
Weight Distribution …………………………………………….Rear: 58%
Dimensions
Vehicle Length ……………………………………………………..4,600 mm
Vehicle Width, with mirrors ……………………………….2161 mm
Vehicle Width, with mirrors folded …………………..2,045 mm
Vehicle Width, Door Open: single (both) …………2,464 mm (2,767 mm)
Vehicle Height ……………………………………………………..1,159 mm
Vehicle Height, Door Open ………………………………..1,947 mm
Overhang, Front : Rear ………………………………………..1,105 mm : 824 mm
Wheelbase ……………………………………………………………2,670 mm
Track Front (Contact Patch Centre) ………………….1,656 mm
Track Rear (Contact Patch Centre) …………………..1,612 mm
Ramp Angle degrees (with vehicle lift) …………..6.93 (8.88) degrees
Break Over Angle …………………………………………………11.25 degrees
Departure Angle ………………………………………………….12.3 degrees
Wheel Sizes – Front: ……………………………………………19 x 8.0J inches
Wheel Sizes – Rear: ……………………………………………..20 x 11.0J inches
Tyre Sizes Inches – Front: …………………………………..245/35/R19 inches
Tyre Sizes Inches – Rear: ……………………………………305/30/R20 inches
Efficiency
EU WLTP
CO2 Emissions: Low …………………………………………….503 g/km
CO2 Emissions: Medium ……………………………………..262 g/km
CO2 Emissions: High ……………………………………………233 g/km
CO2 Emissions: Extra-high ………………………………..248 g/km
CO2 Emissions: Combined ………………………………….280 g/km
Fuel Efficiency: Low …………………………………………….22.1 L/100km (12.8 mpg)
Fuel Efficiency: Medium ……………………………………..11.5 L/100km (24.6 mpg)
Fuel Efficiency: High ……………………………………………10.2 L/100km (27.7 mpg)
Fuel Efficiency: Extra-high …………………………………10.9 L/100km (25.9 mpg)
Fuel Efficiency: Combined ………………………………….12.3 L/100km (23.0 mpg)
USA EPA
Fuel Efficiency City ………………………………………………14.0 mpg
Fuel Efficiency Highway …………………………………….18.0 mpg