Used Cars
Published on April 14th, 2021 | by Daniel Sherman Fernandez
0
Toyota BJ 46 Classic 4×4 Restored And For Sale At RM128,000
Modeled after the Willys Jeep, This 1984 BJ 46 could be yours now.
The Toyota BJ 20 (Land Cruiser) is probably the world's most recognizable off road vehicle, well, the British will say the classic Defender is in the top spot, but we all know that it is the Toyota Land Cruiser sees service in every continent and in the most remote locations around the globe till today.
In January 1951 the BJ prototype was born and it was called the 'Toyota Jeep'. This started a trend till today.
Just like the British Land Rover Defender Series 1 which appeared in 1949, the Toyota BJ 4×4 had a strong resemblance to the classic American World War 2 Willys Jeep.
The BJ ended up being bigger than the American Jeep and with a considerably more powerful engine which was a 2.2-litre four-cylinder engine that delivered 61KW at 3,000rpm and a decent 215Nm at 1,600rpm. The BJ was also a part time 4×4 like the Jeep.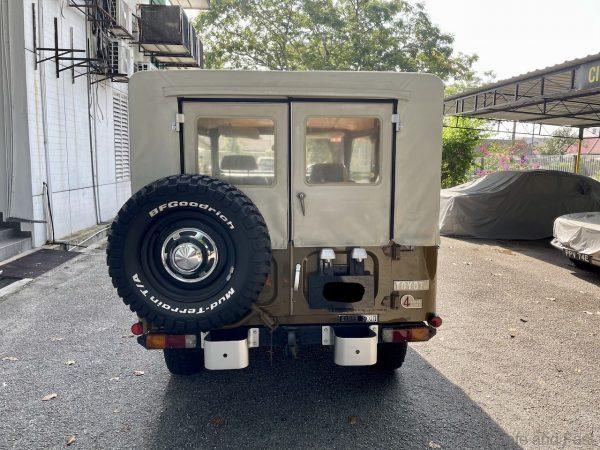 Over the many years that it was in production the BJ evolved and in 1960 the BJ 40 was born and its production continued until 1984. The BJ 40 was less utilitarian and over the years it evolved into a luxury sports utility vehicle (SUV). The BJ 40 was released with a series of variants and body shapes in an effort to corner various sectors of the growing commercial off-road market. There was a short, a mid sized and a long-wheelbase version of the BJ 40 and with a variety of engines.
Until a decade ago, the BJ 40 was seeing little rise in values as the Defender took center stage with a variety of tuning houses offering modern engineering under the workhorse exterior. Prices of the Defender started rising and even more 'urban cowboys' were born.
This sparked a frenzy with BJ 20 and BJ 40 owners who realized that they were having a vehicle with similar iconic looks, but with better reliability, handling, comfort and also power delivery. Yes, the age of the classic land cruiser was born and so a trend started to buy aged BJ 20's and also BJ 40's from farms, mining companies and even logging camps and restore them to showroom condition or take a different route and upgrade them for serious 4×4 capabilities.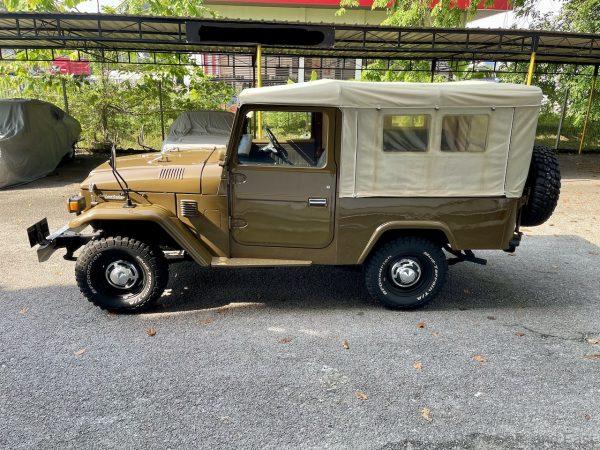 Yes, the prices of these 'classic' Toyota 4×4 vehicles have been slowly moving upwards and today an upgraded BJ 20 can start from RM45,000 upwards. This fully restored factory condition BJ 40 variant is code named the BJ 46 is now asking for RM128,000 and this is possible because of the amount of work and new parts that have been used.
Yes, and this is what a full restored Defender will be priced and so it is not surprising that RM128k is the asking price of this particular fully restored BJ 46 Toyota.
This Toyota comes with a 3.4-liter inline 4 diesel engine running with a 4-speed manual gearbox. It was imported into Malaysia from Japan in 2015 and has a genuine 60,000 plus mileage. It is off road ready, if you want to try out its legendary 4×4 system or just have it as city runner with its side facing bench seats that accommodates 6 passengers in the rear and 2 in front.
Take a closer look if you want to and the seller can be contacted. Call Mr. Skantha at 012-3796671.