Used Cars
Published on August 19th, 2021 | by Daniel Sherman Fernandez
0
Austin 1100 Traveler One Owner Barn Find For Sale In Malaysia
This 1966 Austin 1100 is very rare even for its country of origin.
There are some classic car enthusiasts in Malaysia who wait for hidden gems to turn up in our local classifieds for sale or hope for a 'barn find' to be shared with them. If you do not know what a 'barn find' is, let us explain. When an old car is left idle for years in a closed area (a barn, garage, underground car park, under a kampung house covered) it is termed as a 'barn find'.
The term of course comes from North America where over the years many rural Americans have been finding classic and rare cars in old farm barns. These cars are restored back to their factory condition and sold for high prices.
Over the last couple of decades, the rare barn find has made many people around the world rich and also managed to bring back to life many great classic cars that were forgotten by the previous owners.
In Malaysia, we have witnessed a few barn finds and we ourselves have found, purchased, restored and still in our garage a couple of barn finds which we will keep unless a silly price is offered.
Recently, a listener to our weekly radio show contacted us and asked us we could assist to find a buyer for his 'late' fathers car. This is a single owner 1960's British manufactured car which was meticulously maintained by his 'late' father who was a mechanical engineer.
Until the early 1990's cars were very simple mechanical machines which we easy to maintain and also manage. When electronics came into the picture, then cars become complicated and today your need a software engineer and a mechanical engineer to work on a modern car.
The car in question is a 1966 Morris 'Traveler'. Only a handful arrived in Malaysia and we have only seen one other unit, years ago on our roads. This very rare 2-door station wagon (Traveler) is now in the hands of the son who is ready to part with this classic car at a fair price.
The registration document of this Morris is still in his 'late' father name and a lawyer will be used to get the necessary transfer done.
This Morris has been idle at their home for the past 3 years and from the pictures you can tell that the car has been well looked after, considering. The seats have a cover which is torn and the original material is still in good condition considering its age.
The mileage of this Morris is a low 88,509 miles only. Very very low for its age. This Morris 1100 uses a 1.1-liter Inline 4 engine running a single HS2 carburetor. For its time it was a livery performer with 46bhp and 81Nm of torque.
The family is looking at a sensible selling price of RM30,000 or nearest offer and they will handle all the necessary transfer documents. Please contact us at www.dsf.my and we will connect you to the family of this rare 'car porch' find.
Here below is some history on this very unusual and rare Morris.
This Morris is codenamed the BMC ADO16 and it comes from a range of small family cars built by the British Motor Corporation (BMC) and, later, British Leyland.
Launched in 1962, this Morris (the standard 4-ddor version) was Britain's best-selling car from 1963 to 1966 and from 1968 to 1971.
The ADO16 was marketed under various make and model names; however, the Austin 1100 and Morris 1100 were the most prolific of all the ADO16 variants.
Following his success with the Mini, Alec Issigonis set out to design a larger and more sophisticated car which incorporated more advanced features and innovations. Pininfarina, the Italian styling studio that had worked with BMC before on the Austin A40 Farina, was commissioned to style the car.
In production for 11 years, the ADO16 range sold 2.1 million units between 1962 and 1974, more than half of those being sold in the British home market.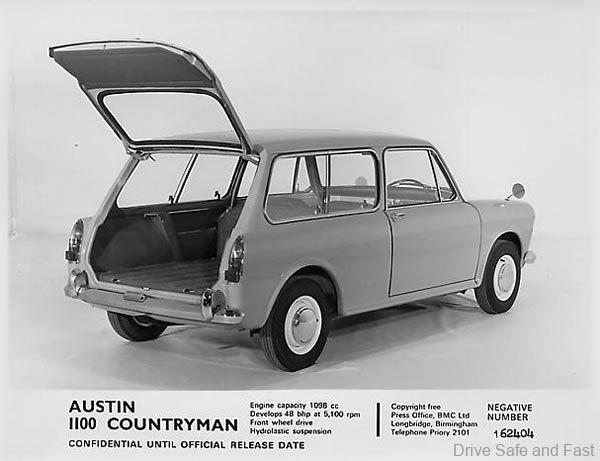 British Leyland replaced the 1100 series with the 1971 Morris Marina and 1973 Austin Allegro. The three-door station wagon version followed in 1966, called Countryman in the Austin version and Traveler in the Morris one, continuing the established naming scheme.