Motorsports
Published on August 2nd, 2021 | by Daniel Sherman Fernandez
0
Hydrogen-Powered Toyota Corolla Goes Racing Once Again
Hydrogen Toyota Corolla went racing at Autopolis last weekend. 
Toyota engineers in their hydrogen department is still working hard to prove its viability for real world use. In January last year (2020) Toyota announced the launch of their all new second generation Mirai powered hydrogen fuel cell.
The Toyota Mirai has been a catalyst for raising global awareness of how to build a clean and sustainable future, confident in the potential of hydrogen. It is a technically sophisticated, yet practical car, with a driving range of approximately 500km, easy refueling in minutes and no emissions other than just pure water.
Since its launch, approximately 10,000 units have been sold, while Toyota has actively supported the development of the necessary fuel supply infrastructure in key markets around the world.
Even BMW is working with Toyota (see video below) to use their hydrogen fuel cell and might use this clean fuel for large 'X' SUV's.
Toyota's maiden outing with its pioneering hydrogen-combusting Corolla endurance racer managed to cross the finish line at the Fuji SUPER TEC 24 Hours event two months ago and just this last weekend it was racing in its 2nd race, competing in the five-hour-long Super Taikyu Race at Autopolis on Sunday August 1st.
Toyota managed to speed up its H2 refuelling rate by 40 percent. Bringing it down from the original 5 minutes, to just needing 3 minutes for a fill up.
Continuing on the topic of hydrogen too, Toyota has also begun sourcing its fuel for its racing Corolla from greener sources across Japan. These greener H2 supply methods includes the use of solar energy for the purification process in its Kyushu plant, as well as the pioneering utilisation of geothermal power for its production over in Obayashi.
Part of its greater goal to realise a carbon-neutral mobility society in the future, Toyota is banking on the crucible of motorsport to speed up development of this hydrogen-powered power plant. Unfortunately, though, there is thus far no timeline as to when exactly these engines will be fitted to its production cars.
PRESS RELEASE: Toyota Motor Corporation (Toyota) announced that it will enter a vehicle equipped with a developmental hydrogen-powered engine at the five-hour-long Super Taikyu Race in Autopolis, which takes place from July 31 to August 1, 2021. The hydrogen engine is being developed as part of Toyota's efforts to realize a carbon-neutral mobility society.
Just as in the previous round, the vehicle will be entered under the ORC ROOKIE Racing banner, and Toyota President Akio Toyoda will participate in the race as the driver Morizo. By entering a hydrogen-powered vehicle that uses green hydrogen produced locally in Kyushu, Toyota intends to further strengthen the hydrogen-centered partnerships it enjoys with other industries in Kyushu.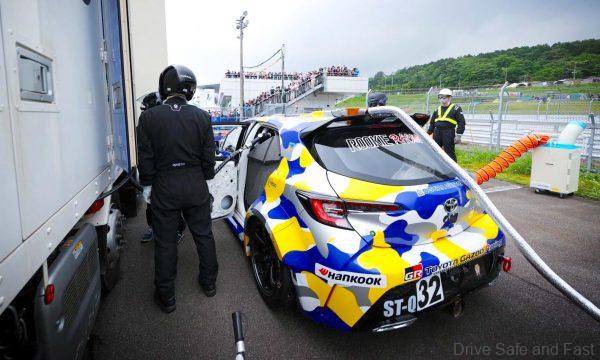 The hydrogen engine Corolla participated in its first race at the Fuji SUPER TEC 24 Hours Race, which took place at Fuji Speedway on May 21, 2021, with the goal of accelerating the pace of development of its hydrogen engine. In the two or so months since the race, Toyota has implemented a number of improvements both to the car and to its related hydrogen infrastructure.
Improvements implemented over the last two or so months
Vehicle
Abnormal combustion has been reduced, leading to improved performance (torque increased by approx. 15%)
Responsiveness―one of the merits of using a hydrogen engine―has been further improved
Infrastructure
Hydrogen refueling rates have been accelerated (Approx. 40% improvement, from approx. 5 minutes to approx. 3 minutes)
*Working time from connecting to disconnecting the hydrogen station nozzle
Toyota now uses green hydrogen produced by FH2R as well as by Obayashi and Toyota Motor Kyushu
By participating at Autopolis, Toyota hopes to identify any potential issues under tough conditions, and so accelerate the pace of its development. The company will also procure green hydrogen produced locally for local consumption from Obayashi and Toyota Motor Kyushu, which support its attempts to develop a hydrogen engine.
In this way, Toyota will contribute to the use and production of green hydrogen, increase energy choice, and thereby contribute to the realization of carbon neutrality.
Hydrogen supplies for the hydrogen engine Corolla
Supply Ratios: FH2R: approx. 50%; Obayashi: approx. 30%; Toyota Motor Kyushu: approx. 20%
Number of Hydrogen Stations: Three stations (Kyushu-based mobile fueling stations will be used)
Obayashi and Toyota Motor Kyushu initiatives
Obayashi
In Kokonoe Town, Oita Prefecture, Obayashi is engaged in a demonstration project for the integrated production of green hydrogen using geothermal power for the first time in Japan, and the supply of this green hydrogen to various customers. It is also supplying green hydrogen produced using geothermal power for Toyota's hydrogen engine Corolla.
Demonstration period: Construction is scheduled to begin in August 2020 and end in March 2024.
Hydrogen supply capacity: 10Nm3/h
Toyota Motor Kyushu
Toyota Motor Kyushu is using hydrogen purified by solar power to fuel forklift trucks used in its plants and to light its facilities. It also supplies green hydrogen produced using solar power to Toyota's hydrogen engine vehicles.
Hydrogen supply capacity: 24Nm3/h
Kyushu has a high proportion of renewable energy usage, and extensive research into hydrogen is carried out in this region; indeed, Toyota Motor Kyushu is also a proactive user of hydrogen energy.
Through its development of a hydrogen engine, Toyota hopes to establish new partnerships and regional collaborations with the goal of achieving carbon neutrality and a hydrogen society in Kyushu.
Making use of engine technologies developed in Japan over many years, hydrogen engines represent a new choice in Toyota's efforts to realize carbon neutrality. Both in the Fuji SUPER TEC 24 Hours Race in May, and in the upcoming Super Taikyu Race in Autopolis in July and August, Toyota has benefitted hugely from the cooperation of many affiliated companies.
In order to safeguard employment in the automotive industry, Toyota will continue to develop hydrogen engines together with the 5.5 million people in the automotive industry and various other partners.