Automotive
Published on October 29th, 2021 | by Subhash Nair
0
7th Generation Mercedes SL Premiers As AMG-Exclusive Model
An all-new Mercedes SL debuts and this time it's only available as an AMG model.
After months of spyshots, the 7th generation SL model has been revealed. For the first time ever, the SL is available exclusively as an AMG model with a bespoke chassis developed by the Affalterbach-based performance division. This model will be sold as the Mercedes-AMG SL 55 4MATIC+ and the Mercedes-AMG SL 63 4MATIC+, both powered by the same handbuilt 4.0L biturbo V8, but with different output levels.
The two variants also share the same AMG Speedshift MCT 9-speed automatic transmission which boasts a wet start-off clutch instead of a torque converter. This is also the first SL model to come equipped with an all-wheel drive system and rear-axle steering. AMG Performance 4MATIC+ is standard and gives the new SL models fully-variable torque distribution to both axles. This will also be the first SL model to feature a hybrid powertrain option. This AMG E Performance model will probably follow in the same vein as the AMG GT 4-Door hybrid that was recently launched, but details have yet to be shared.
A new AMG Ride Control steel suspension system with aluminium shocks and lightweight coil springs was developed for the SL 55 4MATIC+. The new SL features multi-link front and rear suspension with its five links arranged within the rim for better kinematics.
AMG Active Ride Control debuts on the SL 63 4MATIC+ model with active hydraulic elements replacing the mechanical anti-roll bars this time around. AMG has also developed high-performance composite brakes that are lighter and cool down faster.
The familiar AMG motor now sports a new oil pan, repositioned intercoolers, active crankcase ventilation, optimised intake and exhaust ducts, enlarged exhaust gas routing for the cataylic converter and petrol particulate filter. The higher output of the SL 63 model was achieved by increasing turbo boost pressure, increasing air flow and modifying the engine software.
Here are some quick performance figures for both models:
Mercedes-AMG SL 55 4MATIC+
476 horsepower, 700Nm of torque
0-100km/h in 3.9 seconds
295km/h top speed
Mercedes-AMG SL 63 4MATIC+
585 horsepower, 800Nm of torque between 2,500rpm and 4,500rpm
0-100km/h in 3.6 seconds
315km/h top speed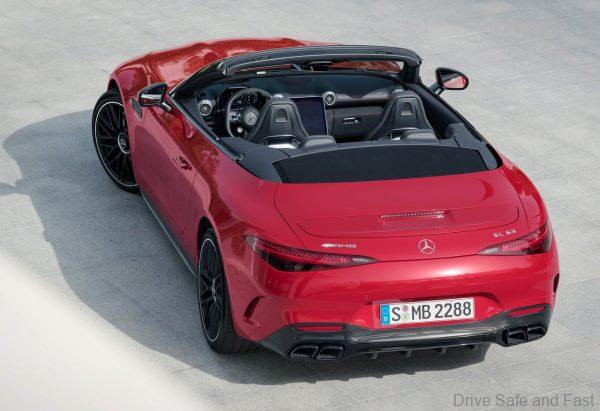 Body and Design
The 7th generation SL sits on a new 2+2 vehicle architecture developed by AMG without any components coming from the previous model or the AMG GT Roadster. An aluminium space frame makes up the bulk of the structure and other materials used include magnesium, fibre composites and steel (for roll-over protection). The intelligent use of materials means that the body shell weighs just 270kg yet torsional rigidity is up by 18% over the last SL. Transverse rigidity and longitudinal rigidity are both up by 50% and 40% respectively.
Active aerodynamics plays a big part on the new AMG SL. The 7th SL has a drag coefficient of just Cd 0.31 and its driving characteristics are unchanged whether it's driven with the top up or down. A two-piece active air control system is now featured. Normally, the louvres are kept closed for reduced drag and front lift. When certain components get hot, these louvres open up to improve cooling in stages. There's also a retractable rear spoiler that has 5 different angular positions from 80km/h and up for either better handling stability or reduced drag.
Optionally, an additional active underbody carbon piece can be fitted. This can extend downwards by 40mm above 80km/h to create a Venturi effect and reduces front-axle lift further.
The soft top in the new SL is electrically operated and is 21kg lighter than the metal roof on the previous model. It is a 3-layer piece that consists of a tightly stretched outer shell, a roof liner and a dense acoustic mat wedged in between. Operating this soft-top is possible at speeds of up to 60km/h and it takes just 15 seconds to open or close.
This is unmistakably and SL model with its long bonnet, raked windscreen and short overhangs. AMG have also worked their magic, integrating their Panamericana-inspired grille with its 14 vertical slats. While this is a 2+2 model, the rear seats are designed to only accommodate people below 150cm in height.
Inside it has an all-digital dashboard with MBUX present, as expected.