VOTY
Published on October 28th, 2021 | by Subhash Nair
0
VOTY 2021//Executive Sedan Of The Year – Honda Accord
The Honda Accord gives you the executive experience at a fraction of the German asking price.
The era of expensive sedans is fast coming to an end, but there in a way, the products that are available in the market today are better than ever. A D-segment Japanese sedan today gives you the kind of equipment, power and driving character that you would have to spend double on a generation ago.
A prime example of this is the latest generation Honda Accord. It now comes with a 1.5-litre turbo engine. The Accord's expertly-tuned suspension and stiff chassis makes the most of this motor. It's adequately rapid and fun around hard corners despite its size. It's also equipped with the latest and best that Honda has to offer in Malaysia.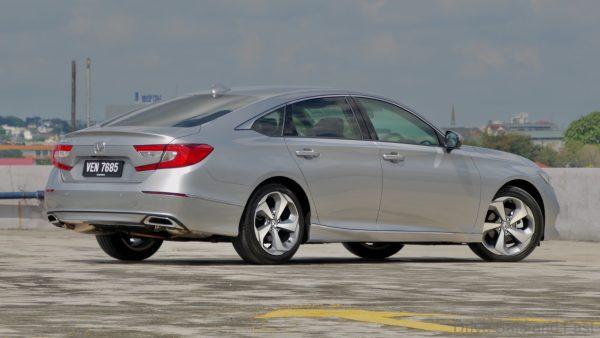 Its looks are a little divisive, we'll give it that. That was the one sticking point that caused debate between our judges. However, after some deliberation, we found that the Accord did indeed look good in certain colours from all angles. Objectively though, it's hard to fault the package.
Honda Accord 1.5 VTEC Turbo Specifications
Engine: 1.5-litre DOHC VTEC Turbo
Capacity: 1498cc
Power: 201PS @ 5500rpm
Torque: 260Nm @ 1600-5000rpm
Transmission: Torque Converter CVT (Paddle Shifters)
0-100km/h: 9.1 seconds
Top Speed: 190km/h
Fuel Consumption: 6.3 (L/100km) Average
Selling Price: RM185,900.00
About the VOTY Awards 2021
The Vehicle of the Year (VOTY) Awards is sponsored by Allianz Malaysia Berhad and is judged by Daniel Sherman Fernandez, Ross Hadi, Amirul Mukminin and Subhash Nair from Drive Safe and Fast (dsf.my) and GohedGostan.com.
The selection process is simple and clean. All cars launched in Malaysia within 13 months of our cutoff date are eligible for entry. We contact all car brands officially operating in Malaysia and ask them for test cars for each of our judges. There's no participation fee, no tables to buy, no package deals — nothing. Any judge who drives an eligible car gets to vote for it. A simple majority is all it takes for a vehicle to win in a given category.
The categories are kept as consistent as possible from year to year with some modifications when a certain category is not adequately represented or is over-represented in that particular year. You can view the categories over the years by looking through our "VOTY" tab on the dsf.my page.
Our title sponsor Allianz recognizes the integrity of our team and all players involved in deciding on winners and leaves all decisions to us regarding the winners. We hope our readers appreciate the efforts of all parties involved and provide us with feedback on how we can further improve on this.