Automotive
Published on November 3rd, 2021 | by Daniel Sherman Fernandez
0
Meet The New PEUGEOT 5008 SUV At RM177k
Bermaz and Stellantis introduces a local assembled European best seller.
PEUGEOT is currently the European market leader in SUVs with the 5008 and 3008. Unveiled in Europe and shown first in late 2020, this PEUGEOT 5008 SUV, with more than 300,000 vehicles produced since its launch in 2017, has achieved outstanding commercial performance in both Europe and internationally.
The new PEUGEOT brand guardian in Malaysia, Berjaya Auto Alliance Sdn Bhd ("BAASB") is proud to present the new SUV PEUGEOT 5008. Since its 2018 launch, this 5008 SUV has won 7 international awards and in Malaysia the Peugeot 5008 SUV won the 7-Seat SUV of the Year at the DSF.my VOTY Awards 2019.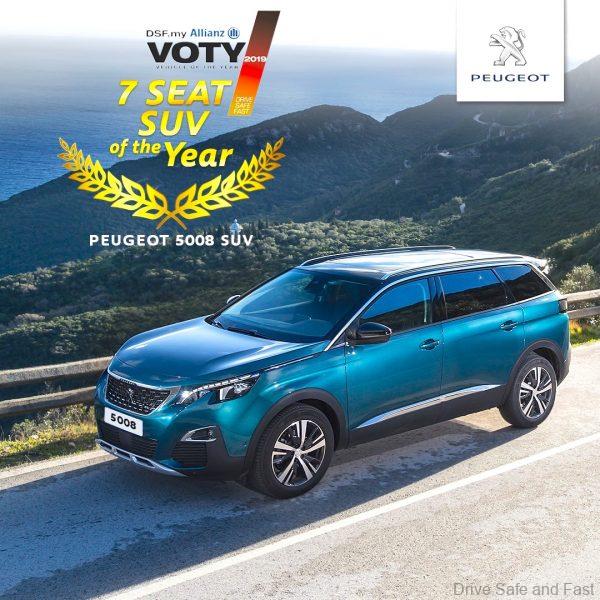 Reviving the brand and bringing stronger after sales to current and future Peugeot owners is a priority for BAASB. This new Berjaya subsidiary will also have the spare parts distribution rights for Citroen and DS in Malaysia.
With a bold new style it is establishing the design codes of tomorrow whilst offering more calibre and modernity, with a redesigned front end, new Full LED rear lights and new body colours.
As part of PEUGEOT's commitment to instinctive design, the front end of the New PEUGEOT 3008 & PEUGEOT 5008 has evolved towards a style that is as distinctive and unique as ever. This inspired design is setting the codes for the next phase of modernity while enhancing refinement and vibrancy.
A new frameless grille is featured at the front, while gloss black side scoops and a painted treadplate are integrated with the new bumper design as standard. And lastly, the nose of the bonnet now proudly displays the model's monogram, as does the entire Peugeot range.
The front headlights have also been redesigned to be more aggressive and feature LED technology with cornering lamps.
At the rear, new upgraded taillights feature full-LED technology with PEUGEOT's iconic 3D-effect claw signature rear lights with scrolling indicator lights.
The new SUV PEUGEOT 5008 features the latest technologies, the PEUGEOT i-Cockpit® heightens sensations with a new high-quality display receiver, a new 10-inch high-definition touch screen and provides greater safety by providing the latest in driving aids.
Designed to excel, the new SUV PEUGEOT 5008 will accompany you in your everyday tasks and in your leisure activities. There are limitless options with its new modularity, capable of carrying up to 7 people and without compromising on driving pleasure and comfort.
Both the new PEUGEOT 3008 & PEUGEOT 5008 comes with the latest driving aids and safety features to protect both its occupants and other road users.
The following technologies come as standard equipment with this latest 5008.
Visiopark 1, which consists of a 180° rear view camera
Active Lane Keeping Assist
Driver Attention Warning
Speed Limit recognition
Blind Spot Monitoring
Advanced Grip Control, allowing more optimization of the traction control system with 5 grip modes (Normal, Snow, Mud, Sand, and ESP off)
Hill Assist Descent Control (HADC) allows you to safely and perfectly control your vehicle and its trajectory on steep slopes.
Other standard safety features include 6 SRS Airbags, Anti-lock Braking System (ABS), Electronic Stability Program (ESP), Electronic Brake-Force Distribution (EBD), Emergency Brake Assist (EBA), Dynamic Stability Control (DSC), Anti-Skid Regulation (ASR), & Hill Start Assist.
Driving pleasure is part of the DNA of this New PEUGEOT 5008. Its handling is outstanding, it comes with top-of-the-range driving comfort, ensures excellent driving pleasure and remains perfectly manoeuvrable in town driving.
The stylish design is matched by its responsive performance. It is equipped with the 1.6L Twin Scroll Turbo High Pressure (THP) engine, which delivers a robust 165 horsepower and 240 Nm of torque.
The turbocharged engine is paired with a quick-shifting, six-speed automatic transmission and a 2WD drivetrain.
This 2021 PEUGEOT 5008 is locally assembled at the Stellantis manufacturing plant in Gurun, Kedah.
All vehicles built at the Stellantis manufacturing plant in Gurun undergo specific endurance and quality testing in Malaysia, to deliver best-in-class performance for the local conditions and to meet the needs of the Malaysian customer.
The PEUGEOT 5008 has successfully endured 300,000 kilometres of testing in Malaysia's diverse climate and environmental landscape.
The colour line-up include Amazonite Grey, Pearl White and Nera Black. In addition, the model's exclusive colour includes Emerald Crystal for the PEUGEOT 5008.
Selling price is RM177,311.90 for the PEUGEOT 5008, which is inclusive of the 100 percent Sales Tax Reduction (SST) on CKD models and is valid from now to 31st December 2021.
This PEUGEOT 5008 comes with a 5-Years Manufacturer Warranty with a coverage period up to five years and a mileage limit of 100,000km, whichever comes first.