Automotive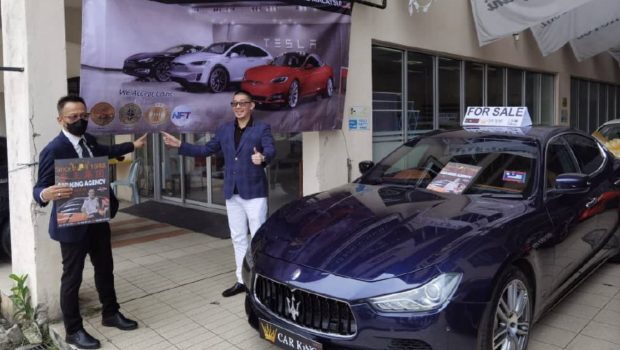 Published on December 31st, 2021 | by Subhash Nair
0
Can Crypto Currency Be Used To Sell Cars In Malaysia?
Can Malaysians just buy things using crypto currency now, including cars?
Last week, Dato Calvin Yap of CHY Autoworld announced that his used-car business would be accepting all forms of digital currency as payment for vehicles sold by the company. He backed up this statement by accepting 300,000 Meta Nirvana Up (MNU) digital currency denominations for a Maserati Ghibli. He also said that the transaction was worth RM310,000.
You're probably a little bit stumped by cryptocurrency and are struggling to understand what a "Meta Nirvana Up" is.
Don't worry, I was a little lost too. I started writing this article a week ago when the news first broke, but I just couldn't understand if:
the transaction is was legal in Malaysia
this Nirvana Meta Up digital currency was legitimate
Was it a legal transaction?
So, I reached out to a few experts and authorities and here's what I garnered:
Bank Negara Malaysia says that "Crypto Currency is not recognised as a legal tender in Malaysia. Bank Negara Malaysia (BNM) does not regulate the operations of Bitcoin / cryptocurrency."
Elsewhere, BNM has also warned:
"Members of the public are therefore advised to undertake the necessary due diligence and assessment of risks involved in dealing in digital currencies or with entities providing services associated with digital currencies."
They also said that this matter would fall under the Securities Commission. I've reached out to them for comment as well and will update this article with their response.
From what I gather, this transaction is not illegal, but it's still a grey area. Perhaps declaring that it was valued at RM310,000 and equating that to 300,000 MNU before the currency was even debuted (23 December vs 27 December) may have been a step too far.
Is The Currency Legitimate?
According to two cryptocurrency traders, MNU seems to be a legit cryptocurrency and is traded on zb.com. However, both advised that it looked extremely… shaky.
One questioned the long term viability of a video game based digital currency, pointing to many examples that climb in the first few months before crashing and never recovering. He said there are a few examples of these that did succeed, but these video game tokens have solid long term strategies for continued gameplay growth and they tend to be popular in countries where the local fiat currency has inflated beyond use, such as Venezuela.
The other one said the white paper looked like it was not done professionally and as a product it didn't look very viable in the long term.
I myself am a stranger to the cryptocurrency market, but I am no stranger to video games and Meta Nirvana frankly looks like it's from 20 years ago and I can't see why anyone would want to play it. But in fairness I have yet to try it out.
So, what IS going on here?
I am not in a position to say what exactly is going on, but to me, this whole scheme looks a little fishy. Everyone involved seems to think that Meta Nirvana Up and the accompanying video game is the best thing since sliced bread. But nobody else who isn't involved or paid to partake seems to think so.
Should financial or tax authorities step in and take a look at the details of this transaction? What do you think?