Automotive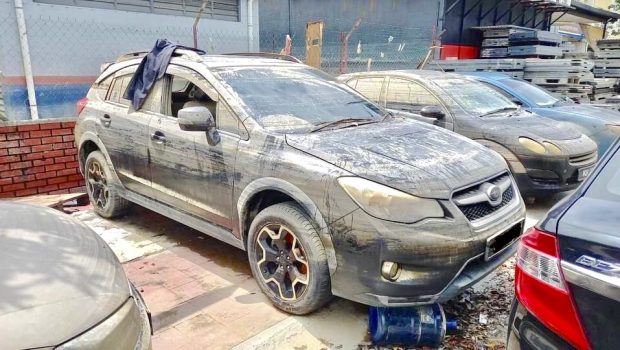 Published on December 26th, 2021 | by Daniel Sherman Fernandez
0
Honest Flooded Car Owner Needs Help For His XV
This XV is one of the many victims from the Sri Muda flash floods.
The flood waters are receding and the clean-up operations are being well handled by thousands of volunteers from around the country. We have seen how Malaysians from all walks of life have come together to help others and each other.
Houses and businesses have been destroyed. The repair and restoration costs will be huge and most do not have any form of home insurance or even savings to get back on their feet. The government cannot do much as Covid-19 has taken up a lot of reserves and funds are at their lowest.
Meanwhile, there are thousands of car owners who have no idea or direction on what to do with their flooded cars. For the average Malaysian car owner, their car is their most important or probably second most important thing in their lives and having a flooded car is like the 'end of the world'.
Here is a 2015 Subaru XV owner (luckily he did not start his engine), one of thousands of car owners experiencing the same issue. What to do? How to do? Who will help?
With no flood damage insurance coverage and limited government assistance coming for car owners, how will he get his car back in working condition.
We asked for advice from Subaru after-sales and the cost starts with about RM3,000 plus at least for a full wash and clean-up of the interior with all possible parts removed, cleaned and re-installed (this includes dashboard).
Then for engine work (assuming the car was never started) which includes all new fluids and filters, about RM2,000 plus. Next and the most expensive will be the many ECUs (electronic control units) from the engine to gearbox to climate control and even safety systems. (anyone can assist in locating the necessary electronic parts at a very sensible price to help this XV owner).
New ECU's will be very costly, even with a generous manufacturers discount, it could cost more than RM45,000. Used units, from a car junkyard or an accident scrapped Subaru XV will be the best option. This could range from RM8,000 to RM15,000 depending on how many XV owner's are looking for the same parts.
At best, this Subaru XV owner is looking at a RM13,000 recovery bill. All cash and this is even before he repairs and restores his home.
Here below is his message:
Hey guys, I was stuck at Sri Muda last week and my car (2015 XV) 100% tenggelam. No special perils insurance and I'm not ready to give up on it yet. First step have disconnected battery and the car is being washed in PJ (interior fully opened + engine). This will already take 1 week. Next step going to get it to workshop and change all fluids + attempt to start. If it doesn't I'll need to get master wireman + second hand ECUs to get the car fixed. Welcome to give any advice/share contacts you may have for my project. Appreciate it.