TechTalk
Published on December 9th, 2021 | by Daniel Sherman Fernandez
0
Why Do BMW Door Handles And Buttons Melt?
BMW Interiors Melt NOT Because Of Climate Change…….
So, are melting car interiors due to our increasing temperatures or is it just flawed materials coming from the factory?
In the past few years we have read a number of complaints by BMW owners in Malaysia on their FACEBOOK owners page about melting door handles, power window switches and dashboard knobs.
Melting Dashboards
We have seen some cars from the 1980's, like the Peugeot 405, Peugeot 205 and the Renault 17TL having melted dashboard tops (facing the sun). Then in the 1990's the VW Golf, Peugeot 407 and even luxury cars like Ferraris and Maserati's started having sticky buttons and knobs that gave car owners a disgusting ownership experience as every time they got into their cars they were having to clean the tip of the fingers after having used their climate control buttons and power window buttons.
Why Not From The Rising Sun
Surprisingly, no Japanese car brand had this issue. Not even the base model vehicles, commercial vans or pickup trucks. Did the Japanese car manufacturers have a 'magical' solution to plastic manufacturing that the European car manufacturers missed out on?
Which Models
BMW's sticky interiors started with the E90, 3 Series and has continued over the years with the F10, 5 Series (based on our research on Facebook). So, why is there no factory solution? Why are new models being released with the same quality cabin materials?
Meanwhile, BMW Group recently made a press statement that they wanted their new cars to be made with re-useable parts as of 2025 (where possible). So, does this mean, BMW buyers will need to wait for new models from 2025 onwards to get quality cabin materials like what is already found in premium cars from Lexus and Genesis?
This is a premium brand that should be looking closely at this issue as sticky interiors 'kill' the used values and give first owners a headache whenever they use their premium German manufactured cars.
Replacing the melting sticky handles is one thing, but how do you make sure the same issue will not be present once the 'heat' strikes again?
Well, with the factory-made replacement door handles you will face the same problem after paying a high price to fix them in place of the old sticky plastic parts.
So, the solution, for the long term is to get aftermarket carbon 'look' trim from a third party cabin parts manufacturer. This will uplift the cabin look and feel and also give your BMW a better used car value when it is time to sell it. Also, the next owner will not be faced with melting parts.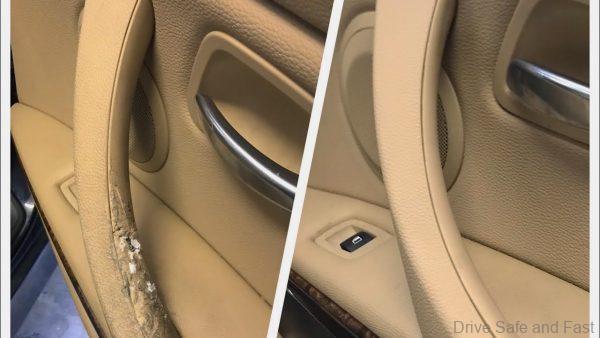 By the way, for our regular readers who might be concerned that this article might 'move' BMW Malaysia to ban us, please do not worry as their internal marketing team have informed us that BMW buyers and owners do not read www.dsf.my.