Cars
Published on January 24th, 2022 | by Subhash Nair
0
Ferrari Roma Review: A High Tech Beginner Pony
Taking the Ferrari Roma for a short spin within the Klang Valley.
Last week, Naza Italia invited us for a short test drive of the Ferrari Roma – an all-new addition to the stable. In terms of the line-up, the Roma could be seen as a 'beginner' Ferrari – something for someone getting the first taste of Modena's famed supercars.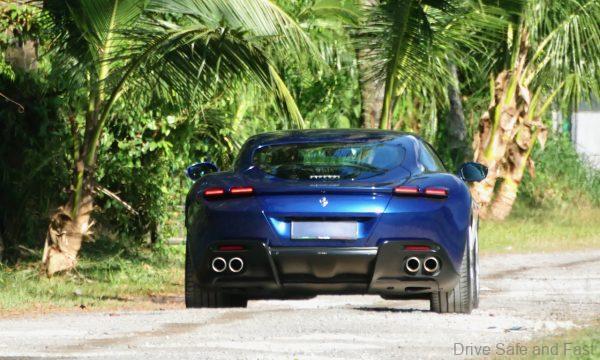 The Roma's design has been quite divisive amongst automotive enthusiasts, but I have to say it looks amazing in the metal. The shape of the vehicle is pure nostalgia with confident curves, with wide and slim lights for a futuristic, concept car look. It doesn't look as futuristic as the SF90, but still avoids borrowing design cues from the Portofino, something Ferrari designs could have easily gotten away with doing.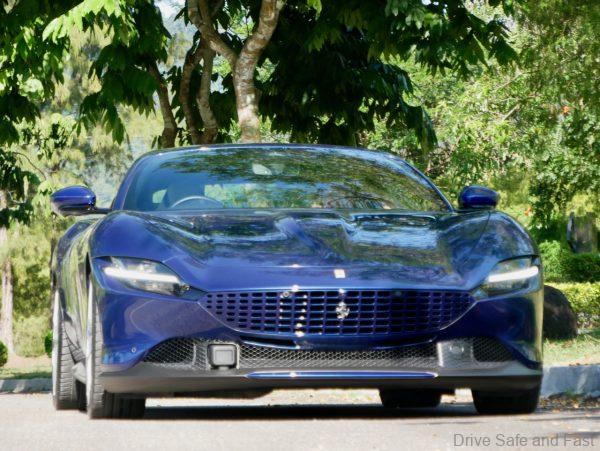 Door handles are flush with the sheet metal and the Ferrari crest on the fenders is large and unapologetically loud, as they should be. For all the futuristic design elements, there's also a timelessness to this design, inside and out. There are no panels that look out of place, no lines that ruin the harmony that was achieved in this look.
I was trying to put my finger on which of the older Ferrari models this reminded me of and when I got to the 250 GT, I thought, hey this looks familiar. Sure enough, I went back to the press release at launch and saw that the 250 GT was precisely the model that inspired the shape of the Roma. Yet the Roma is not the sequel to the 250 GT.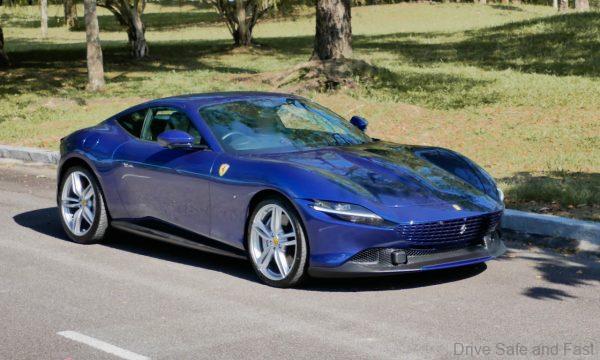 The Roma is its own thing – a preview of Ferrari's future vehicles. A look at what the brand can do now that it's free of FCA's tethers. It's all this while also being an excellent introduction to the brand. If you've always wanted to own a Ferrari, but have never driven a supercar before, the Roma is exactly the correct point of entry. It's a serious performance car, but it's also an extremely easy vehicle to get the hang of.
The first thing I learnt about driving a Ferrari – the controls are mostly on the steering wheel. Engine Start-Stop is a capacitive button on the steering wheel. Turn signals are thumb buttons. Headlights – buttons on the steering. Wiper blades – those are button operated too.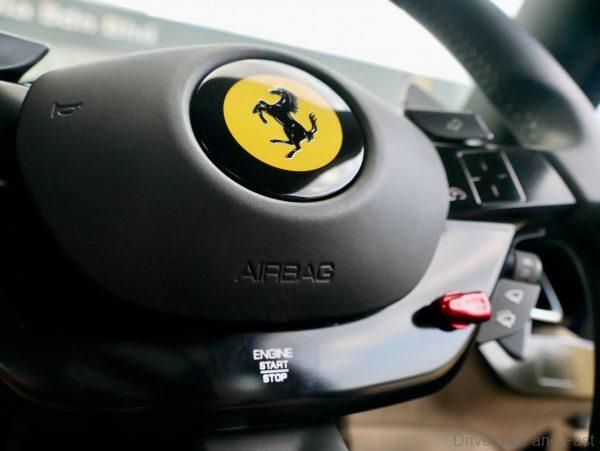 Drive modes – yes, there's the famous Manettino switch. Even gear selection was done with the paddle shifters for forward and neutral, with Reverse having its own shift lever on the centre console. In fact, there's a sort of gated shifter in the centre that also allows you to set the transmission to stay in Auto or Manual for the forward gears. It also has a little lever for launch control. Very neat. Even in Auto, that 8-speed dual clutch transmission with Formula 1 technology shifts faster and more naturally than any human could.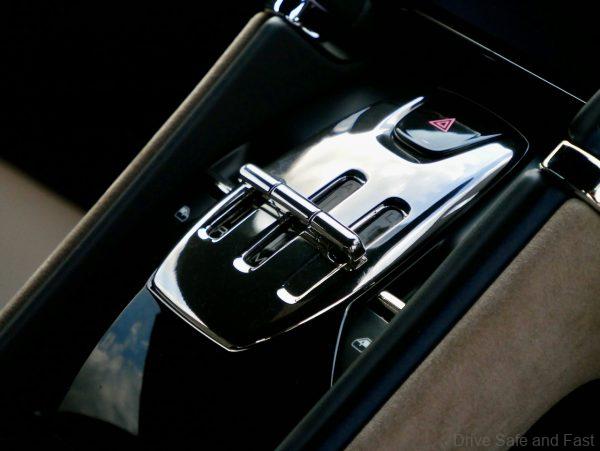 All of these drive controls might sound intimidating, but the Ferrari Roma is actually a surprisingly easy and comfortable car to drive once you get the hang of it. As I said, this is a V8 grand tourer – it's meant to give you a taste of supercar performance while still being comfortable enough to drive daily. Needless to say its handling is extremely impressive, sitting inches off the ground with the perfect driving dynamics to take on any weave or bend along the route. Normally, I'm quite practical with where I head to with my test drives. It's often a drive down to visit my parents in Johor Bahru or to send my grandmother to her house in Sitiawan. This time, I just wanted to drive somewhere for the thrill of the drive.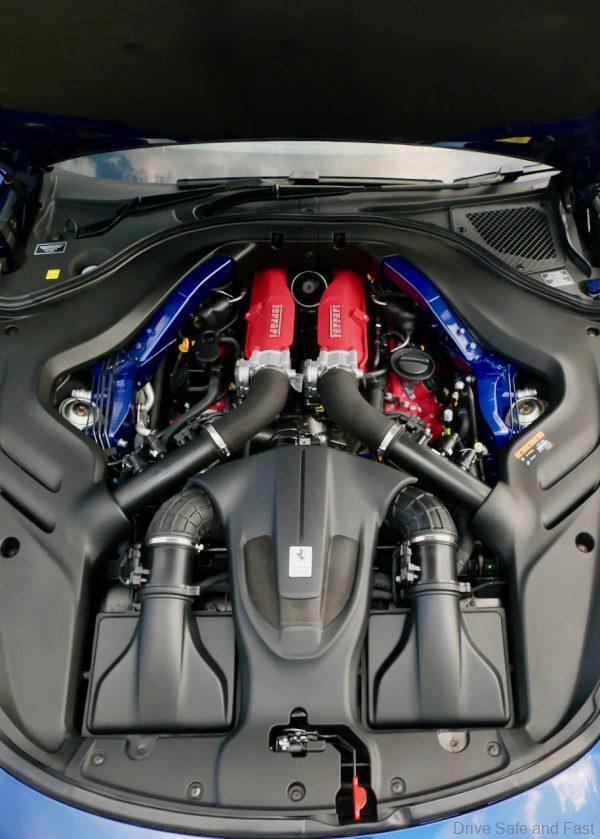 I wasn't conscious of just how fast I was going, but at the end of my drive, a little digital readout confirmed that I may have been a little heavy on the throttle. Even if you're not doing 'Ferrari' speeds, the inside of the cabin is an extremely lovely place to be. It's completely customisable but comes with a lot of lovely standard trimmings. Alcantara for the door cards, light tan leather for the seats, perforated metal pedals – it's everything one would expect for this price and it feels and looks exactly as good in real life as it does in the photos.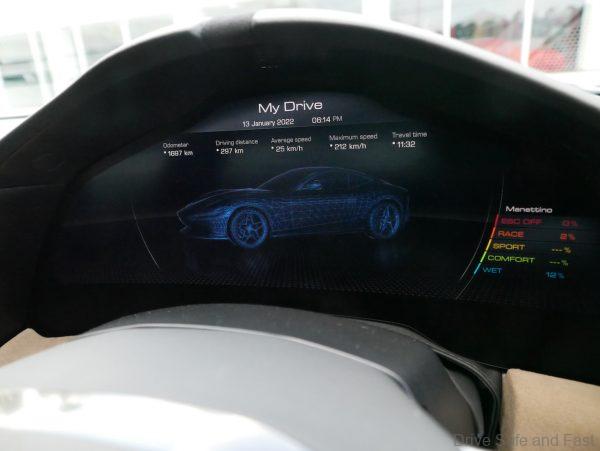 What I wasn't expecting was the degree of high-tech appointments in the Roma. The simplest place to start would be the infotainment unit. It's a vertical 8.4″ unit with rich colours and an all-touch interface. The UI is intuitive enough with a dash of Italian design flair, making up for the lack of physical buttons in the cabin. While some may not appreciate hiding away menu items behind virtual layers, I think it accomplishes what Ferrari are trying to show with the Roma. The future is coming whether enthusiasts like it or not, and Ferrari wants to give people a taste of where Ferrari will be in the next few years.
Now, the digital instrument cluster is actually not the highlight of this cabin. There's also an optional passenger-side display, which gives the other occupant a touch interface on the dashboard for all the relevant options. There's seating, climate, navigation and more to play with, so it's not just the driver who has all the fun behind the wheel…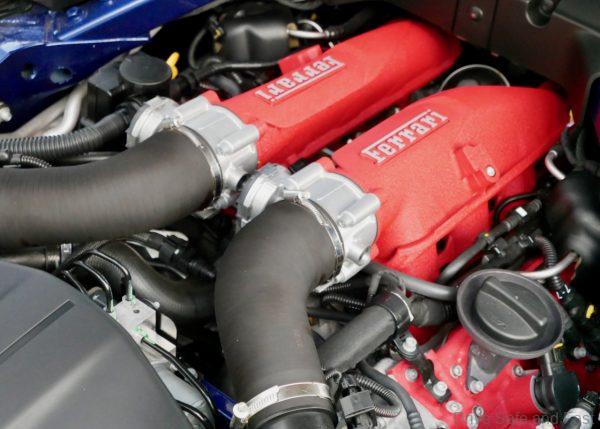 Speaking of the wheel, it's a flat-bottomed, Italian leather-wrapped affair with a Prancing Horse right in the middle. It's covered in buttons, both physical and capacitive, but it's designed quite neatly. It's the sort of look that only Ferrari could have pulled off, with most other manufacturers probably worrying a little too much about ergonomics or symmetry to go for it. Large steering column-mounted flappy paddles behind the wheel allow the driver to manually select gears and behind that you have the real crown jewel of this interior.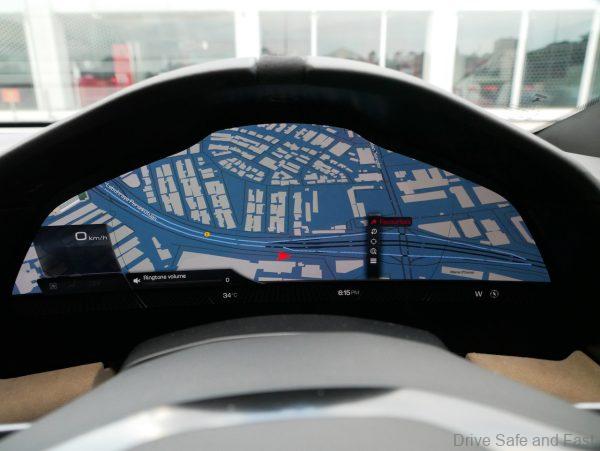 It's an enormous 16″ digital instrument cluster that's in an almost impossible shape. I myself wonder how much it must have cost Ferrari to get displays to be curved and shaped in that manner. Any other manufacturer one rung below would have just put in an off-the-shelf rectangular display and installed bezels to achieve the desired shape. Not Ferrari. Here, it's done and there's an almost sculptural and artistic to this piece of modern technology.
Are there things that can be improved?
For sure. Speaking from a value perspective, one might expect that a million Ringgit car comes with every single bell and whistle available, but that's not how this segment works. It would have been nice if wireless Apple CarPlay was included, though perhaps it would have been a bit off-brand for Ferrari. It would also be nice to see a couple of USB Type-C ports in the cabin. The only ones we spotted were a 12V one and a couple of Type-A ports.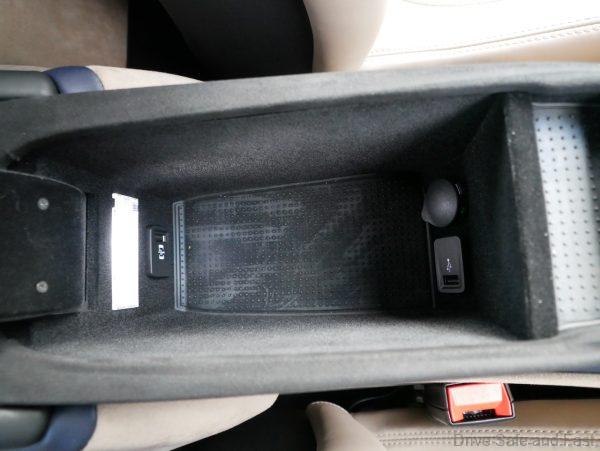 Besides that, I don't think Ferrari should change the Roma one bit. It still has an unconventional way about things, and the performance doesn't seem to have been 'nerfed' despite how easy it is to drive in the city.
It's a nice little taste of the world of Ferrari – where so many automotive enthusiasts dream of ending up in from a very young age.
Ferrari Roma Specifications
Engine: V8, Turbocharged, 32-Valve, DOHC, Petrol
Capacity: 3855cc
Gearbox: 8-speed F1 Dual Clutch Gearbox
Max power: 620PS @ 5750-7500rpm
Max torque: 760Nm @ 3000-5750rpm
Top Speed: 320 km/h
0-100 km/h: 3.4 seconds
Price: RM968,000