Reviews
Published on March 2nd, 2022 | by Subhash Nair
0
My GoCar Garage Experience: Doing An Oil Change On My Perodua Alza
We used GoCar Garage to service a car and it all got done during a work meeting.
For the first time ever, I've had to service my car based on the mileage rather than time since its last oil change. That's because I'm finally driving something that's relatively modern – a 7 year old Perodua Alza. The reason I got this vehicle is because its mileage was extremely low. When I bought it late last year, it had around 65,000km on the clock. I had it inspected by a trusted mechanic when I first got it and he confirmed that only the engine mounts seemed to be in need of replacement. There are also two tyres that need to be replaced as well, but overall, the car is in great shape.
The car arrived right on time, just as Malaysia began to reopen interstate borders. I was able to travel to see my family several times and even managed to get some time away from the Klang Valley on holiday. All that travelling went straight to the car's mileage and before I knew it, I was due an oil change. However, I just couldn't find the time with events piling up right after Chinese New Year.
That's when I remembered that GoCar Garage had set up operations not long ago. The whole premise of the GoCar Garage pitch is that you can pair it up either with a free GoCar for 2 hours or with a GoCar Valet service, so you wouldn't be immobile while your oil change was being done.
Here's my experience:
The whole GoCar Garage service can be arranged on the GoCar app on iOS or Android without having to call or speak to anyone.
I had registered myself a couple of years ago to try out their interstate car rental service after the first wave of COVID-19 cases. At the app's homepage, select "Car Repair & Maintenance". Swipe through the pop-up tip menu and click 'Let's Go'.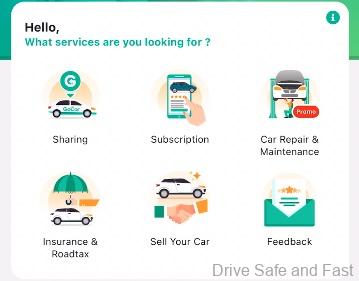 Select your vehicle's make and model from the drop down list. Most common cars that are sold through official channels will be available to service here, but if you bought your vehicle from the grey market or if your vehicle is rare or much older, it's likely you won't be able to service it through GoCar Garage. Once you've selected your make and model, this selection will be saved, so you can quickly select when you book your next service appointment.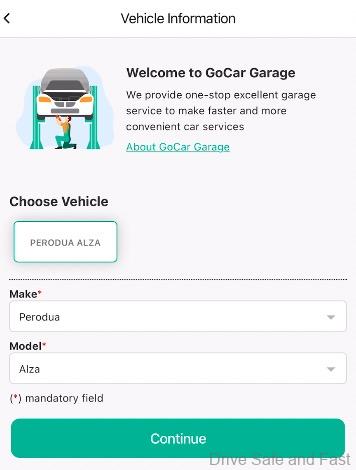 After that, select the type of maintenance or repair item you need. I just needed an oil change, so I selected Periodic Maintenance.
Mineral oil and fully-synthetic oil from GoCar Garage is supplied by Total, while Semi Synthetic oil is supplied by Shell. The service includes the oil change, a new oil filter, the associated labour as well as some other seasonable freebies. When I did my oil change, there was a free car wash and basic sanitization. For RM128, the semi-synthetic oil change package was the best option for me and quite reasonably priced.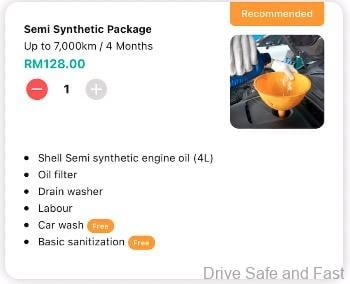 After selecting your package, you can enter a voucher code if you have one, and add other items, like new wiper blades.
In the next screen, you're asked to select an appointment date and time from the available slots. Appointments need to be booked about a day ahead. You then input your car plate and enter you contact information. If you're booking on behalf of a family member or friend, you can enter their contact information instead of the information tied to your GoCar account.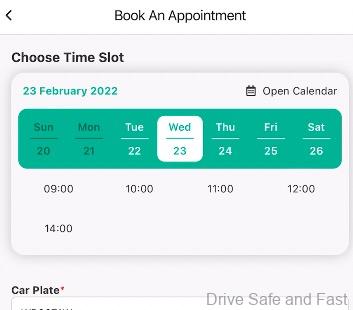 After that, you can select if you'd like to use the GoCar Valet service. Pricing is reasonable and varies depending on how far you're located from their PJ head quarters. GoCar Garage has plans to expand to other states in the near future, but this has yet to be announced.
Once the request is submitted, just hang tight and you'll get a confirmation for your service and it'll be displayed under the "My Bookings" tab.
The day my service appointment was supposed to be on, I had a meeting that came up. I was able to contact GoCar's support on the app and change the location of the GoCar Valet pick-up to my meeting's location. Before they picked and returned the car, I would get a phone call from the valet himself to confirm the location and my availability to pass or receive the keys. I marked my old oil filter with permanent marker and checked the colour of my oil before they picked the car up.
They arrived on time, carried out their oil change service within an hour and called me up to inform me that it was done before assigning a valet to get the car back to me. When I got the car back, it was raining heavily. A couple of hours later when the weather cleared and the engine cooled, I checked the oil and filter and found that they had been changed.
Overall, I think GoCar Garage presents a really good, convenient way to get periodic maintenance done without wasting any of your own time or restricting your mobility. They offer other services, like alignment and tyre changes, air cond servicing, battery inpection, brake repair and maintenance and other services too.
It would be nice to see the service expand to other states in the near future, to have more makes and models from earlier generations represented, and perhaps even a system to photograph parts that get swapped out for better transparency, but as it is, I enjoyed the convenience of the service and will use it again on the Alza. I do feel traditional workshops still need some of my business, and I will keep using my trusted mechanics for other jobs, besides periodic oil changes.