Cars
Published on April 9th, 2022 | by Subhash Nair
0
Honda City Hatchback RS e:HEV Drive Impressions
The Honda City Hatchback RS e:HEV is a taste of electric vehicle ownership without the need to charge.
The Honda City Hatchback RS e:HEV may be a mouthful, but it is one of the most interesting vehicles in its segment. There are many layers to unpack and we did go through most of these during our media preview at Sepang and at the car's official Malaysian launch, but there's still a lot more to cover.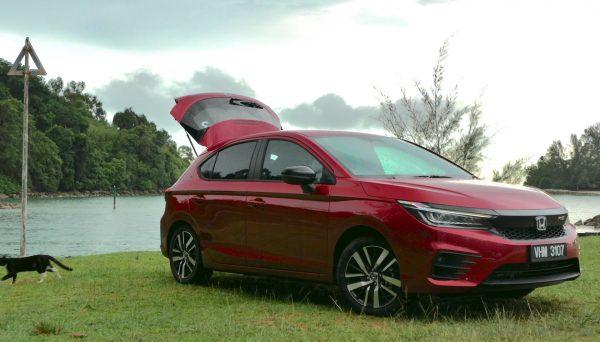 The first aspect I want to touch on is how much greener this car is in practice compared to the plug-in hybrid electric vehicles (PHEV) many premium brands sell here. We've seen reports from credible sources that PHEVs actually consume 3 times more fuel than advertised when they're not charged.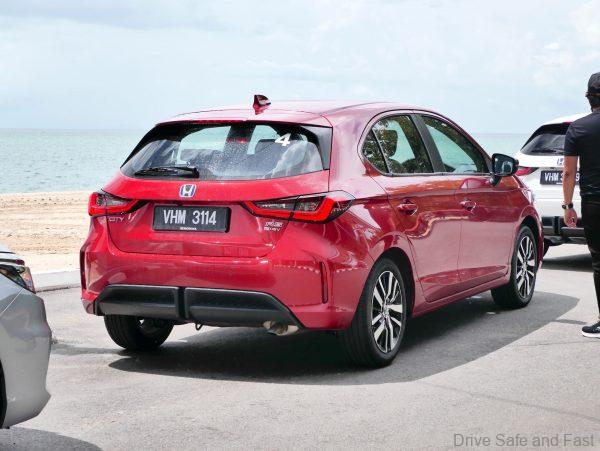 We know quite a few people who make it a habit to charge their PHEVs every night, but we also know a greater number of people who don't charge up AT ALL throughout the ownership period.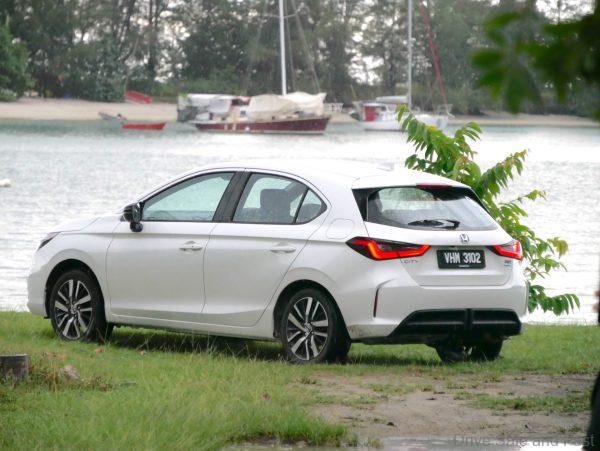 e:HEV Is Greener With Less Effort
By design, the City Hatchback RS e:HEV doesn't need to be charged up. And unlike PHEVs, most of the City Hatchback's motion comes directly from the electric motor on board. The e:HEV system keeps its battery packs within the optimal charge state by charging them up using the petrol motor.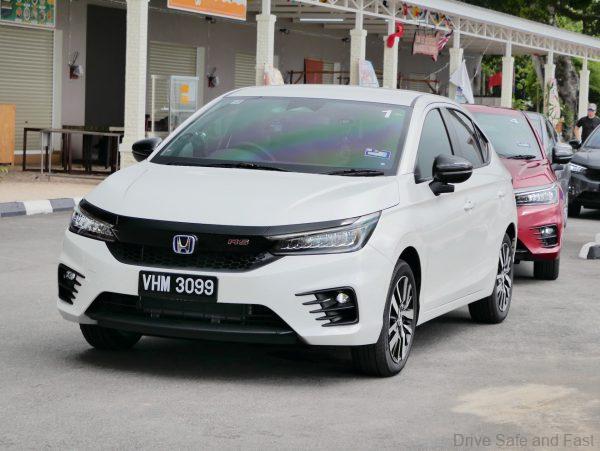 You may have heard something about how lithium ion batteries degrade when charged to 100% or discharged to 0% frequently. The e:HEV system keeps the batteries healthy over a long term by making sure they're somewhere in the middle of the batteries state of charge.
Driving the Honda City Hatchback RS e:HEV, you'll hear the petrol engine kick on for a couple of minutes and then go quiet for a couple more in normal driving. All the while, the air conditioning stays cool, there's no real loss of power. While 5.6L per 100km doesn't sound too impressive, it's also important to note that this petrol is burnt in a very efficient way and prudent way. You can't even rev the engine up with your accelerator pedal if you tried!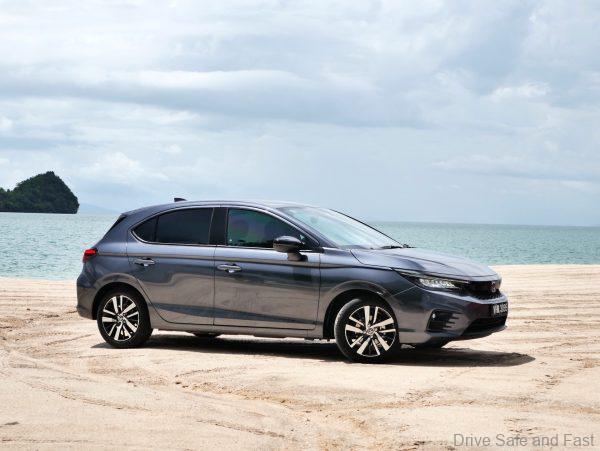 Petrol Power Only When It's Needed
There is a petrol engine under the hood of the City Hatchback RS e:HEV, but it is set up for maximum thermal efficiency. This means that it was engineered to convert as much of the energy stored in every drop of petroleum into useful kinetic energy as possible.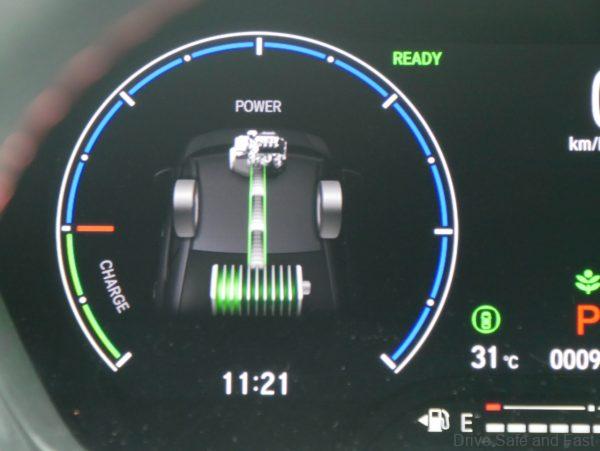 While having zero local emissions is nice, there are circumstances where electric motors are actually worse than petrol motors at moving cars. Higher sustained speeds is one. A petrol-powered car cruising at 90km/h on a highway is actually a relatively efficient machine.
So the e:HEV system is designed to allow the petrol engine to directly drive the front wheels in that sort of circumstance. It's a seamless transition.
253Nm Of Torque
There's a lot of talk about the City Hatchback RS e:HEV's torque and for the most part it's true – this hatchback is a little faster than one might expect when you really floor it. It's worth noting that the e:HEV system is programmed to 'feel' like a petrol car with a stepped transmission when you drive it fast. I think Honda did a really good job emulating this feel for the occasional hard drive through corners, but there really is no substitute for the real thing in my book.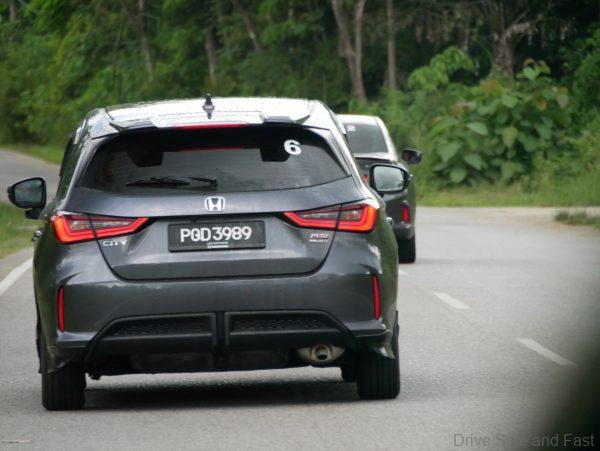 That being said, the City Hatchback RS's suspension and chassis is extremely well set up for dynamic driving. Honda has been the king of hot hatches for decades. If you miss the Jazz, just know that the legacy continues with the City Hatchback. Damping is very impressive given the size constraints and you get a taste of something more sophisticated in ride quality than the logo suggests.
Why Get The Hatchback?
All this and more has been said about the 4-door version of the City RS e:HEV in our review. The City Hatchback RS e:HEV isn't a whole lot different. What you do get are red accents inside that are omitted on the sedan version.
So why buy the Hatchback e:HEV? Well, we see two big reasons.
The first is that is to do with the design. This is subjective, but we think the City Hatchback has got a more sporty and dynamic look to it, especially with the RS bodykit and in Ignite Red. Honda is a brand that prides itself in making hatchbacks that go and look fast. We think a B-segment 5-door with a lot of performance is pretty much as Honda as you can get.
The second reason is more to do with its price and position in the market. The CKD B-segment cars are often aimed at those upgrading from local brands. But just look at the amount of equipment that comes with the Honda City Hatchback RS e:HEV.
Electric Parking Brake
Honda Sensing (ADAS) including Adaptive Cruise Control
Honda LaneWatch
RS bodykit and interior
Auto Air Conditioning
Rear air conditioner vents
Auto LED headlights
LED front fog lights
LED rear combi lights
16″ alloy wheels
6 airbags
Remote Engine Start
8″ Display Audio with Android Auto and Apple CarPlay
Reverse Camera
Paddle Shifters (Regen Braking)
Ultra Seats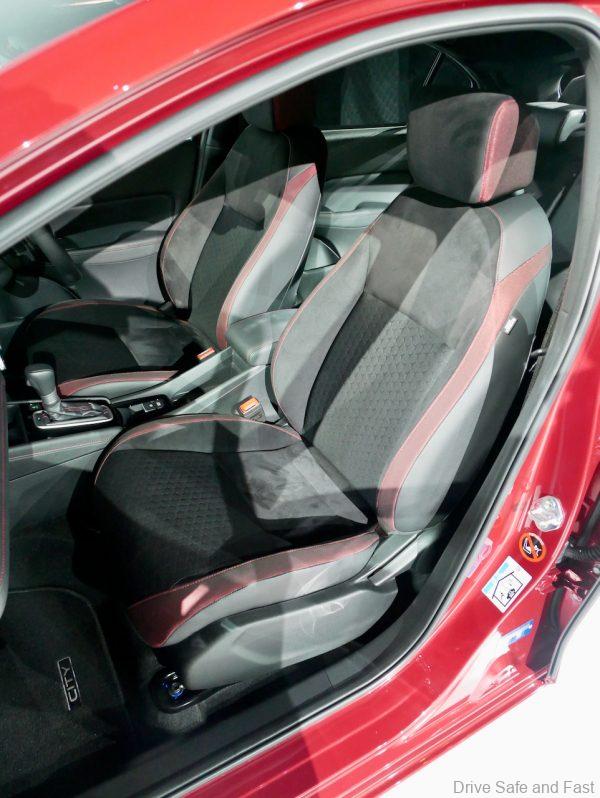 Many of these are unique to the B-segment, including the Remote Engine Start, Electric Parking Brake, LaneWatch and rear air cond vents.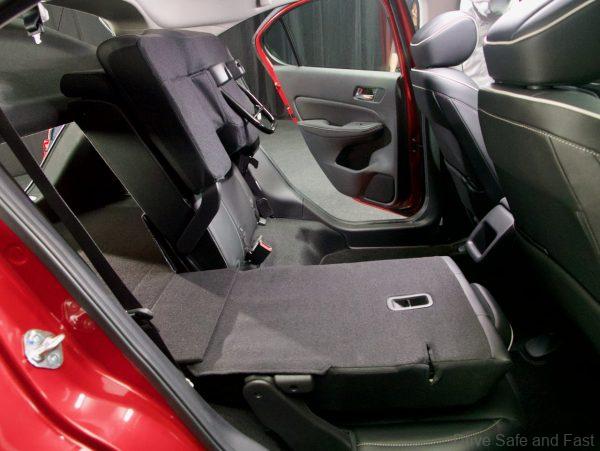 The point is that this car is clearly aimed at a different crowd. You can downgrade from a previous generation C-segment vehicle and still get more equipment here. You can substitute an RM200,000 premium entry-level hatchback with the City Hatchback RS.
The problem is that the 4-door City has been around for so long that its image is basically tied to the "national car upgrader" demographic. This 5-door City Hatchback has no legacy. It's an all-new model and it fits that upmarket demographic very well.