Cars
Published on April 6th, 2022 | by Daniel Sherman Fernandez
0
Land Rover Defender P400 Test Drive Review
We were surprised with our time with this new Range Rover….. oooppsss Defender?
On the 29th of January 2016, after a good 67 years in production and a few dozen variants produced and delivered around the globe, the final version of the classic Land Rover Defender rolled out of the factory and it was the end of a global icon.
Only one other automobile has had the same effect around the globe, to be instantly noticed and respected, the VW Beetle. When the VW management retired the Beetle it was a very sad day and till today there are requests for its revival. Now enough of the Beetle ….. (strong rumours suggest it might return as a pure EV) as this is the all new Defender review.
With the Defender, the retirement was somewhat different. Land Rover management was not going to retire the name plate, instead they wanted to continue the Defender name, but with a whole new clean sheet and also to elevate the Defender to compete side by side with the 2021 Land Cruiser, BMW X7, Mercedes GLE, Audi Q8 and even the Porsche Cayenne.
Yes, Land Rover management no longer wanted a produce a utility vehicle or a working class truck. They wanted to deliver a luxury, high technology, go anywhere vehicle that could be sitting side by side with their Range Rover in a tycoon's garage.
So, we were looking forward to be impressed with this test drive. Over the past decade we had driven some older Defender's, some well restored Defender's and also some tuned versions, like a Kahn Defender. They all had their own set of faults and no matter how much work had been done on them, the basic utility chassis and body could only be re-worked to a limit.
Meanwhile, we were already being impressed by the latest Range Rover Evoque which retails for RM475k, the award winning Land Rover Discovery which can be purchased for RM770k and lets not forget the Range Rover Velar priced from RM555k.
So, Land Rover decided it was time to get into the luxury SUV market and so this all new Defender was born. Like all other modern Land Rover vehicles, the engineers wanted it to be the best in class and that is probably why this new Defender carries technology and features you might find in the next generation Range Rover (costing more than RM1.7 million landed in Malaysia).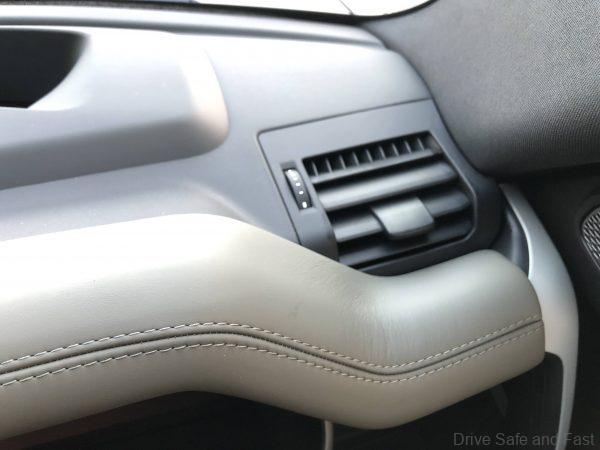 The friendly looks remain but with added classy touches added to give it more 'bling' amongst the shiny new competitors. This new Defender sits high and this puts height challenged individuals at task to get in and out, but once seated, comfort is very good (especially in the rear seat). This beautifully proportioned vehicle brings a new sense of dynamism to the Defender family.
This new 2.5 tonne SUV projects an image of confidence with its wheel-at-each-corner stance. The fast bonnet line steps down into a rising belt line, creating a distinctively compact profile that belies significant interior space. The streamlined design is complemented by class-leading usability with all-round visibility being good, whilst the interior and load space is easily accessible.
New inside this Defender is a revised software system to cater to smartphone users and sound system enthusiasts (Meridian provides one of the best acoustic performance). This is an interior that is as plush as it is luxurious. Generously equipped with the latest multimedia technologies, all surrounded by some of the best British cowhide around, this new Land Rover cabin borders on being ostentatiously comfortable with unrivalled class best refinement, courtesy of superb build quality.
This flagship of the Defender line-up gives you a 5-seater SUV that takes you where you want to go while letting people know you have arrived. The 3.0-liter petrol engine version we are test driving features an advanced turbocharger working with a mild hybrid system to deliver exceptional drive-ability throughout the rev range.
Producing a high 400hp at 5,500rpm and a massive 550Nm of torque from a low 2,000 RPM, the all-alloy engine offers excellent performance and flexibility from a surprisingly light package.
Fact, it drives and feels more like a grown up Range Rover Velar, which means this should be the first choice for many buyers, however the lack of the mighty 'Range Rover' badge on it prevents some others from wanting one and this is called snob appeal.
By the way, here below are the top 12 new features that this latest Defender will share with future Land Rover models, including the Range Rover luxury vehicles.
This Defender delivers a brand new-generation electrical architecture: Advanced Electrical Vehicle Architecture (EVA 2.0) underpins connected tech, making New Defender an all-terrain super-computer.
Software-Over-The-Air updates for up to 14 electronic control modules means this all new Defender will get better with age and even fix itself remotely.
Jaguar Land Rover's new Pivi Pro software debuts in this Defender and this latest system is always on, making it faster and easier to use while allowing customers to connect two (2) smartphones at once.
Intuitive 10-inch touchscreen with Apple CarPlay and Android Auto compatibility delivers enhanced user experience and broader range of functions.
There is a waterproof and wearable Activity Key watch works independently of the state-of-the-art fob, allowing customers to lock and unlock the New Defender from their wrist.
Equipped with ClearSight Ground View and ClearSight Rear View help you see more with 3D on-screen visualisation when using the Advanced Tow Assist and Wade Sensing systems.
intelligent Auto functionality of Terrain Response® 2 can recognise the surface and configure the vehicle appropriately without input from the driver.
Wade Sensing allows drivers to take full advantage of the world-class maximum wading depth of 35.4in.
Adaptive Dynamics allows customers to adjust driving characteristics. The system's adaptive dampers monitor body movements up to 500 times per second and respond almost instantaneously to optimize body control and comfort.
This Defender has maximum suspension articulation of 19.7in comes into its own, allowing it to tackle 45-degree side slopes and inclines of 45 degrees with customary composure.
The more luxurious Defender models feature high grade Windsor Leather, while the lesser Defender features Windsor Leather in combination with Steelcut Premium Textile accent for enhanced durability. This premium textile from Kvadrat is a 30 percent wool blend and is also available as a full alternative to the leather upholstery paired with Miko Suedecloth.
Permanent four-wheel drive and a twin-speed transfer case and a center differential helps ensure it has all the hardware required to excel in the soft sand of the desert, the freezing tundra of the arctic and just about everywhere in between.
Looking at the information shared above, it is clear that this new Defender is more technologically advanced than its current showroom siblings, the Evoque, Velar and even the outgoing Range Rover.
All that is needed is to confirm your booking and be patient with the delivery time line.
Land Rover Defender P400 Specifications
Engine: 4-cylinder DOHC Petrol Turbo Ingenium MHEV
Displacement: 2996cc
Transmission: 8-Speed Automatic
Max power: 400PS @ 5,500-6,500rpm
Max torque: 550Nm @ 2,000-5,000rpm
0-100km/h: 6.0secs
Top Speed: 191km/h
Selling Price: From RM998,800.