Cars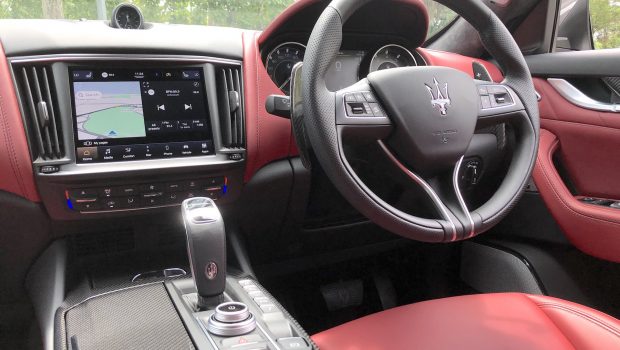 Published on May 4th, 2022 | by Daniel Sherman Fernandez
0
Maserati Levante S 2022 Model Sports SUV Drive Review
Is this Levante S 2022 model the best value Maserati on sale right now.
When Maserati first launched this Levante in November 2017, it was their first ever SUV and a wake up call for its immediate supercar rivals. Why, well Porsche was the first supercar brand to launch a SUV, the Cayenne and with huge success till today.
Then came the super luxury car manufacturers, Bentley and Rolls Royce. However, it was the Maserati Levante that woke up Lamborghini, Aston Martin and also now its parent, Ferrari to the possibility of making more money with SUV's as the world's luxury sports car buyers and also luxury sedan buyers all want a luxury sports SUV in their garage.
Today, the Levante is one of the most successful vehicles in the Maserati product line-up and the other is its sensible priced sports sedan, the Ghibli. With a selling price of just RM808,800 with all taxes paid and ready for your daily use, this latest Levante 'S' is hard to ignore as it is almost half the price of an Aston Martin DBX, Bentley Bentayga and Lamborghini URUS which all cost more than double with taxes included.
Yes, it carries a smaller engine with less power delivery and acceleration time, but remember, this is a luxury sports SUV that will be moving around the city 99.9 percent of the time, which means that will be hardly be an occasion to 'push' the power limits of a V8 or V12.
2022 Levante S Snobbery
Buyers in this segment are looking just for badge branding and a luxurious standout cabin look and feel and this is where this Levante delivers in spades. With the 'Trident' badge on the front and the high quality leather clad cabin, this Levante can stand side by side with rivals without feeling a pinch in-adequate. In fact, it might even command more attention as it is a close sibling to Ferrari.
Yes, for the same money, you can get a 'M' infused BMW SUV or a AMG prepared Mercedes-Benz SUV, but it's the Maserati brand that will keep the jealous eyes fixed on the driver.
2022 Levante S Power
Powering the Maserati Levante S is a 3.0-litre twin-turbo V6 engine that delivers a massive 430hp at 5,750 rpm and 580Nm from 2,000 to 4,750 rpm. Thanks to a ZF-sourced eight-speed automatic transmission and Maserati's Q4 Intelligent All-Wheel Drive with a rear limited-slip differential, this Levante S is able to complete the 0-100 km/h sprint in 5.2 seconds before reaching a top speed of 264km/h.
In direct comparison we take the BMW X6 xDrive40i Sport which was launched in April 2020 for RM729,800. This X6 has a 3.0-litre straight six Twin Power Turbo petrol engine with 340hp and 450Nm of torque. It has a limited top speed of 250km/h and accelerates from 0-100km/h in 5.5 seconds. Power is sent to all four wheels via an 8-Speed Steptronic Sport transmission.
Yes, this X6 is about RM79,000 cheaper, but has 70 horsepower less and a huge 130Nm of less torque to be enjoyed by the driver. Plus, it does not carry the badge branding and luxury of Maserati.
2022 Levante S New Features
So, what is new with this 2022 model? Well, the front end of the Levante S has been given a subtle nip and tuck through a newly designed grille, while the rear section features a new light cluster in the shape of a boomerang, which is said to be inspired by many historic Maserati models. Regardless of trim (GranSport or GranLusso), 21-inch wheels are equipped as standard.
Inside, a new 8.4-inch central display with a frameless design and improved graphics adorns the dashboard. The instrument cluster has not been left untouched as it now includes redesigned analogue rev counter and speedometer and a 7-inch TFT display right in the middle. Maserati says the plastic trim has been replaced with an anti-dazzle flat glass for a more high-tech look, while a combination of glossy and matte black trims results in a richer effect.
The Advanced Driver Assistance System (ADAS) has also been updated to include Active Driving Assist (ADS). An evolution of Highway Assist, which was only useable on highways, ADS can be activated on any well-maintained road at speeds up to 145km/h with the Adaptive Cruise Control activated.
Lets not forget the Bowers & Wilkinson in car entertainment system that remains to entertain you on every drive.
2022 Levante S Drive
Start the V6 and hear the mild rumble in the nicely insulated cabin. You need to hear the rumble or else your money is not well spent. The engine and exhaust system sound is entertaining. It is a sound that makes a very sporty impression yet does not irritate car occupants on long drives.
Keep the drive mode on 'Sport' mode as you can afford the premium fuel to run this sports SUV. Lets face it, if Levante buyers were interested in saving fuel and the environment, they would have opted for an all electric SUV which delivers zero emotion and sub 5.0 seconds acceleration time.
This is a well balanced well equipped vehicle that seats 4 adults in great comfort and 5 with a little 'shoulder and thigh pinching'. Take it for your own test drive and be entertained with its dynamics and engine note.
Maserati Levante S V6 Specifications
Engine: V6, DOHC Twin Turbo, Q4 AWD
Capacity: 2979cc
Transmission: 8-speed ZF semi-auto,
Max Power: 430hp @ 5,750rpm
Max Torque: 580Nm @ 2,000 – 4,750rpm
Acceleration: 5.2 seconds
Max Speed: 264km/h
Price: RM818,800.00 With Taxes Included