Automotive
Published on May 26th, 2022 | by Subhash Nair
0
Next Generation Honda CR-V Previewed By Honda USA
We have a glimpse of the 6th generation Honda CR-V thanks to some sneak peak images.
The Honda CR-V was one of the first family-oriented SUVs to hit the market in the 1990s and its popularity in Asia and around the world has only gotten more immense with every new generation. The 5th generation model that is on sale in Malaysia today has been on the market for quite a few years and is ready for a more modern and upmarket successor. That successor, the 6th generation Honda CR-V, has just been teased by Honda USA.
The first two images of the 2023 Honda CR-V show a more muscular, premium looking SUV with a familiar taillight shape being tweaked to fit a new lighting graphic. Both teaser images were of one half of the vehicle, so we took it upon ourselves to mirror the image. We had to remove some details that we could not symmetrically mirror. As such, the sharifian antenna, rear wiper and badging on the right are missing In our composite photo below. The perspective is also a lot wider than the actual car will be.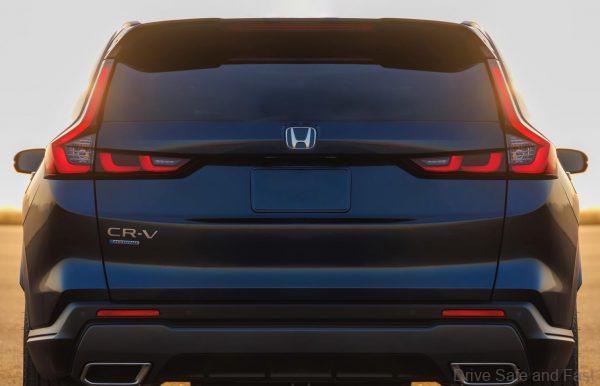 At the front, the same ultra wide perspective is a bit deceptive in our composite image. However, it's clear that the new CR-V will be a lot cleaner looking with almost no visible chrome elements except on the front bumper inlets and the faux exhaust tip finishers. There are no side profile shots, but it looks like the door mirrors have been moved down onto the doors now. Door mounted wing mirrors tend to have better NVH characteristics, but many manufacturers find ways around this design.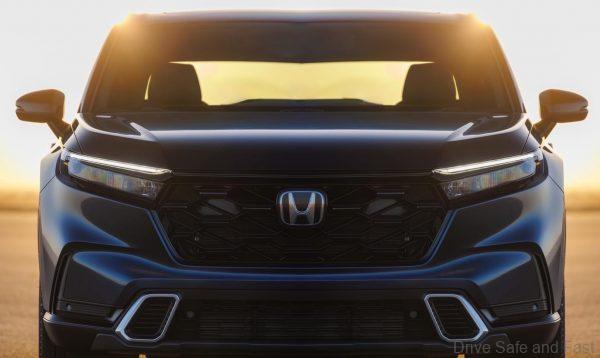 The front grille features large, almost irregular cutouts. The headlights look to be narrower than the 5th generation's.
Besides the images, we've also learnt that a new Hybrid system is being developed for this next generation CR-V. Honda USA hints that the new hybrid system will result in a sportier driving experience and even more capability, though it is unclear whether this means more pure electric driving range or something else entirely.
This all-new Honda CR-V will be showed in full in just a few months.