Automotive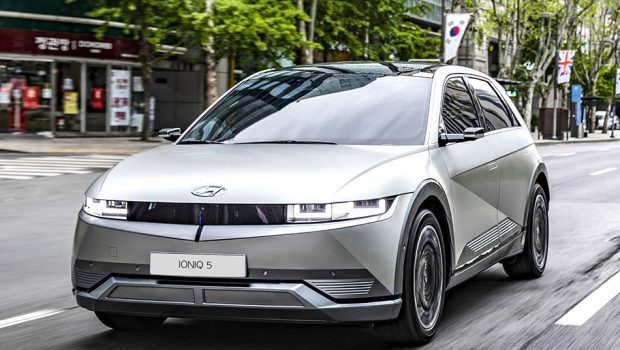 Published on July 26th, 2022 | by Subhash Nair
0
Korean Hyundai IONIQ 5 Is Needed To Meet Japanese Taxi Service's Carbon Goals!
Hyundai IONIQ 5 is impressive enough to serve in the Japanese market.
It's very rare to find Korean automotive brands in a Japanese setting, but in the case of the Hyundai IONIQ 5, it seems that some things are changing. In February 2022, Hyundai Mobility Japan was established with the aim of providing zero-emissions vehicles only to help Japan reach their carbon neutralisation goals.
Just recently, a taxi service operator called MK Group in Kyoto has put in an order from Hyundai Mobility Japan for 50 units of the VOTY-winning Hyundai IONIQ 5 in 'Lounge' specification. This particular specification makes great use of the E-GMP platform's range as it is a 2WD version with a 72.6kWh battery pack, returning 618km of range per full charge. It can also be charged from 10% to 80% in just 18 minutes on the fastest available DC power.
These 50 Korean-made battery electric vehicles are part of the company's electrified fleet. They have a goal of electrified 30% of their fleet by 2025 and 100% of their fleet by 2030. Since the beginning of this year, the company has ceased operating liquified petroleum gas powered vehicles and adopted 18 battery electric vehicles and 10 plug-in hybrid electric vehicles. The company will also install fast charging stations at each of their taxi business locations to accommodate this change.
It's a bit strange that a Japanese company should turn to the Korean automotive industry for a solution. The Japanese automotive industry is dominant throughout the world and is highly protected domestically. That being said, the Japanese car industry is severely lagging behind in terms of battery electric vehicles. Toyota only just co-launched their first, the bZ4X with the Subaru version called the Solterra. Mazda's MX-30 has comparatively low range and worse rear occupant access. The Nissan LEAF is perhaps the best domestic candidate, but it too is now a little long in the tooth with a range of just over 360km.
Here's the press release with more.
PRESS RELEASE
Hyundai Mobility Japan, Hyundai Motor Company's Japanese business unit, announced today that it will supply 50 'IONIQ 5 Lounge' EVs to MK Group in Kyoto this summer to help the taxi service operator and city achieve their respective carbon neutrality goals.
By adopting 50 IONIQ 5 Lounge units, MK is on its way to electrify 30 percent of its fleet by 2025 and reach 100 percent electrification by 2030. The company stopped operating LPG-powered vehicles in February 2022. As of March 2022, MK's taxi fleet has included 18 battery electric vehicles (BEVs) and 10 plug-in hybrid electric vehicles (PHEVs). MK is planning to install fast charging stations at each of its taxi business locations.
MK chose IONIQ 5 Lounge due in part to the BEV's long driving range and fast charging time. Moreover, the vehicle is providing a comfortable, spacious second row and plethora of convenience features that are expected to provide an unsurpassed riding experience for MK passengers. Hyundai Mobility Japan will also partner with MK's maintenance facility located in Kyoto to provide technological support, so that the partner company can run the fleet efficiently.
Hyundai Mobility Japan entered the Japanese market in February 2022, supplying only zero-emission vehicles, including IONIQ 5 and the NEXO hydrogen fuel cell electric vehicle (FCEV). The company is actively taking part in Japan's carbon neutralization while providing its customers with innovative vehicles and unique mobility experiences. The company's supply of 50 IONIQ 5 BEVs will help reduce greenhouse gas emissions in Kyoto to tackle climate change.
IONIQ 5 is the first model in Hyundai Motor's IONIQ dedicated BEV lineup brand. Built on the company's Electric Global Modular Platform (E-GMP), the BEV provides a spacious interior and the ability to fast charge from 10 to 80 percent in just 18 minutes. With an estimated all-electric driving range of 618 km* per full charge, IONIQ 5 delivers more range than other vehicles in the Japanese market. The crossover also delivers comfortable driving and riding experiences with very little noise or vibration during operation while its flat floor, sliding console and relaxation comfort seats provide space that is optimized for passengers. The BEV's Vehicle-to-Load (V2L) outlet under the second-row seat also provides convenient electricity for passengers' devices.
IONIQ 5 has won various, prestigious international awards, including a triple win at 2022 World Car of the Year, German Car of the Year, UK Car of the Year, Auto Express' Car of the Year and Auto Bild's Electric Car of the Year.