Automotive
Published on August 4th, 2022 | by Subhash Nair
0
Perodua Ativa Hybrid Customer Survey Indicates Subscription Model Only
The Perodua Ativa Hybrid will not be for sale. It is subscription only for now.
The Perodua Ativa Hybrid has been spotted on Malaysian roads and on car carrying trailers, indicating that the model will arrive soon. This will be another milestone model launch for the company as its first ever hybrid-powered model, following the original Ativa's other claim to fame as the company's first ever turbocharged model.
On top of being Perodua's first ever hybrid model, the new Ativa Hybrid may end up being the first Perodua to be offered through subscription. This is based on a leaked customer questionnaire that describes what a car subscription package and asks how much customers are willing to pay monthly to drive one without owning it. At the time of receiving this leaked questionnaire, it was unclear whether the subscription model was just an option for the Ativa Hybrid.
However Paultan.org reported last night that the Ativa Hybrid would in fact ONLY be offered through subscription and will not be sold in showrooms like all other Perodua models.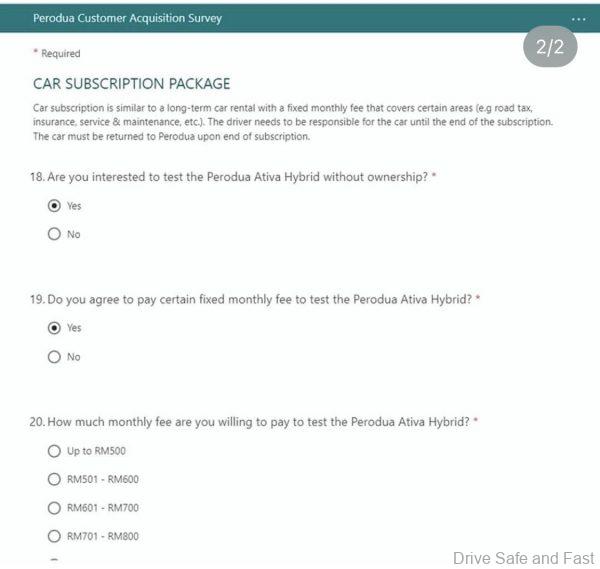 Following feedback from customers, Perodua says that 300 fully-imported units of the Perodua Ativa Hybrid are being brought in from Japan for study and evaluation purposes. These will be handed to customers who will be charged RM2,150 upfront and an additional RM500 per month over the next 60 months to drive the car no more than 100,000 km during their time with the car. At the end of their tenure, they will have to return the Ativa Hybrids to Perodua, having spent RM30,000 in monthly subscription fees. Road tax, insurance, service and maintenance is covered under this pilot subscription model. It is unclear if shorter terms will be offered.
It makes sense that Perodua is using the Ativa Hybrid to test out the subscription model in this way. Electrified powertrains are actually rather expensive, and the true cost is often hidden by way of tax incentives from the government. Even with the 1.0L turbo, the Perodua Ativa is already RM73,400. Pricing the Ativa Hybrid any higher may not sit quite right with the Perodua brand.
The CBU Perodua Ativa Hybrid is presumably made at the Daihatsu Motor Co. Ltd. Shiga (Ryuo) plant alongside the Daihatsu Rocky e-Smart Hybrid. It is powered by a new 1.2-litre 4-cylinder petrol engine that serves as a generator for the 100% electric motor drive. This is similar to Nissan's ePower system.