News
Published on September 7th, 2022 | by Sounder Rajen
0
Trailer Catches Fire, Destroys 5 Honda Cars With It
Looks like some Honda owners will not be receiving their new cars this week
On 6 August 2022, Bernama reported that five cars which appear to be new Honda vehicles have been almost completely burned as a result of the trailer transporting them caught fire at Kilometer 227.2 on the PLUS highway in the evening. The incident took place near Seremban.
No fatalities were reported and Rembau District Chief of Police, Deputy Superintendent Hazri Mohamad, who commented when he arrived on the scene with his team after receiving information of this around 5.24 p.m. in the evening said the amount of losses is being investigated.
He also stated, "This event took place when a 31 year old man who was transporting six cars from the Honda factory was headed to Penang Island, faced technical issues with their brakes which caused the fire in the back of the trailer."
"The fire then spread to the five cars while the last one only ended up being 10 percent burnt. This incident caused a traffic jam up to three kilometers and all lanes were closed to allow the fire to be put out which took over an hour." He added.
Luckily the Fire Department managed to extinguish the flames and even provided the pictures you see here. All in all, this could have gotten a lot worse and is quite shocking as a simple brake failure led to this whole ordeal so remember to always ensure your vehicle is in proper working order before driving.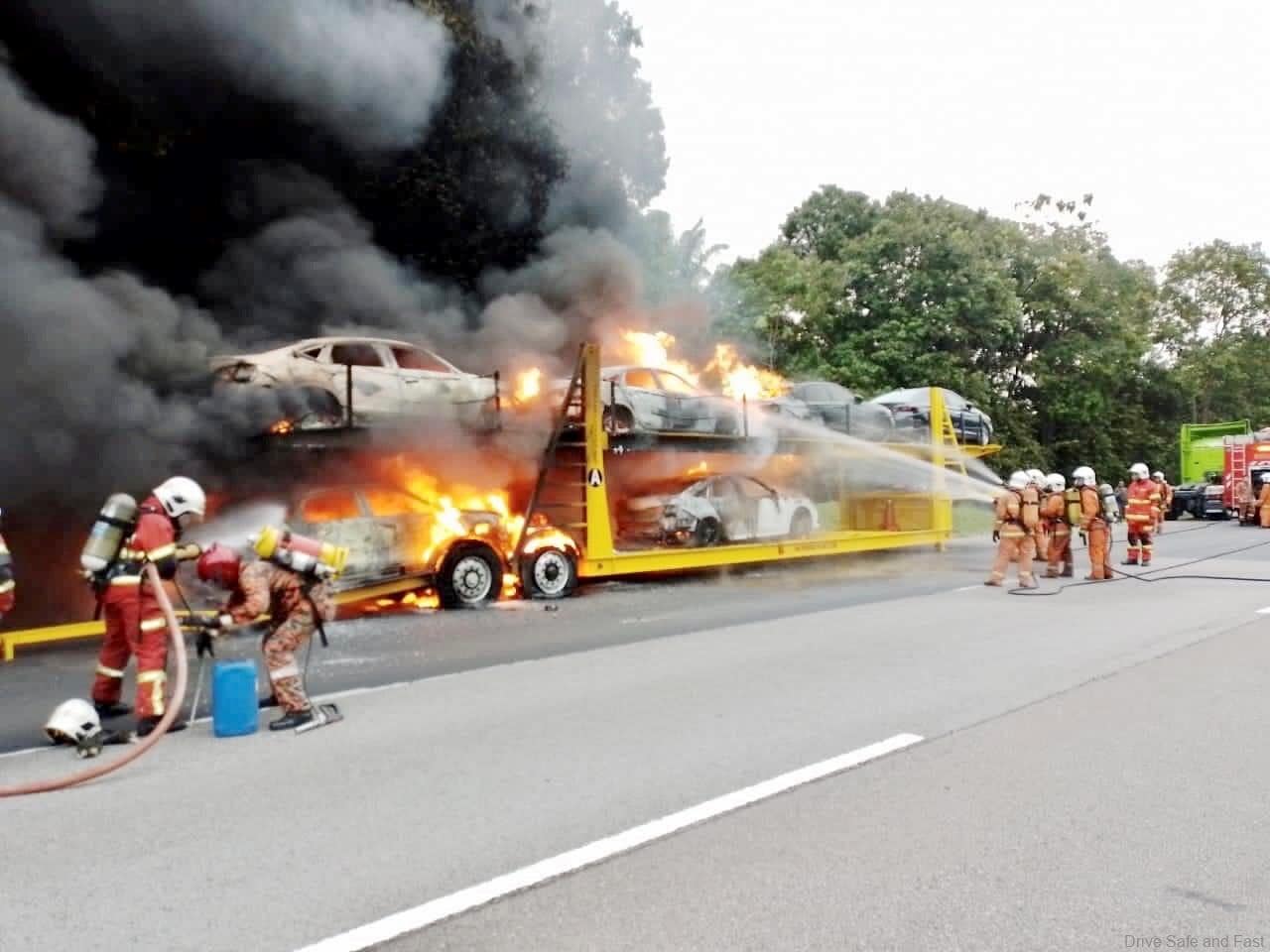 It is however, a lot more sad for the owners of these six Honda cars who were eagerly awaiting their new car who will now have to wait even longer. Still, this should serve as a reminder to regularly service your vehicle and always do a quick inspection before you drive. After all, we never know what comes next.
Thank you to the Fire Department and Bernama for the pictures and information we received and the original write up from Bernama is linked here.