Automotive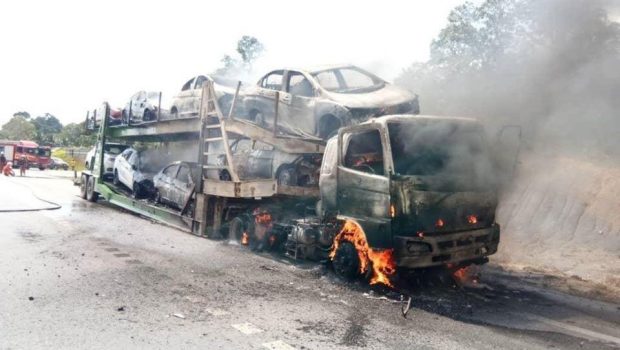 Published on March 19th, 2020 | by Subhash Nair
0
8 New Cars Burnt After Trailer Caught Fire in Miri
Yesterday afternoon, at around 4.15pm, a truck carrying 8 cars caught fire along the Pan-Borneo Highway. The Fire and Rescue Department of Sarawak sent firemen to KM16 of the Bintulu-Miri stretch of highway to put the fire out, but all 8 cars were burnt by the time they managed to put the fire out.
We don't have an official list of cars, but it appears to be predominantly Honda vehicles and perhaps at least one Proton.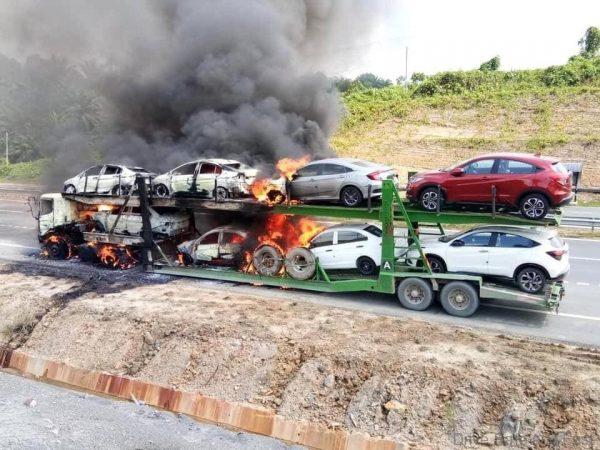 We're about to attempt car spotting based on a grainy whatsapp photo of some burnt car carcasses, so please excuse any errors. Starting from the front of the top row, it appears to be 2 White Orchid Pearl Honda City sedans, a Lunar Silver Metallic Honda Civic, and a Passion Red Pearl Honda HR-V. The front of the bottom row appears to start with a Snow White Proton Persona, and another 2 Snow White Proton Sagas. At the end of the bottom row sits a White Orchid Pearl Honda HR-V.
It is unclear if the HR-Vs at the end of the trailer survived the fire, but news sources quote all 8 cars as being damaged by the fire. Not counting the cost of the truck and the wasted freight charges of shipping the cars from Peninsular Malaysia, roughly RM600,000 worth of cars were damaged or destroyed in that fire.
It's still not clear what caused the fire. Diesel is not known to readily combust, but truck tyres and brakes can catch fire when temperatures are left unchecked. It's usually the truck driver's duty to know what tyre pressures he should run and how slow he should be driving to not overcook the brakes.
The origins of a planned trunk road connecting the expansive states of Sarawak and Sabah with Brunei in between date back to the 1960s when it was known as the Trans-Borneo Highway.
The impetus for improved road connectivity across Sabah and Sarawak grew in the '70s, leading to a plan by the Governments of Malaysia (both Federal and State), Brunei and Kalimantan Indonesia to develop further the idea of constructing a highway along the coastline of Borneo. It would be called the Pan Borneo Highway.
Fast forward 50 years later and Sarawak's major trunk road system today is the Federal Route 1, part of the Pan Borneo Highway or Trans Borneo Highway, and part of the Asian Highway Network AH150. It is mainly a 2-lane single carriageway of JKR R3 standard design. Only 144 km (13%) of the trunk road from Sematan to Lawas is a 4-lane dual carriageway of JKR R5 standard. Travel across the vast state of Sarawak continues to be a long journey – up to 19 hours from Sematan to Miri currently on the 2-lane road.
To accelerate the socio-economic growth of Sabah and Sarawak, a major effort to fully develop and upgrade the Pan Borneo Highway was announced by Malaysia's Prime Minister in April 2013 as part of the Government's 'AkuJanji' promises to the Nation. This was followed by a commitment in the Budget 2015.
The Pan Borneo Highway was officially launched by the Prime Minister of Malaysia in Bintulu on 31 March 2015. Construction works along a 43 km stretch from the Nyabau to Bakun junctions began soon after. This marked the kick-off project for the Pan Borneo Highway, beginning with the Highway's development in Sarawak.
When completed in mid-2021, the Pan Borneo Highway Sarawak from Telok Melano to Merapok is expected to span a total distance of 1,060 km. The future 4-lane dual carriageway and toll-free Pan Borneo Highway is slated to be THE transportation backbone of the states of Sabah and Sarawak and will play a major role to open up economic corridors and opportunities in areas it traverses.
About Lebuhraya Borneo Utara
Lebuhraya Borneo Utara Sdn Bhd (LBU) is the Project Delivery Partner (PDP) for the Pan Borneo Highway in the state of Sarawak. A home-grown Sarawak company based in Kuching, LBU consists of a team of qualified Bumiputera personnel with construction and project development and management experience. LBU is supported by a Board of Directors with highway construction specialist expertise crucial for the delivery of the Highway according to time and budget specifications.
As PDP, LBU made a commitment to the Government to involve local talents, contractors, companies and resources towards building up local expertise in highway construction.
Implementation of the Pan Borneo Highway Sarawak
Following the kick-off project at Bintulu, implementation of the Pan Borneo Highway Sarawak went into top-gear with the appointment of a Project Delivery Partner. Phase 1 development of Sarawak's single largest infrastructure project would be divided into 11 works package stretches averaging between 60-90 km each.
To meet the short timeline for delivery, implementation would be carried out simultaneously at all 11 works package stretches from Telok Melano to Miri. Tenders were carried out from amongst qualified Sarawak contractors. In cases where Sarawak contractors required support from experienced Highway builders, joint-ventures were formed with Peninsular Malaysia entities. In all cases, the Sarawak entity retained 70% majority equity.
Between September 2015 and December 2016, all 11 works packages under Phase 1 totalling 786km from Telok Melano to Miri were launched. Site possession occurred soon after, enabling the contractors to move into to site and get to work immediately.
More Comfortable Road Journey
4-lanes compared to current 2-lanes
R5 standard Design Speed at 100km/hr
Less hilly ride due to lower gradient
Modern Rest & Services Areas & Laybys along Highway
Shorter Travel Time across Sarawak
4-lanes enable safe overtaking of slower vehicles
Interchanges (25 nos.)
Improved Productivity
Less travel time
Lower cost of travel
Toll free
High Economic Multiplier for Sarawak
Highway will encourage greater mobility
Open up more areas with access
Boost construction industry, tourism, supporting sectors, vendors, suppliers
Jobs creation (direct & indirect)