Automotive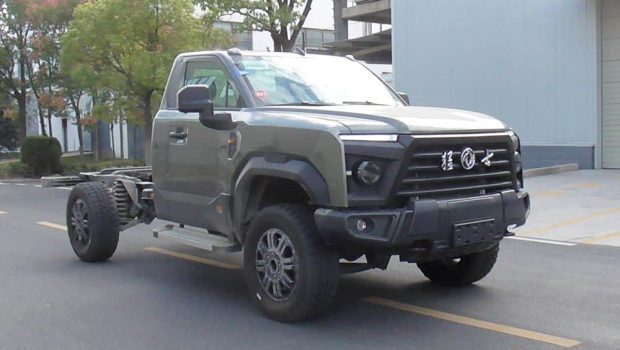 Published on October 28th, 2022 | by Sounder Rajen
0
Dongfeng Warrior M20 Truck Spotted In China
Is this China's answer to the Ford Ranger Raptor?
Dongfeng is a Chinese automaker who is known for its long-running Warrior series of vehicles which is a special military utility vehicle series. The brand released a civilian version of their pick-up truck called the Mengshi M50 which is powered by a 4.0 litre turbocharged diesel engine making 200hp and 600Nm of torque.
Moreover, Dongfeng has also recently launched an new independent brand called Mengshi, which comprises an all-electric pickup truck and an SUV while still developing the Warrior series of the Dongfeng brand. Now a stripped version of the M20 SUV which is presumed to be the M20 pick-up truck was spotted on the road.
From the looks of it, this Dongfeng Warrior M20 is going to be a massive pick-up truck and will feature wide wheel arches, thin and sharp headlights and a gargantuan front grille with the Chinese wording for Mengshi, " 猛士" (which means Warrior) on it. The images also suggest it will be a single cab two-door pick-up truck.
On top of that, it is believed that the Dongfeng Warrior M20 will come in two sizes, a shorter version with a length of 5850mm, a width of 2,160mm and a height of 2,155mm with a wheelbase of 3,700mm and the exact dimensions for the longer version are yet to be revealed, it is believed to measure 6,180mm in length.
The Warrior M20 pick-up truck are said to have a curb weight of 3,750kg and a gross weight of around 5,900kg. This means that the truck should be able to carry loads of up to 2 tonnes, so yes, it is going to be a behemoth of a car. Customers can also spec an optional front winch.
However, the best part about this Warrior M20 pick-up truck has to be it's 6.7 litre diesel engine which puts out 314hp and up to 1,200Nm of torque. This would make it a heavy-duty truck instead of a passenger car. This begs the question, why don't Chinese brands build super trucks like the Ford Ranger Raptor?
They clearly have the technology and the capability so why limit something like the Warrior M20 pick-up truck to just commercial use? Even in countries like Malaysia, where smaller displacement engines are the only thing that people can afford, they managed to bring in the Ford F-150 Raptor under Clive Sutton as the Sutton Monster Raptor.
So what's stopping them? As far as I can tell, there will definitely be demand for a pick-up truck like that. I hope Dongfeng and other Chinese automakers decide to compete in the realm of huge engine pick-up trucks sooner rather than later.
We got all this from CarNewsChina and their full article is linked here. Thank you CarNewsChina for the information and images.