Automotive
Published on November 23rd, 2022 | by Subhash Nair
0
BYD Atto 3 Malaysia Launching 9th December 2022
An ad on social media confirms the BYD Atto 3 launch date in Malaysia.
The BYD Atto 3 has long been rumoured for the Malaysian market. Just this week, we finally spied the location of BYD's first Malaysian showroom in Sime Darby Motors City. Last night while scrolling through social media, we were fed an ad for the Atto 3's launch date and test drive. It looks like the Chinese electric vehicle will make its Malaysian debut on the 9th of December 2022 at Bandar Malaysia.
Some other leaked information from a sign up to the test drive include the following spicy details:
2 variants will be offered – the standard model and the extended range model. The delivery date is expected to be in Q1 2023 and the price is anticipated to be between RM150,000 and RM170,000 making it a prime rival to the Ora Good Cat.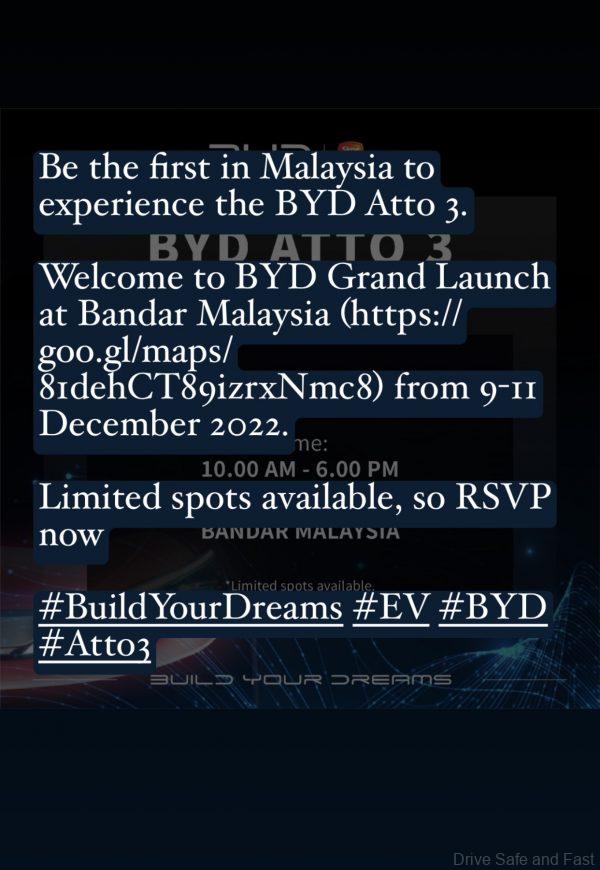 Anyone can sign up for the launch event but there will be limited spots. It is unclear whether other BYD models will be shown at the event but there is some indication that the company wants to go full steam ahead with Malaysia. The BYD Atto 3 in standard range form has a 345km range while its extended range variant comes with a larger Blade battery capable of 420km of range. 7kW AC charging and 70-80kW DC Fast Charging available for a 45 minute 'juice up' from 0% to 80% state of charge.
A slightly more affordable electric vehicle that will be introduced to Malaysia by BYD is the e6. This compact MPV has a practical 500km range but a rather low top speed of 130km/h. 70kW DC Fast Charging enables a 20%-80% charge up time of just 40 minutes while 6.6kW AC Charging takes about 12 hours to fully charge the battery.
Other BYD models rumoured to be in the pipeline include the BYD Seal, which is aimed at the Tesla Model 3.
Will you be registering for a test drive? Which new Chinese branded EV excites you the most?