News
Published on November 30th, 2022 | by Sounder Rajen
0
KDN Denies 50 Percent Traffic Summons Discounts
The poster claiming these traffic summons discounts is fake
Recently there has been a post on Facebook that appeared to be from the Ministry of Home Affairs (Kementerian Dalam Negeri (KDN)) and alleged that there would be a 50 percent discount on certain traffic summons if paid for between 28 November 2022 and 3 December 2022. This was, of course, fake.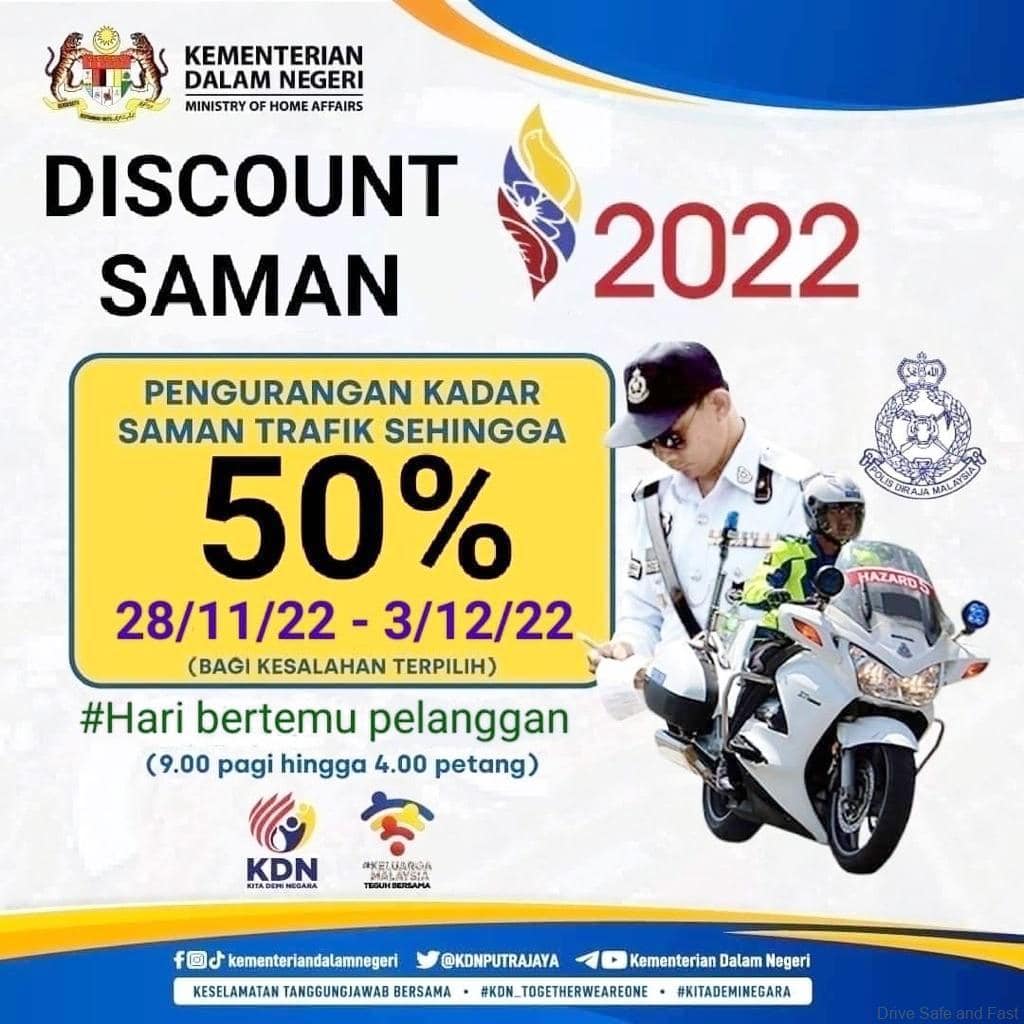 We know this as the real KDN had denied these claims themselves and stated that there were no discounts offered for traffic summons by the police or otherwise at the moment. While the fake poster contained the KDN logo on it, it was still not an official statement from KDN.
Moreover, the official KDN admin on Facebook took to the social media site to post on their official page, stating, "The digital poster that spread on social media as well as the WhatsApp application regarding the '50 percent discount on certain traffic summons' is absolutely false. That poster was edited by a third party with no official authority with the KDN."
On top of that, the KDN also advised the public to not spread fake news and always verify their information before sharing or spreading any news. This is not something new, there have been countless instances of false news spreading rapidly due to the nature of some Malaysians who will believe anything they see on Facebook.
I don't know about you guys, but I find it rather pathetic that many Malaysians will believe every hoax they see about traffic summons and share with every single contact on their phone (you know who you are) but will doubt an official report from the World Health Organization (WHO) and assume vaccines are harmful.
Now the police have offered huge discounts for traffic summons before so one would believe this based on precedence alone. Earlier this year in August, during the program Aspirasi Keluarga Malaysia Selangor, discounts on traffic summons were offered for three days from 19 to 21 August 2022 for up to 50 percent.
Furthermore, the police have also offered 80 percent discounts on traffic summons during the program 100 Hari Keluarga Malaysia Aspirasi last year in December from 9 to 31 December 2021 and it resulted in 8.6 million overdue traffic summons being resolved so clearly, this strategy is effective.
Regardless of how effective this strategy is, it is probably not going to be very viable in the long run as it means the KDN is getting less money overall on traffic summons. Still, we here at DSF wish to remind all our readers to always verify everything you see and hear and don't share fake news.
We got all this from Free Malaysia Today and their full article is linked here. Thank you Free Malaysia Today for the information and images.