Automotive
Published on November 9th, 2022 | by Subhash Nair
0
Porsche Taycan: 100,000 Units Produced Since September 2019
The Porsche Taycan has been a runaway success as the company's 1st EV.
When Porsche first launched Mission E, we knew the production electric vehicle that would eventually follow would define the industry standard. The Mission E Concept became the Taycan. Now, more than 3 years since the Taycan first rolled off the lines in September 2019, Porsche has successfully produced 100,000 of the models. This milestone is even more impressive given the effects of Covid and the semiconductor shortage on production.
Model number 100,000 of the Porsche Taycan was produced on 7 November 2022 at the Zuffenhausen plant. It is a Neptune Blue Taycan Turbo S bound for a customer in the United Kingdom. The Taycan Turbo S is the fastest production car around the Nürburgring Nordschleife with a time of 7 minutes and 33 seconds. The Taycan 4S has a range of 513km on a full charge. There are multiple powertrain options, including options for rear-wheel drive, smaller battery capacities and different motor outputs. The Taycan is also available in 3 body styles – the basic sports sedan Taycan, the estate-like Taycan Sport Turismo and the crossover-like Taycan Cross Turismo.
The top three markets for the Porsche Taycan include the US, China and the UK/Republic of Ireland.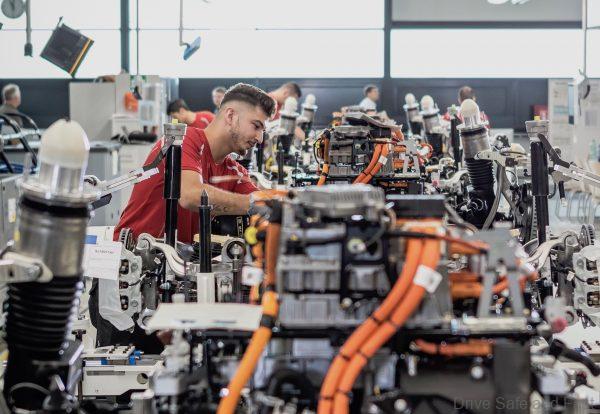 The facility that makes the Taycan is in Zuffenhausen, Stuttgart. It is a state-of-the-art facility equipped with Artificial Intelligence as part of the production process. 'Machine Learning' uses camera systems to assess quality even more precisely than conventional non-AI monitoring systems. This also cuts down the workload of production staff.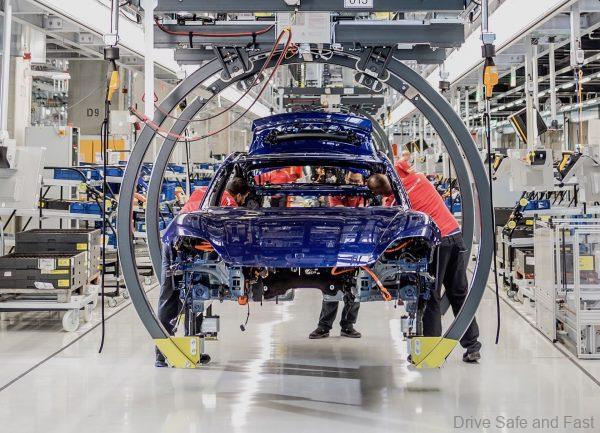 Also supporting production staff is a new 110-degree pivoting swivel, which removes unergonomic overhead work from the production line. A driverless transport system replaces the classic assembly line and offers flexibility in production.
The robots that put the Taycan together also use a similar principle of energy recuperation when slowing down. This allows the energy to be conserved and used when an acceleration motion is required. What's more, the production of the Taycan has been completely carbon-neutral from the beginning.
All buildings at the facility are well below the statutory energy efficiency requirements, all roofs of new buildings are landscaped and partly equipped with photovoltaic systems. The electrical energy that powers the plant comes from renewable sources.