Motorsports
Published on November 17th, 2022 | by Sounder Rajen
0
Toyota Gunning For Victory In The Sepang 1000KM Race
Can Toyota win Malaysia's most prestigious endurance race?
After a successful showing at the 2021 edition of the Sepang 1000km race, Toyota is now aiming for the win with its Vios model in this year's most prestigious endurance race in Malaysia. This year's race will once again be held over 9 grueling hours from 17th to 20th November 2022 at the 5.534km Sepang International Circuit.

UMW Toyota Motor and Toyota Gazoo Racing (TGR) will officially compete in the MTC and SP2 classes of the Sepang 1000km race. Two racers from the team will lead the MTC class to push for the overall victory. This is an achievement the team nearly managed in 2021 and aims to actually accomplish this year.
Moreover, there will be a total of 15 SP2 Class Toyota cars competing Gazoo Racing Vios Enduro Cup in the Sepang 1000km and this race is exclusive and open to all generations competing in the Vios Challenge and the Vios Sprint Cup race series.
UMW Toyota Motor President, Ravindran K, said, "Endurance racing is the very pinnacle of motor-racing and the Vios, as well as models like the Yaris, have successfully demonstrated in the 2021 edition of the Sepang 1000KM that it has both the reliability and outright performance to become winners."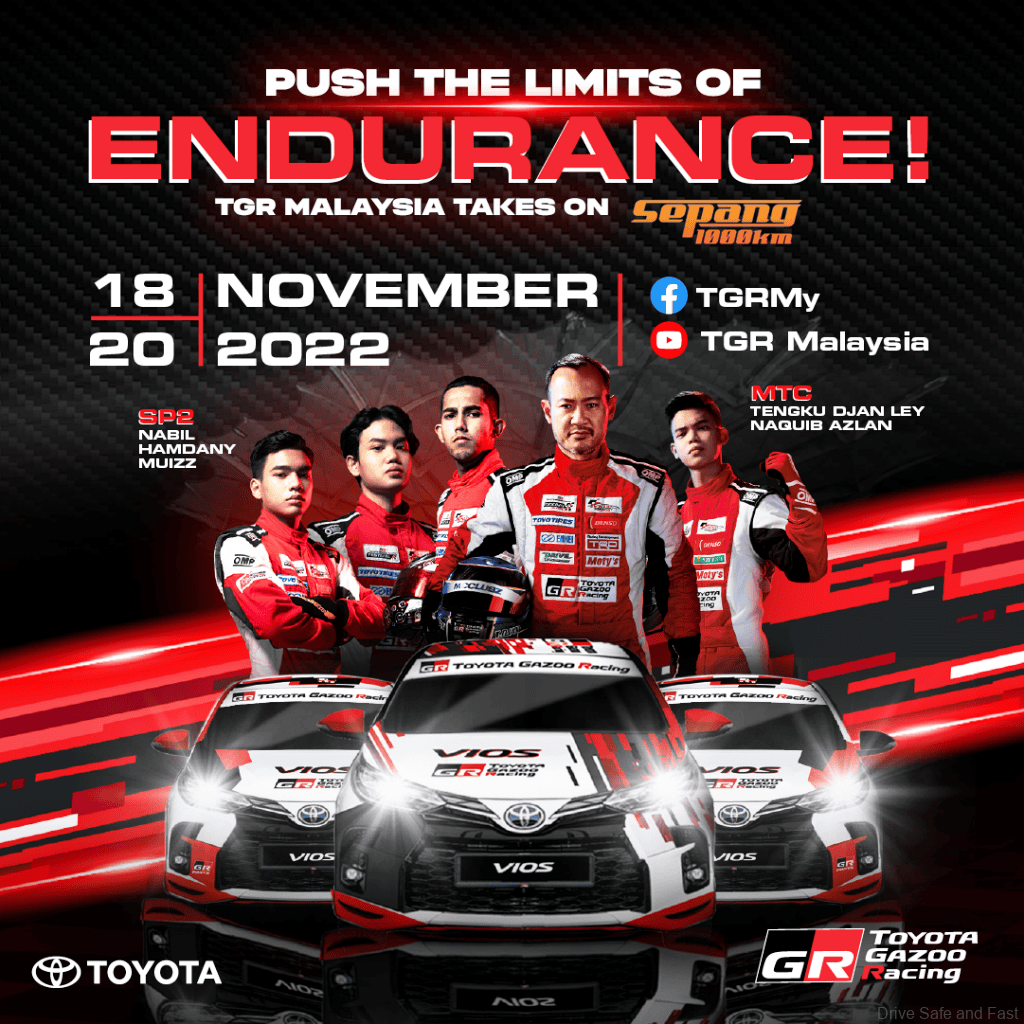 "The running of the GAZOO Racing Vios Enduro Cup further illustrate the capabilities of the standard-production Vios in this ultimate test, keeping in mind that the same cars have already endured six races in the Vios Challenge and another four one-hour races in the Vios Sprint Cup this year." He added.
The Toyota team had won the third and fourth positions in the premier MTC Class of the Sepang 1000km race in 2021. The duo of Hayden Haikal and Timothy Yeo managed to cross the finish line in first place overall three laps ahead of their rival in the Yaris but faced a penalty knocking them down to third and fourth place.
On top of that, the second pair of Toyota drivers of of Boy Wong and Dannies Ng also in Vios cars also crossed the finish line in fourth place in the MTC class and sixth overall. This means three Toyota cars occupied the top five out of 39 entries tootal on the starting grid for the race.
Despite the fact that the Vios Challenge and Vios Sprint Cup are usually known for their short and high intensity competitive races, the Toyota and TGR teams will be competing in an unfamiliar format thus putting their cars to the ultimate test of endurance over the 1,000km track.