Used Cars
Published on January 7th, 2023 | by Daniel Sherman Fernandez
0
Used Lexus UX 300e EV Price Drops By Huge RM60k
Why has this Lexus UX 300e been discounted by 19 percent?
The electric car fascination continues in Malaysia and it all started with the Malaysian government offering a tax free import incentive for electric cars to 'push' ownership fast.
First the luxury car segment was enjoying this incentive as Volvo, Mercedes, Porsche and BMW started importing their brand new shiny electric vehicles (EV) at tax-free prices.
The rich Malaysians saved a lot of money and the middle class still had to buy petrol powered cars with high import duties. One sided system. Right?
The rich Malaysians smiled from ear to ear and started buying these EV's faster than they could be delivered.
Then came stylish new electric vehicles from Korea. Hyundai and KIA were suddenly the darling of the electric car craze and sales surged for the EV6 and and award winning IONIQ5.
Meanwhile, private importers (AP Holders) had already started importing in new and also used Tesla electric cars and some other well known models as well.
Buyers lined up and better still, charging stations were being installed as fast as EV's were being registered. Yes, there are many new and working EV battery charging stations running right now, DC and also AC and the fees are very reasonable.
So, why are some dealers offering a large discount on their electric cars? Why is it that some used electric cars are finding their way into the used car market with depreciation as high as 25 percent?
Here, we have a popular Lexus model with a battery powertrain being offered at large 19 percent discount. A price from RM300,333 to RM24,333! Are there issues that we have not yet discovered? Or is it because there are cheaper BRAND NEW EV's to be purchased right now?
Yes, UMW Toyota is about to launch their much talked about bZ4X and its possible selling price will be RM248k or so, which makes this used Lexus UX 300e rather un-attractive.
Interestingly, this Lexus UX is the first battery electric vehicle (BEV) from Lexus. The official Malaysian launch will be soon to take advantage of the EV tax incentive and the growing interest among premium car buyers for electric vehicles.
Its closest rival is the Volvo C40 Recharge which has an output of 408hp and 660Nm of torque delivered through all four wheels for a 0-100km/h time of just 4.7 seconds.
This Volvo has a range of 450km on a full charge. 150kW DC Fast Charging enables it to recover up to 80 percent of its state-of-charge in 28 minutes. Selling price is just RM288,888 with full Volvo after sales and warranty.
LEXUS UX 300e Japan Spec Year 2021 Unregister Celestial Blue, Imported By Trusted Local AP Dealer.
Specification:
– Year 2021
– Celestial Blue
– Power : 204hp/ 150kW
– Torque : 300Nm
– Range : 300 to 400km WLTP
– Battery Capacity : 107.8 kWh
– AC charging system rated at 6.6 kW AC
– DC charging system rated at 50 kW DC
– ChaDemo
– 3-Eye LED Headlights
– Bi-LED Headlights with Auto High Beam (AHB)
– Blind Spot Monitor (BSM)
– Rear Cross Traffic Alert with Auto Brake (RCTAB)
– Hands-free Power Back Door with Kick Sensor
– 360˚ Panoramic View Monitor
– Head-Up Display (HUD)
– 10.3" Lexus Navigation
– 13-Speaker Mark Levinson® Premium Surround Sound System
– Lexus Link Connected Services
– Apple CarPlay and Android Auto
– Lexus Safety System +
– Premium Fabric Upholstery
– 8-Way Electrically Adjustable Front Seats
– Power Adjustable Steering Wheel
– 7″ Multimedia screen with Remote Touch Interface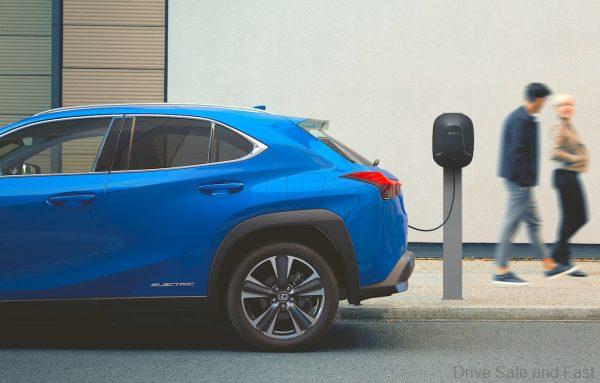 Let's see if this 'used' private import Lexus electric SUV gets a further price reduction.