Automotive
Published on January 11th, 2023 | by Sounder Rajen
0
Woman Avoids Paying Toll Charges 45 Times, Finally Caught
But is just paying the outstanding toll charges enough? Many disagree
So I woke up this morning and remember hearing something on my favorite radio station, BFM (shout out to my lecturer, Mr. Roberto introducing me to the station), and hearing about a woman who drives a Mercedes-Benz A class who avoided paying toll charges 45 times and finally got caught today. What a weird start to the day…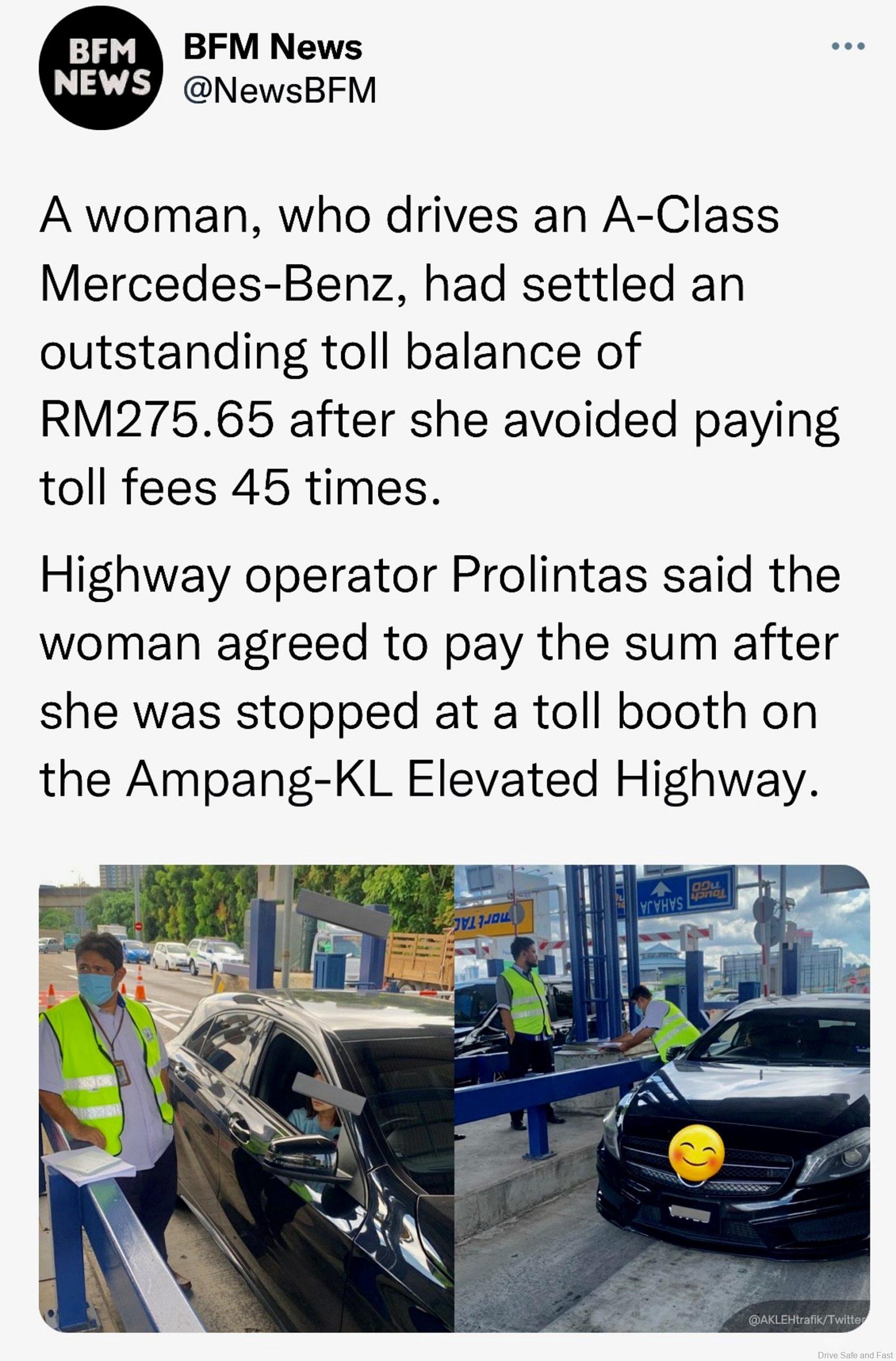 I mean, if one is rich enough to own and drive a Mercedes-Benz car, they should have no problem paying our low toll charges too so why did she not? Was she just trying to get caught? Did she just want the attention? Who knows and quite frankly, I think there are much bigger problems out there than a rich kid acting up.
Moreover, BFM tweeted about the incident today and it read "A woman, who drives an A-Class Mercedes-Benz, had settled an outstanding toll balance of RM275.65 after she avoided paying toll fees 45 times. Highway operator Prolintas said the woman agreed to pay the sum after she was stopped at a toll booth on the Ampang-KL Elevated Highway."
I'm pretty sure we can all agree that RM276 is definitely not a lot of money to someone who can afford to drive a Mercedes-Benz. I mean, the brand sells German luxury cars after all. I honestly cannot believe people like this still exist, to be honest. They want to drive a luxury car but cannot pay toll charges? Why?
On top of that, it is obvious she was not suffering financially. Now, I don't want to judge as I don't know the whole story, but based on the evidence we do have, and the fact that the Mercedes-Benz driver agreed to pay the outstanding toll charges almost immediately after getting caught, she very clearly could afford it.
Additionally, if all it took for this woman to pay her toll charges was to be caught then what is to stop her from doing it again? More importantly, did she actually learn anything from this? If not, why? Was the punishment not severe enough? Or perhaps she just does not care enough to begin with? Who knows.
Furthermore, a friend of mine sent me this while she was having breakfast and mentioned that she and all her colleagues seem to think that the toll operators should have done more. After all, they too, agree that RM275.65 is next to nothing for someone who can afford a Mercedes-Benz.
However, whether or not the toll operators did enough or not is not for any of us to say, the important thing is that she has paid her outstanding charges, the only thing we need to worry about is what toll operators will be doing in the future to prevent more people from doing something similar.
We got all this from BFM. Thank you BFM for the information and images and their tweet is linked here.