Automotive
Published on March 13th, 2023 | by Sounder Rajen
0
The Mercedes-Benz CLK Cabriolet Drop Top Turns 25!
Celebrate 25 years of the wind in you hair with Mercedes-Benz
Car culture is extremely diverse. While we all have different preferences between the type of cars we like, country of origin, era and so on, one thing that connects us all is our love for cars and one important "sub-brand" of car culture is the drop top. Now, the famous Mercedes-Benz drop top, the CLK Cabriolet, turns 25. Let's celebrate.
March of 1998 at the Geneva Motor Show marks an important debut event for the German luxury automaker, Mercedes-Benz, as this is the first time the brand presented its drop top model, the Mercedes-Benz CLK Cabriolet (208 model series) along with the E 55 AMG (210 model series).
While both are milestone vehicles, today, I want to focus on the Mercedes-Benz CLK Cabriolet as this model became part of a much larger movement, the Drop Top or Drop The Top subculture of car culture. After all, who doesn't love the wind blowing through their hair and breathing in the fresh air while cruising along?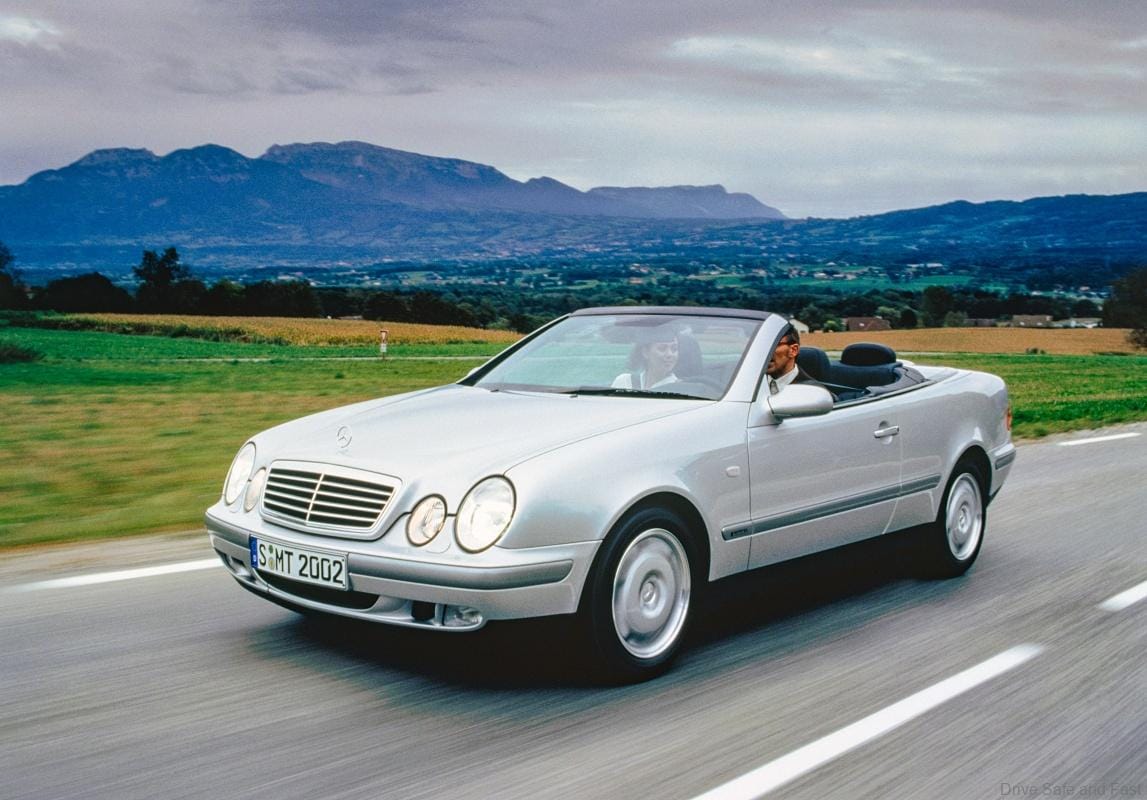 Moreover, the Mercedes-Benz CLK Cabriolet was a four-seater convertible based on the CLK coupe which was unveiled a year earlier in 1997. This car was conceived from the get-go to be an "open" version of the original coupe and would mainly have a positive effect on weight savings and costs.
The car not only brought Mercedes-Benz fans into the Drop Top culture, but also had some nifty features such as the automatically retracting rear head restraints, which were also used in the 124 model series convertible, being used as rollover protection. This put the car far beyond its time and is another reason to celebrate the CLK today.

In addition to being safe, cost effective and extremely stylish and fun, the Mercedes-Benz CLK Cabriolet was also a true Mercedes-Benz, that is to say, the build quality was extremely high. This was evident by the lined soft top which added excellent noise and temperature insulation along with the glass rear window.
On top of that, the automatic electro-hydraulic soft top operation completed the Mercedes-Benz CLK Cabriolet as an all-year vehicle. This is important as most people cannot actually afford to have a "weekend car" on top of a daily driver so by positioning this car as an all-rounder, the brand set itself up for more success.
Car culture has come a long way since its inception and the Drop Top subculture has grown along with it, drawing in new and old enthusiasts alike as there is just something truly nothing like the feeling of driving in a drop top model that words simply cannot express.
So lets celebrate the first Mercedes-Benz drop top turning 25 this month and show all car enthusiasts some love regardless of what they prefer. Remember that our preferences don't make us petrolheads, our love for cars does, so lets all come together and be the best car people we can be.