TechTalk
Published on February 23rd, 2023 | by Sounder Rajen
0
You Can Soon Attend Zoom Meetings Inside Your 2024 Mercedes-Benz E-Class
The 2024 Mercedes-Benz E-Class infotainment will have its own app store soon
So by now, we are seeing more and more carmakers go wilder and bolder with their infotainment screens or in some manufacturers' cases, screen, and some of them have even added in apps to them, well the upcoming 2024 Mercedes-Benz E-Class is the latest car to join this ridiculous list of cars. Well, sort of.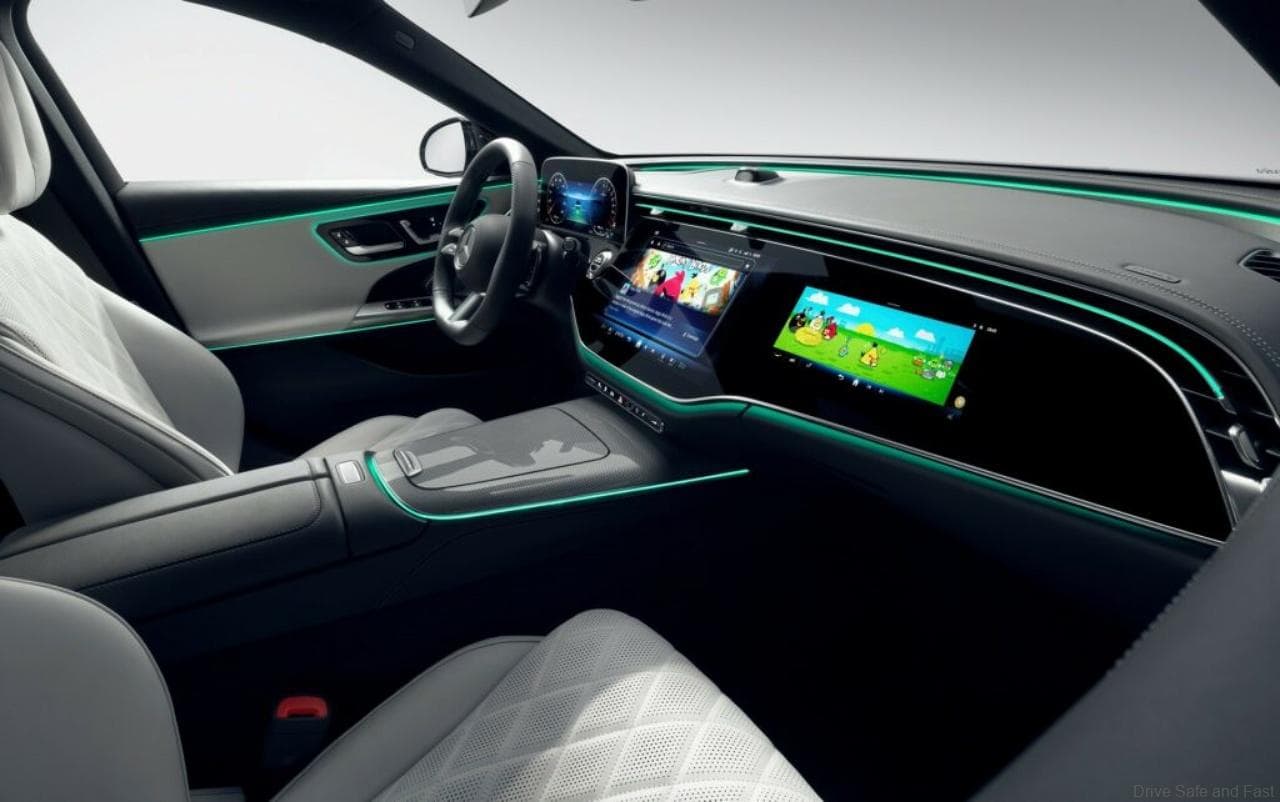 So the new version of the Mercedes-Benz luxury executive sedan range, the E-Class, is set to make its debut sometime this year, but not in Malaysia just yet. With this, the interior of the car has been unveiled and aside from its triple screen set up, akin to a Mercedes-Benz EQS, it will also come with an optional "app store" of sorts.
Moreover, the goal of the new E-Class interior for Mercedes-Benz was to deliver an "immersive entertainment experience" with music, games and streaming content. As such, the optional MBUX Superscreen will allow for third-party apps to be installed directly instead of being mirrored via Android Auto or Apple CarPlay.
Mercedes-Benz has also stated that the brand will make full use of this feature by launching its own proprietary App Store that will, according to the German carmaker, have a "gradually expanding portfolio of apps." Whether this is a good or bad thing is for you to decide, but I think this is highly unsafe and unnecessary.
The German automaker has confirmed that, at launch, there will be an assortment of apps installed in the 2024 Mercedes-Benz E-Class including Angry Birds, TikTok, Zoom, and Webex. This means, that, at least if one purchases the optional MBUX Superscreen, then you can, indeed, attend zoom meetings from inside your car. How safe that is is up to you though.
Once again, the safety of this new app feature is entirely up to your own interpretation but I for one, still think it is unsafe, primarily if children are riding shotgun as you never know when their tiny attention spans will give in and they randomly decide to distract the driver with a round of Angry Birds, or worse… Tik Tok.
Mercedes-Benz will also be adding in the Vivaldi web browser and the ZYNC entertainment portal to the infotainment of the 2024 Mercedes-Benz E-Class, the latter of which provides "on-demand content, interactive experiences, local video programs, sports, news and much more."
Thankfully all this is optional and Mercedes-Benz stated that it will even add a "visual shield" which uses a camera and an "advanced filtering concept to ensure the content on the screen is not visible to the driver" to ensure the driver is not distracted by all this. Is it enough though? Only time will tell.
We got all this from Carscoops and their full article is linked here. Thank you Carscoops for the information and images.