Automotive
Published on April 12th, 2023 | by Subhash Nair
0
Simple Tyre Safety Tips For This Raya Exodus And How To Get Extra Protection
A few easy-to-understand tyre safety tips for travelers this Raya.
As the festive season approaches, many Malaysians will be gearing up for their annual balik kampung journey. It's an exciting time for the whole family, but drivers will no doubt have some lingering concerns about the trip. After all, interstate drives during the festive seasons are often difficult with loads more traffic on the highways and not all of us will have brand new cars for the journey down. Often the best and most cost-effective solution to have a safe trip back home is to service your vehicle ahead of time and check if your tyres need to be replaced, rotated or aligned.
Here's what to look for.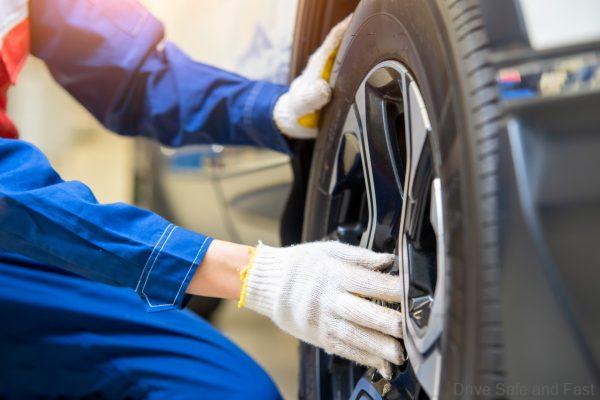 Age
On each of your tyres, check for a 4-digit number. The last two digits will tell you the year of tyre production and the first two digits tell you the week it was manufactured. Tyres can last 10 years on the shelf, so don't be alarmed about having tyres that are a few years old, as modern tyre compounds stay grippy for a pretty long time if stored correctly. When in use and exposed to Malaysian heat, humidity and road conditions, it's prudent to replace them by year 5 of usage even if they've not seen that many kilometers of mileage. Some brands, like Continental, will offer 5 year warranties from your date of purchase, which is a nice added safety net. If you're unsure if the tyres should be replaced just based on age, clear warning signs can be discolouration and cracks.
Wear
Another thing to look out for is tyre wear. Modern tyres have wear indicators in their grooves. If tyre is worn all the way down to the indicator, that's a sign that it must be replaced. To prolong your tyres, have them rotated every time you do an alignment.
Damage
Even new tyres will need to be replaced should they be damaged in normal use. While a hole can be safely patched, if there is major damage to the tyre, especially the sidewall, then a new tyre is required. It can be quite painful to fork out for unexpected repairs in this economic climate, which is why Malaysians who are frequent drivers should check out Continental's Total Confidence Plan (TCP).
TCP ensures that you get a one-to-one tyre replacements should your new set of Continental tyres get unexpected damaged on the road accidentally in the months following your purchase. This TCP is applicable for tyre sized 14" and above. Just in time for the Raya season, Continental will be providing an additional e-wallet as a reward on top of this comprehensive tyre warranty plan for all Continental branded tyres size 14" and above.
One of its biggest benefits of this TCP is the Road Hazard Warranty, which is included up to 12 months from your date of purchase, so you do not have to purchase a brand new set of tyres in case of any road hazard accidents such as pothole damage, punctured by sharp objects or damages caused by bad road conditions. So, this TCP is like a protective shield to your tyres. Again, TCP's one-to-one tyre exchange is available on passenger car tyres sized 14″ and up from the Continental brand.
And don't forget, from now till 30 June, if you ARE buying a new set of tyres, you'll get TNG e-Wallet cashback worth up to RM200 depending on the size and number of tyres purchased. Just download Conti TCP app to register for TCP and claim TnG e-wallet all together. So if you're looking for an extra layer of confidence and a possibly enough TNG e-Wallet credits to cover your toll costs this Balik Raya season, now you know you should consider Continental tyres.
For more information on Hari Raya campaign, please visit https://www.continental-tires.com/my/en/b2c/promotion/extra-confidence-on-your-journey-balik-kampung.html.
For information on TCP, visit https://www.continental-tires.com/my/en/b2c/tyres-warranty/total-confidence-plan/Overview.html.